Who buys cookware for a household? Which person sees it first; is this the same person who makes the decision to buy it? The answers to these questions help to form a detailed picture of the ideal customer one is trying to attract. Once this target market has been established, then the focus becomes what type of product to make.

This process is the same whether you are developing a new line of pot and pan handles, or are updating an existing line. The focus needs to be kept firmly on the consumer and their needs.


Look at Latest Trends for Inspiration

Wood has become a popular effect for handles on different types of kitchenware. Available in several colored finishes, it can be produced to coordinate with the product's overall design.

The stone effect in cookware is being offered in finishes that include a rough, porous look and a marbled effect. This style can combine with handles in different colors that match the type of stone chosen and that can update an otherwise plain set of pots and pans and with a more stylish look for the consumer.

For coatings, last year's Pantone shade is giving way to more muted tones. Earth brown and copper colors are in vogue at present, and these complement the current interest in bringing elements from nature into the home.

It doesn't mean that all cookware designs must be a completely serious venture, though. Adding details like stones or diamonds effects to the handles on pots and pans will draw a buyer's eye and "dress up" a set of cookware by giving it a certain fanciful quality.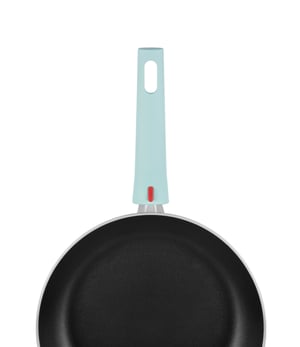 Water and wave design is a hot now, fluid shapes Handles fashioned in flowing lines have an ease about them that can recall the idea of water and brings this natural feel into the kitchen. Pot and pan handles in shades of blue definitely have this effect on consumers.
If you want to know more about cookware trends, read this post.


Functionality Importantance
"Smart" kitchens, where appliances and accessories help you with cooking, tracking grocery items and even make coffee, are becoming more popular all the time. Kitchens are becoming more efficient, with storage space at a premium.

Pots and pans with detachable handles give consumers the flexibility to store their cookware in the way that makes the most sense for their kitchen layout and save space and time.


Adapt Trends to Target Market
When developing a line of cookware, an effective strategy is to gain inspiration from emerging trends and rework them to suit your product and your target market. Wood and stone are materials that don't fall out of favor from year to year. They can be interpreted in different ways and fit in with the current interest in using eco-friendly materials.

The target market will be able to see how these trendy products combines fashion and functionality.