La Termoplastic F.B.M. is pleased to announce the release of a new cookware handle to its global product line. The company knows that its valued customers expect new designs that will be both attractive, highly durable, and engineered with ergonomics in mind. The NIKA handle seamlessly fits into F.B.M.'s collection, since it hits the mark in all these areas, and more.
NIKA Cookware Handle Description
Trendy and fashionable handle NIKA amazes with its marking design and elegant shape. Full and solid it has a fresh image. Designed as a top model, this product is ideal for use with a product line that would appeal to a medium or high-level market.
From the first glance, you will notice NIKA's robust and solid appearance. This cookware accessory definitely makes a statement and it will be a hit when paired with cookware possessing similar qualities for best results with consumers.
NIKA Handles Distinctive Features
The NIKA handle has a number of features that set it apart from other models. Consider the following:
Refined and Sophisticated Design: F.B.M. devoted considerable time and resources to developing the new shape featured in the NIKA handle. A mix of pleasant and harmonic shapes makes it stand out in design while being highly ergonomics.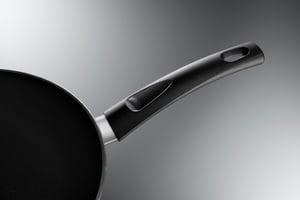 Ergonomic Functionality: NIKA is characterized by the deliberately marked frontal finger-rest that has an ergonomic functionality. It indicates to the customer exactly where to place the thumb in the pot grip during use. The user can use the handle with maximum comfort since the deep groove is very comfortable for finger placement. It has a very strong design touch that distinguishes and differentiates the user's correct position during cooking.
Shape and Structure: The cookware handle's design is very wide at the front and has a particularly curved shape that follows the iconic profile of the flame-guard. As a result, the design gives safety to the fixing system as well as an attractive appearance to the handle. It also provides some protection from fire: if the pot or pan is poorly positioned on the stove it, the flame won't reach as far as the user's hand.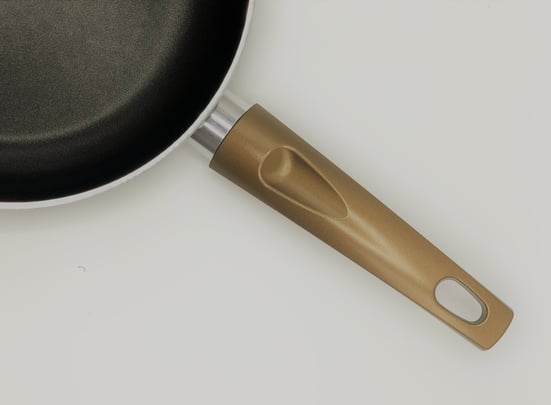 Product Color and Size: The NIKA product is available in two sizes and it can be coated in various attractive colors and effects craved by modern consumers. The colored handle is also available in soft touch, matte, or glossy finish.
Quality and Certifications: F.B.M. certifies that this product complies with all applicable qualify control tests and EU standards regulation EN 12983-1 for cookware handles.
F.B.M. Stands for Certified Quality in Cookware
When you want the best in design, innovation, and (of course) certified quality in cookware handles for pans, look no further than F.B.M. We have been in business for more than half a century and during that time, we have been working with customers from various locations worldwide.
Our focus since the cookware handle manufacturer company was founded has been on providing high-quality products without sacrificing one ounce of creativity.
Contact us today if you have questions about the new cookware handle NIKA, any of our other cookware parts, or to arrange a consultation.