As sustainability starts to play a bigger role in consumer decisions, interest in environmentally friendly products is increasing, creating opportunities within the cookware industry. The idea of a "throw-away" society is becoming increasingly repugnant to a number of people.
The cookware industry is part of this trend and wants to embrace it. Manufacturers have realized that it is possible to reduce their ecological footprint through the use of environmentally friendly materials and packaging. These factors have combined to make such new designs and materials popular with houseware producers and buyers.
Companies committed to environmental sustainability will have an advantage with focused consumers, as long as their products can provide quality and present good value.
Sustainable development and well-being: a global challenge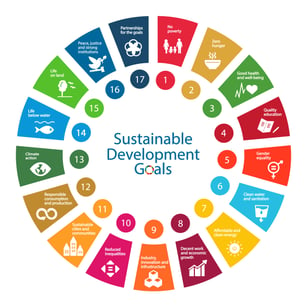 The Heads of State, Government and High Representatives together at the United Nations, set new global Sustainable Development Goals. An Agenda "providing new targets for the people, planet and prosperity" seeking to "strengthen universal peace and determined to take the bold and transformative steps which are urgently needed to shift the world onto a sustainable and resilient path".
The purpose of this is to "stimulate action in areas of critical importance for humanity and the planet". Following this, recently the European Green Deal was drafted by the European Commission as a way to respond to the current climate change situation the planet is facing, focusing on strategic activities at international level for various sectors ranging from politics to industries and social aspects.
Sustainable housewares were on full display at Homi Fiera Milano
Each year the international shows become an event to see and hear about the next top trends. Within the homeware industry, Homi Fiera Milano (held in March 2022) had several examples of sustainable housewares products on the showroom floor. Countless worlds on one single stage in the world's design capital.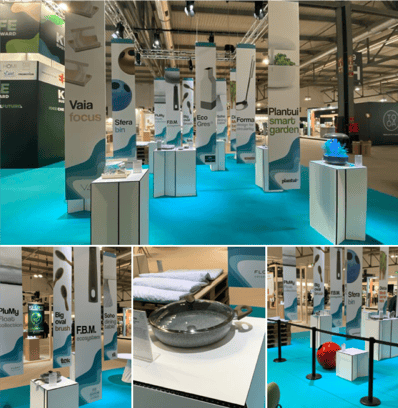 We spotted some trendy solutions that reflected the hot topic: the use of recycled materials; zero-waste packaging that self-extinguish after use, new technologies such as magnets to keep objects together and therefore eliminating the risk of losing stuffs for people leading busy life and of course the use of attractive designs and natural patterns to recall woodgrain, flowers, jungle and other natural elements.
During the event, F.B.M. was selected among the participants of the first edition of the KI-LIFE Sustainable Award, the new prize conceived and promoted by Kiki Lab, in collaboration with Homi Fiera Milano, reserved to Italian and international companies that have realized products or projects with a view to Sustainable Development, Environmental Respect and Social Responsibility.
Crafting a safe kitchen with eco-friendly cookware
Consumers have become more eco‑conscious. Healthy life is a trend that has received a lot of press over the past several years. This is also reflecting to home products that shows sustainable and green attributes, which consumers are more likely to purchase.
The emerge of cookware made from recycled and regenerated materials that we saw at the show is a clear message that the industry is ready to take the step and bring sustainable concepts into cookware products. A trend that not only affects the cookware body, but also extends its philosophy by embracing the handle, an essential component increasingly marked to play a primary role with the use of eco-friendly materials with high percentage of sustainable and regenerated material.
An opportunity that reflects a new concept of "well-being," increasingly understood in a holistic way, encompassing body, mind and spirit. That is why talking about sustainability today means embracing not only the environment but also people's health.
In line with these emerging trends, we at F.B.M. can call ourselves full-timers in this area by being the first cookware handle manufacturer to introduce a new line of cookware accessories produced with natural and regenerated material and called F.B.M. ECOSYSTEM. Our manufacturing process for this green collection is controlled and verified by external SGS and complies with all applicable regulations.
With the current definition of "wellness" and the desire of making conscious choices in environmentally and health safe cookware accessories, we have also developed a unique product, Active Shield, to lower the risk of contamination with antibacterial properties and thus improving the everyday wellbeing of people at home. Active Shield offers consumers the features they want for safety and hygiene in the kitchen.
F.B.M.: sustainable, eco-friendly cookware brand
In the same time, there is a growing demand for corporate sustainability among homeware industry and retailers are focusing their demand towards companies that can identify socially responsible practices. To obtain and maintain the attention of today's retailers and consumer, it is important to invest in these practices and of course do business with qualified partners that also invest in safety, quality, and sustainability.
F.B.M. operates on a firm foundation of ethics and love for our environment. Responsibility has been lived and practiced since our earliest days and we have always been committed to sustainability.
Today, F.B.M. has acquired a certain level of expertise and awareness on this subject. The company aims to make social responsibility one of the strategic pillars at the base of its operations and in line with this philosophy our social WHY is to improve consumers' well-being in the kitchen: everything we do aims to cultivate the cooking experience; through a product we interact with daily when preparing food.
Contact us if you have more questions about the sustainability trend in cookware or if you are interested to check this new line of products.