The current global pandemic that has gripped the world, has raised the public's awareness of hygiene and safety overall and in the kitchen specifically. The use of antibacterial products has grown exponentially. Consumers have focused their attention increasingly towards products with these features.
Personal hygiene has come to the forefront with people recognizing the importance of handwashing and using surface disinfectants to prevent infections.
The public recognizes the risk of microorganisms and is prepared to buy high-quality hygiene products to maintain good health and help prevent the spread of bacteria. In October 2020, P&G reported that organic sales of their homecare products surged more than 30% with double-digit growth in every region. Demand for bleach and other home care disinfectants surged, with 59% of US consumers and 52% of UK consumers increasing their use of disinfectants or other cleaning products. Now that there is a higher level of awareness and more attention being paid to the concept of sanitation and hygiene in our daily life, these habits will become second nature for everyone.
Trend Toward Higher Safety and Sanitation in the Kitchen
People have resumed the habit of cooking at home for their families since the pandemic started. They have been living in an atmosphere of fear, combined with increased attention to preserving their health. This combination has increased the awareness of the importance of maintaining a sanitized environment especially in the kitchen, a place where bacteria and contaminated products from outside often settle, especially after grocery. This has led to a growing need for antibacterial products even in the kitchen environment. Consumers are using cleaning products more often in the kitchen where daily cooking naturally creates a messy and dirty space, as well as cleaning surfaces in their homes more often.
Kitchen products are used regularly. As such, they are often exposed to moisture or humid environments that are typically formed during cooking. This type of exposure creates the perfect breeding ground for bacteria that can generate cross-contamination by spreading from surface to surface.
We handle pots and pans on a daily basis in our homes. During meal preparation, we are often touching fresh or raw food and other instruments. The cookware handle is the only part of the pot or pan we touch while cooking. For this reason, it is important to keep it clean and sanitary.
What if We Could Choose Antibacterial Cookware?
The importance of managing and passing items in a way that reduces bacterial contamination between multiple surfaces is even greater if we think of the retail store where a product is handled and passed on by many people during transport and storage and finally in store by potential buyers. Having a product with antibacterial properties allows you to select an item with more security and peace of mind, both for the supply chain and for the buyer and end user. Think about it: a disinfectant will kill bacteria for a given timeframe. If you do not continue to clean the item, the bacteria will return.
Within this context, F.B.M. has launched a new product line with antimicrobial properties to offer you antibacterial effectiveness. The new line is named F.B.M. Active Shield to reflect its special protective effect and it is the first line of cookware accessories that has an internal agent that inhibits bacterial growth. Having a product with antibacterial properties inside the material it is made of, it does not allow bacteria to grow on it anymore. Therefore, combining this product with regular cleaning will ensure maximum antibacterial effectiveness.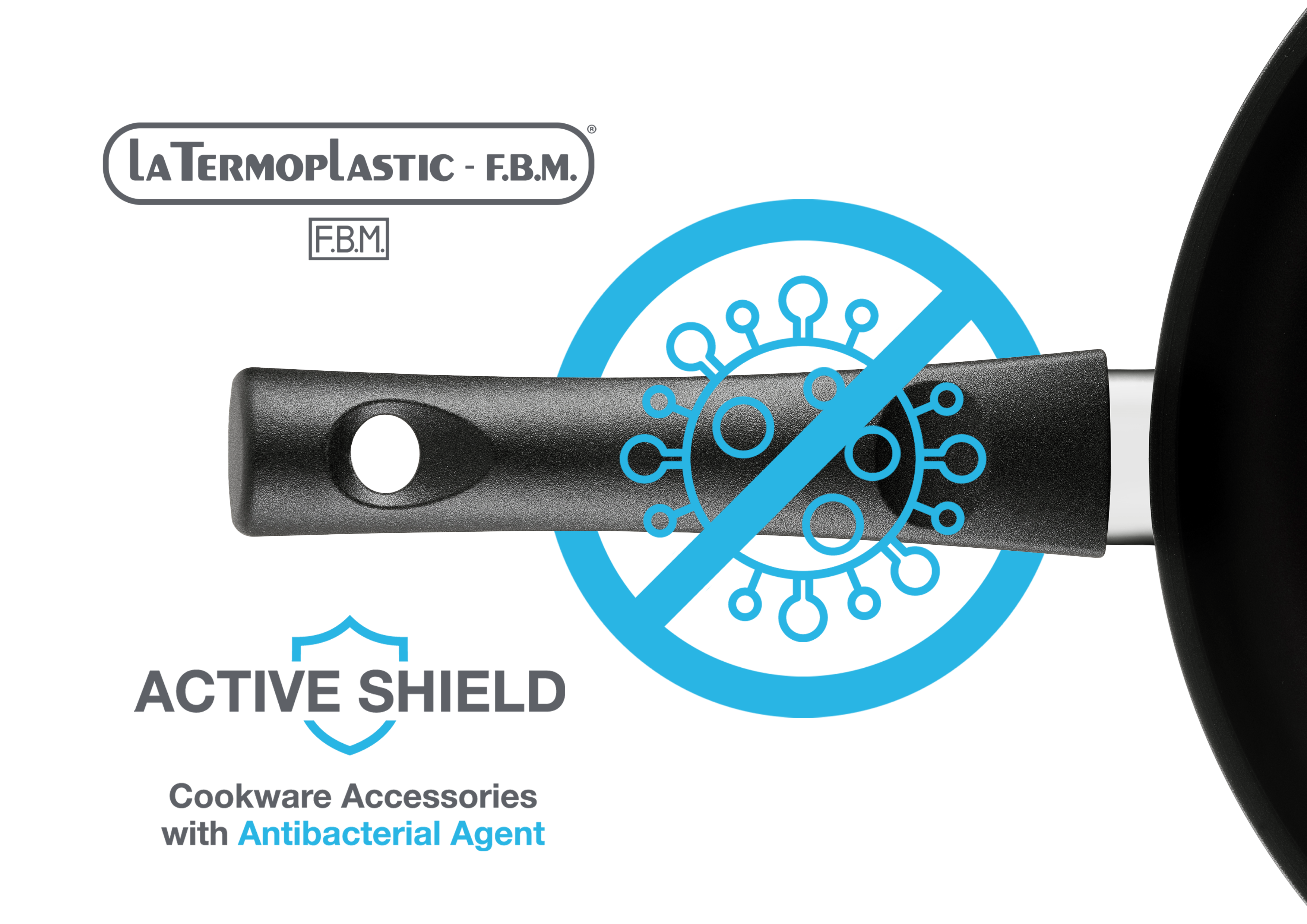 With F.B.M. Active Shield, you have a new weapon at your disposal in the ongoing battle against harmful microorganisms. Thanks to its special formulation suppresses the growth of microorganisms on the product and it kills 99.999% of bacteria on the handle's surface.
The antibacterial effectiveness of F.B.M. Active Shield has been tested according to the International Standard ISO 22196:2011 Measurement of antibacterial activity on plastics and other non-porous surfaces.
F.B.M. Stands for Certified Quality Cookware
F.B.M. Active Shield keeps the cookware handle clean and sanitary. It improves your quality of life and the impact on the environment by minimizing the ability of bacteria to spread.
When you want the best in design, innovation, and certified quality in cookware handles and pans, look no further than F.B.M.
Our products are tested in laboratories according to main international regulations and frame of reference, and our focus has always been on providing high-quality products without sacrificing creativity.
Download our paper to know more about the innovative product line F.B.M. Active Shield and contact us to arrange a consultation.