An Italian Design handle in F.B.M. range in China. Discover ALFA's features below and learn about this elegant cookware handle design.
ALFA Product Description
ALFA has a strong and solid shape. The top of the handle has a distinctive triangle detail carved out for a sophisticated look.
The ALFA cookware handle is characterized by a large frontal part and uses an oval design flame-guard that adds design and creates a sinuous shaped profile. This combination will help to keep the user's hand safely positioned on the handle and creates a natural waist form that conveys great ergonomics and comfort to the handgrip.

ALFA Product Characteristics
Style & Classy - Its striking cookware handle design makes ALFA strong but easy to handle. It is a classic-looking handle that well matches with any style of cooking pan while prompting elegance and a refined look.
Design and Shape -ALFA stands out for its full-bodied shape which strongly sustains the hand when lifting a heavy pan.
Striking Details - The triangular-shaped recess that follows the hole, gives this handle a very smooth look. The result is a handle with a striking appearance that will add something special to any pot or pan it is paired with.
Colors - The ALFA handle is offered in any tone of colors. You can then choose your favorite effect such as glossy, mate, soft touch or metallic. Also, enjoy Alfa in exclusives textures such as stylish marble, warm wood or materic graphite.

F.B.M. Keeps Introducing New and Exciting Cookware Handles
F.B.M. is a multinational company that manufactures high-quality cookware handles for pans since 1963. In 2014 F.B.M. opened up its first plant in China to offer different styles and top quality accessories for cookware. Our goal is to bring Italian Design, passion for research, innovation, beauty and safety in cookware to the Far East markets.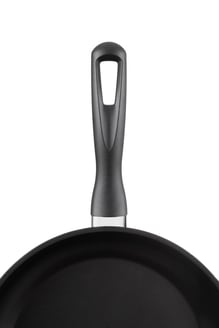 Handle Alfa fulfills the need of those cookware manufacturers and player that look for medium to high-level products with taste, style and convenience.
ALFA satisfies international quality standard, it complies with EN 12383-1/2 regulation and with the CBA standards for the US market.
It works well on single pan but also combines properly with several models of side handles for casseroles and knobs for lids to complete a full range of cookware products.
Contact us to enjoy all possible matches for handle ALFA and to receive free samples.
We are certain we can help you, whether you are launching a new line or updating an existing one.