The kitchen is where healthy meals are prepared, a place to unwind and socialize with firends. But, especially for Millenials, it is also the room where they are craving more space, whether it's more cabinets or more counter space to move and play while cooking.
They want more and more space-saving cookware and accessories, to make the kitchen less cluttered, more efficient and tidy.
F.B.M. had the solution and met the needs and desires of these Millennials with two innovative products, the knob for lids Compact and the detachable handle Forte.
Experience Versatile cookware
With the influence of cooking shows promoting the fine art of meal preparation, cookware and accessories that gives you ultimate versatility, that are easy to use and durable are the most wanted options for food lovers.
When Millennials are shopping for cookware, lower quality items will most probably not catch their eye. Their interested is in buying products that can provide experience and are supposed to facilitate their job while preparing meals.
For this target of consumers, quality cookware and accessories are at the heart of their kitchen and Millennials don't want to sacrifice performance when making a purchasing decision about kitchen cookware.
F.B.M. solutions for versatile cookware
The consumer-friendly design of knobs and handles manufactured by La Termoplastic F.B.M. are conceived to improve the cookware experience and offer something more to the users.
Discover two innovative products that can revolutionize the experience: the foldable knob Compact and the top detachable handle Forte.
The Knob COMPACT is a unique shape disc with a smooth and sleek design featuring space-saving functionality. The upper arch is broad and rounded for a comfortable and safe grip, and it comes in several different colors. The distinctive trait is that you can close down the arch making the knob flat!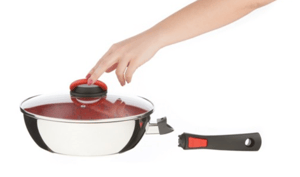 It let you to save 30% in height space compared to a more traditional knob. The flat knob makes the lid stable when pilling one lid on top of the other and transformed it in firm support for tableware when positioned upside-down.
The detachable handle FORTE has an outstanding design and robust shape that conforms to your hand with a comfortable, safe grip. The long handle can be detached from the cookware body, and the fixing part made with a specially engineered plastic that can reach heat resistance to 220 degrees Celsius, makes it not restricted for oven cooking. The detaching solution makes the cookware a perfect serving dish, too. There is no need to transfer food, making preparation more efficient.
Transform your cooking
These products also save space in the dishwasher and when storing the cookware after meal preparation. Especially when you have not too much storage in the kitchen, every bit helps when it comes to kitchen cupboard or drawer space. With pots and pans that go from stove to oven and the fridge, cooking has never been more comfortable without compromise in quality.
The user experience matters and here it's about versatility, efficiency, design and storage capabilities. Millennials know that the outcome of the meal preparation is affected by the quality of the cookware.
La Termoplastic F.B.M. is your partner for solving kitchen challenges with handles, side-handles, knobs, and accessories for cookware. We offer an extensive collection of items and exclusively manufactures products meeting the needs of the consumer and manufacturers.
Get a handle on the cooking experience with F.B.M.!