What are the world's major cookware trends? And how do consumer tastes change on one continent as compared to another? Sometimes, it's not easy to choose between different color and material combinations and the different design, innovation and technology solutions, especially if you work with different markets at the same time, such as Europe and the Americas. However, there's no need to worry: in this post you will find useful information about the main differences in cookware tastes and trends on the two continents in order to develop your collections.

Cookware in Europe: between innovation and design
The search for beauty, functionality, bright colors and "eco" lines inspired by materials from nature. These are the trends in the European market, where the use of induction technology is growing and where energy saving, a sustainable lifestyle and a healthier diet is being promoted.
Space saving handles, spoon-rest handles and items with inserts are the real leading cookware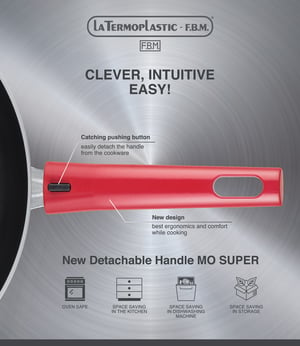 handles are no longer just traditional, but are multifunctional, in a perfect fusion of design and practicality.
In fact, it is now the moment for detachable handles, the maximum expression of functionality and practicality in the kitchen, while attention continues to be placed on coatings and colors that evoke natural elements, such as stone, brown earthen textures, diamond, wood, bamboo and many kinds of copper effects.
Handles with steel inserts are also in vogue. There is still a high demand for wood-effect handles in various versions and offered in different effects and colors, often combined with green coatings in various effects and shades to promote "eco-themed" lines. Stone effects also continue to be popular, but these are being offered in new versions, which have evolved, for example, into rougher and more porous "marble" effects. This year, we have also seen the arrival of lines inspired by water, as a material used in both the
coatings and the handles in azure/blue. In short, trends that combine industrial style with the charm of country-chic are also influencing the choice and treatment of materials, such as wood, fabrics and plastic, but this look is also characterized by fine and eccentric details that give significant substance to the product.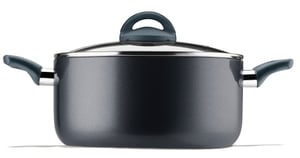 Cookware in the Americas: North-South differences
Cookware trends in America and North America are mainly inspired by more classic and traditional designs. This market does not want to be daring with innovative shapes and multifunctionality.
Consumers in North America love riveted handles made from stronger materials, such as steel and prefer darker colors in black, grey and metal, leaving room almost exclusively to red as a touch of color.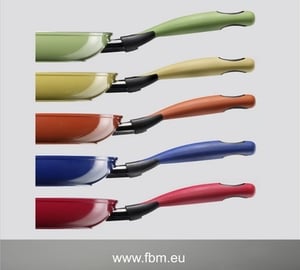 Another emerging trend in this market in relation to handles and grips is the use of frosted colors with a metallic appearance (gold, copper and gray/silver) which are used for the coatings of the pans.
Finally, the United States is a major market for silicone effects handles, not only soft touch lacquer coatings, but also more refined accessories made of double metal or Bakelite and silicone material that are extremely durable, easy to wash and are comfortable to use.
In South America, while also echoing the preference for classic and traditional shapes, consumers also prefer lighter and more manageable riveted handles, and there is a trend toward brighter and more vivid colors. The category of enameled iron pots is also interesting, combining bright colors with classic shapes and having a very competitive and interesting position in the market. There are also many handles and grips painted to match the colors of the sets.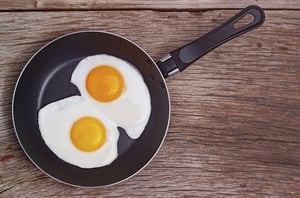 Fortunately, today, thanks to the variety of materials available, cookware offers endless possibilities for customization and effects, all with attention to detail in terms of functionality and ergonomics as well as user safety, for a unique and timeless style.