When you are choosing a cookware line to add to your retail offerings or you are developing a new cookware collection, the last thing you want to do is ignore the importance of knobs and handles. These details are far more than just "finishing touches" added to the cookware. The right knobs add style and function to the pots and pans, providing attractive benefits for consumers.
The PO-COMPACT knob is a case in point. When you examine it, you see knob with an original, stylish design. The arched shape was developed to resemble two half moons . The result is an attractive, modern knob with a variety of features that customers will love.
Features and Benefits of Knob COMPACT
Let's take a look at the features and benefits this knob offers: PO COMPACT was specifically created with the idea of space-saving in mind. Its designers wanted to find a way to overcome the conventional shape of lids. They wanted to make the pot and pan lid as similar to a dish as possible and with the PO COMPACT, they have succeeded in making this goal a reality.
COMPACT isn't just beautiful to look at; it has a practical side as well. This knob folds down and flattens to allow for easy storage in and increased functionality. It actually "disappears" in a kitchen drawer, cupboard or dishwasher, minimizing the amount of space required when storing it. This is a definite advantage for consumers, who never seem to have enough storage space in their kitchen.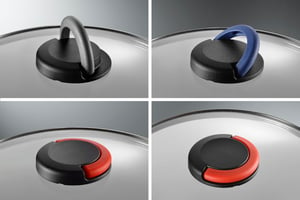 Consumers aren't the only ones who gain the advantage of increased storage space when they choose the PO COMPACT. Distributors who pick up the COMPACT knob for their cookwares can take advantage of its space-saving function too: they save on packaging, transportation and warehouse costs.
The PO COMPACT knob is different from other space saving knob you may find in the market since our product's lower disk is in a thermosetting material. Therefore, it's made to withstand temperatures to 302 degrees Fahrenheit (150 degrees Celsius) and you can regularly use it in the kitchen being practical but safe, too.
F.B.M.: Your Innovative Source for Cookware Handles and Pans
F.B.M. is a well-established manufacturer of cookware handles and pans. We are a leader in Italian design, innovation and certified quality of our products. Our company works with the largest producers of cookware in the world. We have a very rich catalog of product lines with options ranging from budget-friendly to mid-range and luxury-level items.
With factories located around the globe, we are confident we will be able to assist you with orders of any quantity and specifications you require. Contact us today to arrange your personal consultation.