F.B.M. introduced six new products to industry buyers at recent trade fairs held in Europe, South America and the United States. Three of the products will be available globally, while the other three are conceived especially for a regional group of customers. The company also took the opportunity to introduce a number of colors and effects at the trade shows, all of which take their inspiration from natural materials.
We were pleased to be involved as exhibitors at Ambiente in Frankfurt, ABUP in São Paulo and the International Home and Housewares Show in Chicago. We appreciated these opportunities to reconnect with old friends and make new acquaintances.
Ambiente was well attended (with three percent more visitors than the previous year), and had a positive vibe that was noted by everyone. ABUP Brasil had many exhibitors from the cookware and household world and it was really well structured with so many big companies and beautiful products. Chicago's International Home and Housewares Show has been very interesting also thanks to its focus about the Retailer industry and new shifts in Brick&Mortar.
Fresh, Exciting Pots and Pan Handles
To the visitors of the fairs, in search of news and trends, we presented several new products: the PRO set, the THOR handle, the ANGEL handle, the MA TEA line and VALE knob.
PRO set
PRO is a high-performance set that includes handles offered in two sizes and a matching side handle, launched globally. The professional handle is longer than the regular model and its strength is clearly on display with the wide frontal shape. PRO's side handle has an upscale design featuring a wide size that is comfortable to grip. The handles and side handles are outfitted with large size flame guards, available in a choice of aluminum or stainless steel. Try it out and experience the feeling of a professional product with all the advantages of an F.B.M. handle!
Handle THOR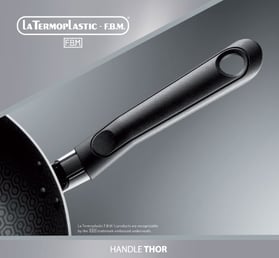 Designed with the user's ultimate comfort in mind, the THOR Handle was launched globally. THOR features a smooth, rounded shape. Its ergonomic handle has a distinctive circular rest that supports the hand grip and matches the functional back hole. Available in three lengths, this handle can be assembled by riveting system on all styles of pots and pans.
Handle Angel
The ANGEL Handle is a stunning new handle distinguished by soft lines and a modern design. Its tapered shape makes it a very ergonomic choice. This handle model to be riveted is available in three different sizes in order to complete your full cookware set.
Side-handle MA TEA
If you're looking for a riveting side handle in a classic design that will match perfectly with different handle shapes to complete any number of sets of pots and pans, consider MA TEA, a beautiful new and ergonomic addition to our line now available.
Vale Knob
The VALE Knob's elliptical shape makes it an immediate stand-out in our product line. It's specially designed for a secure and comfortable grip. VALE's special feature is that it can be customized with the logo of your choice at the top.
New Handle Colors and Effects Launched at Fairs
F.B.M. took the opportunity to introduce several new colors and effects for its pots and pan handles at the 2019 trade fairs.
These options were all launched globally: Wood grain patterns, in several colors and shades, Metals (Gold, silver, and copper), Pearl and Marble.
With four production plants situated in South America (Brazil and Mexico), Asia (China) and Europe, F.B.M. is the right company for you to partner with to meet your needs for high-quality pots and pans handles. We can produce and deliver products worldwide.
Contact us today if you are intrigued by these new products and would like to know more about them or any of our products, but also to arrange a consultation with us.