F.B.M. is pleased to present the new ROCKET cookware handle, the latest product in our collection, fully Italian Design and manufactured in F.B.M. Italy. Enjoy the introductory video here ↓
ROCKET Cookware Handle Top Features
ROCKET has a peculiarity that makes it stand out from any other product. It plays a lot with lines: flattering towards the back creating a unique "play" with the handle's shape, an immediate standout bringing vivacity and character to a first-class product.
It also features a plectrum design finger-rest that gives the user the best hand support and works as a protection for the finger thanks to its corner shape. This peculiar design finger rest contributes to the energetic design of this handle.

Handle Rocket is characterized by the large front part and the use of a design flame guard, which makes the product wider and substantial in its structure.
Focus on Ergonomics. The increased angle at the back of the handle helps to bear the weight of the pan during the grip. This characteristic has been engineered to offer a special support to the hand during cooking, thus providing comfort and extra safety. The underside of the product has a rounded, flared shape. This feature gives ergonomic support to the hand making it comfortable when lifting a full heavy pan through the handle, without pressing your hand.
Rock with Colors. This stylish handle gets even sprightlier if presented in color! Enjoy it in all fashionable tints and multiple finishes such as soft touch, glossy or matte effect to coordinate with a new or updated cookware line.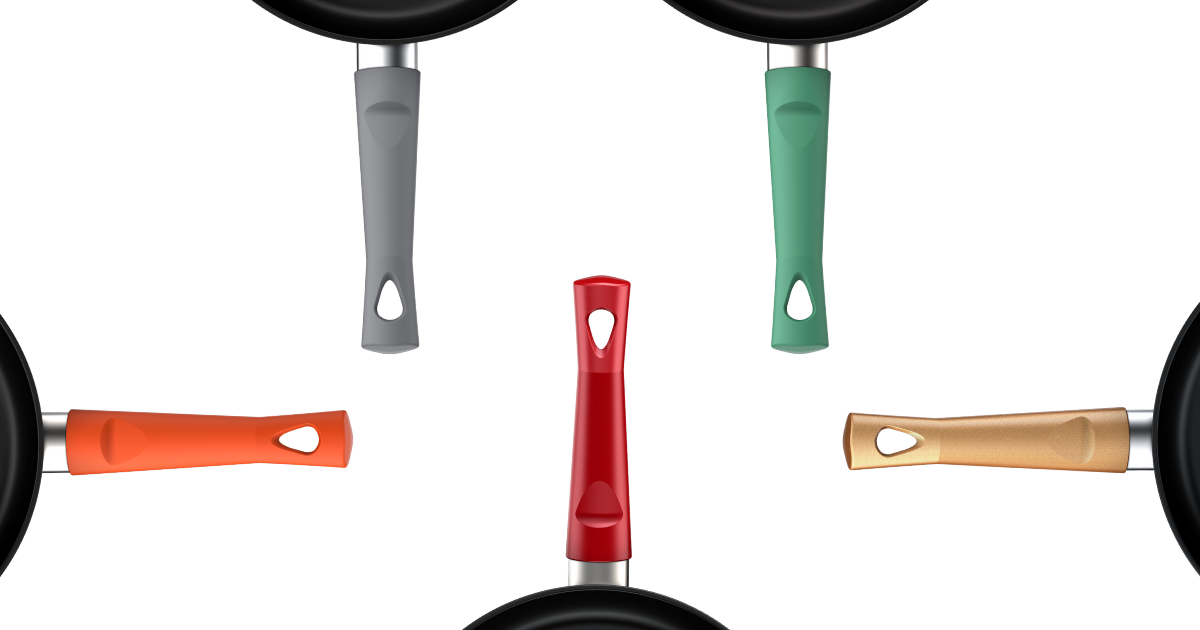 Quality Guaranteed. Design the handle for beauty, taking care of all the criteria of mechanical safety through a comfortable grip and fundamental quality is our plus. Handle Rocket is tested in compliance with EN 12383-1 regulation and numerous other examinations performed by F.B.M. technician to ensure our F.B.M. Quality Certified seal, a warranty to retailers and end consumers about safety of the product.
Recommended Use for the ROCKET Cookware Handle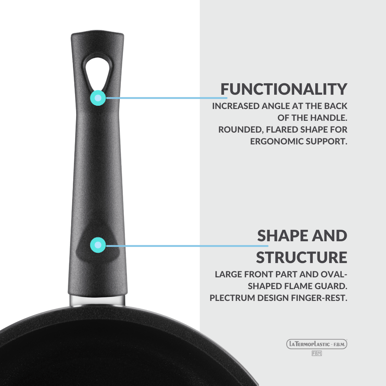 This cookware handle choice definitely benefits manufacturers and retailers who want to renew their first-level product range by adding a new design cookware accessory that in its appearances can elevate and upgrade the line with style.
An important consideration is the advantage of upgrading your line thanks to the wide flame guard and frontal part, which conveys the impression of an even higher-category product.
Finally, this product definitely appeals to the younger generation's customers, looking for cookware that gives uniqueness and character to their kitchen and cooking experience.
F.B.M. Means Complete Solution Provider
Another advantage of choosing this product is the opportunity to mix and match it with several combining designs of side handles and knobs to complete your cookware range.
F.B.M. can present you a whole line of matching accessories for casseroles, milk pans and kobs for lids. Here we list just some few suggestions to arouse curiosity!
Mix handle Rocket with side handle 285 for a finger hole that recalls the plectrum shaped finger rest; or with side handle Fly if you want to enjoy more squared and clean lines. For covering lids you'll love to pair it with knob Dalia for its petals design also matching with the finger rest and upper hole shape.
Reach us to get free samples of brand new handle ROCKET and explore matching options. Schedule a web consultation today.