Functionality and safety in the kitchen
The new detachable handle FORTE is now coming in a brand new version.
A handle system that is distinguishable and unique in the market, with a patent for the distinctive release system invention.
The idea and initial stylistic intuition is to conceive the two parts of the handle so that the fixed part (the one that remains attached to the pot) could give a solution, in terms of design, that guarantees safety and uniformity of the product. A great innovation in removable handle cookware.
The novelties lies in the brand new connection part that is now made in metal, thus more resistant to higher temperatures and perfectly suitable to oven cook.
This new material fixing part comes in elegant black color to maintain the product's innate beauty and consistency.
An elegant removable cookware handle, homogenous style and softer lines, as well as a product with a unique metal connection, which is less sharp in case of hand contact and much nicer to see when the handle is detached.
Mo Forte is a removable handle of striking design and substantial weight, which immediately characterizes its high-end positioning.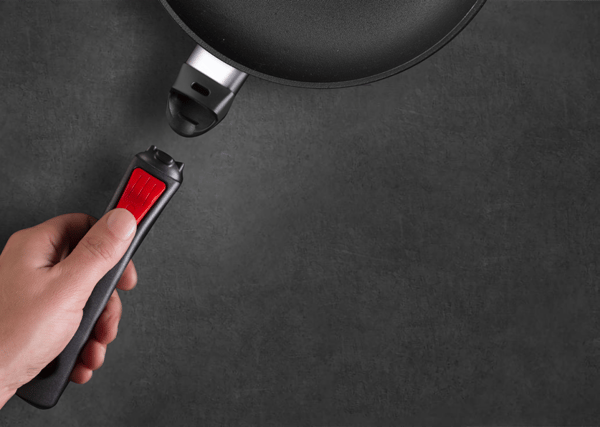 The latch and release button works as a locker and it is designed for maximum safety. Its shape has been especially studied not to spoil user's nails while pressing it. This removable handle can be easily attached and detached with one hand only without having to hold the pot with the other hand, a very important feature if you can imagine having to remove the hot pot from the oven.
This is a real plus, actually not taken for granted in other products.
Key elements of modern kitchens, the detachable handles represent one of the most significant and historical family of F.B.M. products and a great value for the end users. To know more about this new product feature and receive cookware handle samples contact us.