Sustainability is tremendously important to consumers right now. On a global scale, they are increasingly social, health and environmentally sensible. New consumers look for ways to reduce the amount of waste created and to find conscious solutions to their everyday needs. As we have examined in recent posts, there is a rising appeal in planet-friendly practices within homewares to the cookware industry.

It has been nice to see these trends confirmed at the last editions of the industry trade shows we attended. Here latest homeware trends are presented to attendees: the Ambiente show in Frankfurt and the Abup show in Brazil. (Unfortunately, the major trade show in Chicago has been canceled.)
SUSTAINABILITY IN COOKWARE PARTS FROM THE TRADE SHOWS
What did we see at the industry trade shows related to sustainability in pots and pans?
This year, there was a real innovation in terms of product content that proposed a new value proposition. In the case of sustainable cookware parts, the biggest news was certainly the launch of recycled aluminum pots and pans, which definitely made an impact. Looking at coatings, cookware companies also presented solutions of cookware with coatings that include natural elements such as water or dye-free options.
In the world of cookware, until 2019 sustainability was treated mainly as an evocative concept. Companies within the cookware industry often focused on the use of aesthetical features to recall sustainability. A common example is the use of colors for the pot, its handles and packaging. In many instances, these reflected or coordinated with green-brown colors to mimic the natural environment. Wooden style handle cookware was also popular since it recalls a natural feeling. These elements provide examples of a more aesthetically pleasing component in cookware parts.
What is the advantage of having a green-certified product? Why create a sustainable product even in pots and pans?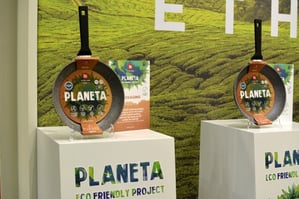 Demand is increasing in the market. The world is going more and more toward sustainability.
This trend simply cannot be ignored. The great novelty of this year trade shows is the presentation of products that are sustainable in their content; the most popular one was the use of recycled aluminum accompanied by a good evocative sustainable packaging. About fittings, F.B.M. launched the first green handles collections made with natural materials.

F.B.M. Presents ECOSYSTEM for Sustainable Cookware Parts
F.B.M. is the first cookware handle manufacturer to present a new line of cookware accessories featuring natural and regenerated materials, using a controlled and verified process that complies with main international principles and is certified by an external committee (SGS).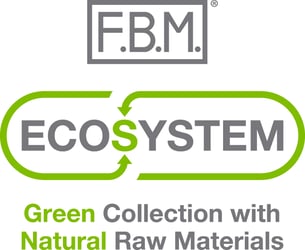 F.B.M. ECOSYSTEM is a new range of products including several options of handles, side handles and knobs targeting green cookware collections. All of these products are manufactured to the highest quality and are in line with all the main regulations. F.B.M. also launched an internal project dedicated to Corporate Social Responsibility willing to promote socially accountable behaviors to itself, its stakeholders, and the public, being conscious of the kind of impact they are having on all aspects of society, including economic, social, and environmental.

Download our special Book about Sustainability and Cookware to discover more about the F.B.M. ECOSYSTEM range and how can you provide valuable contents to your sustainable cookware collection through the accessory.