For those who want to understand future cookware trends, we would like mention one of the reference events for the industry, the Ambiente Fair, the large-scale exhibition dedicated to Consumer Goods and their trends, which was held last February in Frankfurt.
Whether you plan to launch a new collection or prefer to restyle a best-seller which has become the flagship of your catalog, you have to keep an eye on the latest news and follow the latest trends in order to captivate the hearts of your current and future customers.
So, let's look at the most significant and not-to-be-missed trends in the Cookware market, as seen at Messe Frankfurt 2018!

NEW TRENDS THAT NEVER GROW OLD: WOOD AND STONE EFFECT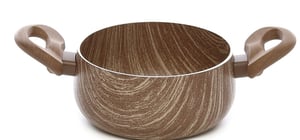 The Frankfurt exhibition featured handles with wood effects, available in different versions and in different colored finishes, to match the product's overall design.

Although this is a well-known concept, there are variations on the theme. In many cases, for example, it was possible to see a wood-effect handle combined with green colors, including bright wood effects, suitable for collections inspired by eco-friendly themes.

Among the great returns - although not a novelty for many manufacturers - was

the

stone effect

that is now also admired and offered in new versions with

rough, porous or marble effects

. This is a good way to give substance to even the simplest pans that, even if they cannot be distinguished by a

new

design, can use a touch of modernity.
SOME INNOVATIONS THAT MAKE YOU THINK
While it is true that experts in the industry already recognize the value of pot handles and the finishes used for them, it is also true that consumers are becoming more demanding and require greater attention to aesthetics and functionality (especially in Europe).
For this reason, it is increasingly necessary to learn how to carefully choose the types of handles for your collection of pots.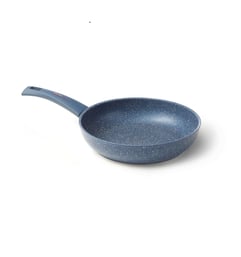 In fact, it should not come as a surprise that consumers also pay greater attention to materials, which can enhance the product and also give the design that extra touch, without sacrificing safety.
NEW MATERIALS AND NEW COLOR TRENDS
Stone and diamond have become essential elements, and for coatings, earth brown and copper effects stand out, which are elegant and are never banal.
Another interesting innovation is the introduction of lines that resemble water. When used in the coatings, these lines convey the idea of movement and fluidity - and handles in shades of blue and blue are particularly engaging.
FUNCTIONALITY
There is also the refinement of detail for an increasingly "smart" kitchen. Small spaces and increasingly smaller rooms have also led to the optimization of kitchen utensils that are now available with pull-out handles. These handles played a leading role in this edition of the Fair.
In conclusion, the basic idea of the innovations presented at the Fair is that it is possible to combine high-technology and functionality in products having the elegance of a retro-chic or country collection.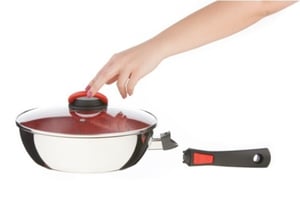 Materials like metal and wood do not lose their charm over the years. On the contrary, they become bearers of traditional values that allow users to fully experience the warm and friendly spirit that pots and pans can convey.
The designer handle has now become the spokesperson for a story - your story!