Heat resistance is not such a common feature for pots and pans handles offered by manufacturers. Consumers really appreciate the comfort these handles provide, as it makes the handle easier to grip while preparing hot dishes. Today's home cooking trends lead to experimenting with a wider variety of styles for which it's key to have easy to use cookware.

There is a common misconception about heat resistant handles that may be influencing some consumers when making a buying decision for cookware. This misconception may be holding consumers back from purchasing some cookware lines because they are not aware of the full capabilities of the cookware they are considering:
Misconception: Pots with plastic handles can't go in the oven.

Fact ⇒ F.B.M. Handles Resistant to High Temperatures
F.B.M. cookware handles are manufactured to the highest standards. They are regularly tested to temperatures beyond what is specified by the EU for this type of product. All of F.B.M.'s handles are manufactured with temperature resistant materials so they can reach the 300°F/150°C as standard (as required by the EU12983-1 regulation on cookware, if you want to learn more read this post). To ensure that the cookware will perform well at temperatures of 300°F/150°C, F.B.M. actually tests their heat resistant handles at higher temperatures, to keep you safe.
If you have stricter requirements and you are looking at top of the edge products that can resist at higher temperatures and go to the oven, this is also possible.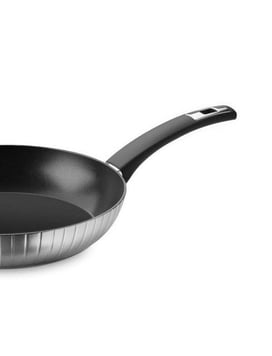 F.B.M. offers in fact complete sets of products that are also available in a special high-temperature material that is safe to use at temperatures up to 425°F/220°C. Also in this case, to ensure that the high-temperature material will perform as expected, the handles have been tested at even higher degrees in the oven. These types of accessories are definitely a best option for a high-end or luxury pot and pan line when cooking in the oven is an appreciated plus.
Go From Stove to Oven with Ease! CHOOSE THESE F.B.M. handles:
For example, the LUNA and LAMINA product lines are complete sets of cookware handles, side handles and knobs also available for higher temperature. The LUNA option is available in plain version , while the LAMINA model is also embellished with a striking stainless steel insert.
When developing pan or casseroles, the side handle MA740 is a further top end product for you to choose which is available in special high temperature material, too. This side handle has a magnificent design and impeccable ergonomics to elevate your final product.
F.B.M. stands behind its products by ensuring that all of its handles, knobs and side handles meet stated EU regulations. Our company has been in business since a half-century, and we've been serving customers always been conscious of the important role that design and innovation play in staying at the forefront of providing quality cookware products.
Check with us your heat resistant needs. F.B.M. can manufacture products based on your specific requirements.