In the occasion of its 50th anniversary of business, F.B.M., the Italian manufacturer of cookware handles, decided to celebrate this milestone by promoting two of its best design handles: the MO50 and the MO51.
F.B.M wants to focus on these iconic handles which are beautiful in appearance as well as highly functional. These top quality design handles would lend an immediate air of sophistication to any product line. They demonstrate that a handle is much more than an afterthought in the kitchenware design process. Instead, handles are a key part of the product's design.
MO50: Smooth Lines Create an Elegant Effect
The MO50 is truly a thing of beauty. Its unique design is based on two reversed triangles linked by smooth lines, resulting in a handle that is absolutely elegant. This handle' design is very strong as you can percieve at first glance; the MO50 is a highly durable handle that is an excellent choice for medium and high-end cookware product lines.
Its modern look is highlighted by a stainless steel plaque inserted in the handle. The plaque can be either left plain or customized to suit with a brand name. MO50 is offered in two sizes with flame guards in aluminum and stainless steel. This handle can be customized in a number of colors and effects to complement a pot and pan line.
MO51: Comfortable Grip and Fine Shape
The MO51 also reflects the sleek, simple lines that create a high-end look. This model is easy for a hand to grip and rests easily in the user's hand. MO51 design handles were made to be ergonomically sound; since they are comfortable to use, they will increase efficiency in the kitchen.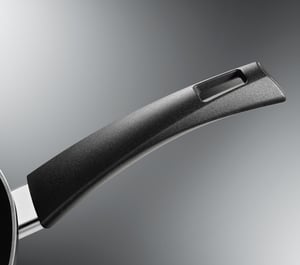 This handle is also available in two sizes with flame guards in stainless steel and aluminum, and would be suitable for medium and top of the line cookware products. F.B.M. understands that customers will want to create a custom look with handles to coordinate with their specific product lines. To that end, the MO51 can be coated in a number of colors or treated with effects to create a look to suit our valued customers' needs.
Quality Handles and Innovative Design from F.B.M.
F.B.M. has had the privilege of serving customers for a half century. During that time, we've learned the value of listening to our clients and meeting their needs promptly. We're never content to rest on our laurels and decide that what we've done to date is "good enough" and we can't stop trying to develop new and interesting handles and accessories for our customers. The MO50 and the MO51 show that F.B.M. is dedicated to providing high quality, innovative products to our valued parteners. Try MO50 and MO51 on your cookware, the Iconic Design Handles by F.B.M.