Urbanization keeps growing around the world and the role of cities and our place within them is taking new considerations. The desire of creating an exclusive home that projects a better lifestyle includes planet-friendly products and materials. This sustainability trend is driving demand to alternative materials across hard goods, textiles, and consumer products. It is also influencing the pots and pan industry. This megatrend rarely will change in the near future bringing more focus on the home and the activities inside our city retreat.
Design Trends in the Home
The home space is becoming more important than ever. Spaces where we can relax and breathe from chaotic urban life are being reflected through patterns, materials and colors. It translates in the search of objects that can create a better home environment, aesthetic quality, safety and consciousness about items we live with.
As reported by Homeworld Business on April this year "younger consumers live in small spaces that prompted them to become function oriented and they developed a more critical sense of home fashion. A lifestyle preference for focusing leisure and social activities in the home helped drive those tendencies, as did a greater access to design media, whether magazines, television shows or online content. The "social" generation not only takes style seriously, but also shares what it has embraced online."

This translates into a growing interest in the research of products that can stand out and be very visible, identifying the intrinsic content they convey for the purchaser.
Here some heads up of upcoming trends for the home that will influence dining and cookware sectors:
- New interesting materials made from natural bio-based elements (fruit skin, grains, wood).
- Tribal and primitive patterns influences Designers for textiles, tabletops, and ceramics: Aztec-inspired and geometrical motifs in have become popular.
- Rough stones from nature keep being relevant, especially for surfaces. They give a warm feeling and evolve in more hearty colors such as volcanic ash and lava stone.
- Products improving life that are engineered to offer functionality, being smart and enhance the user cooking experience.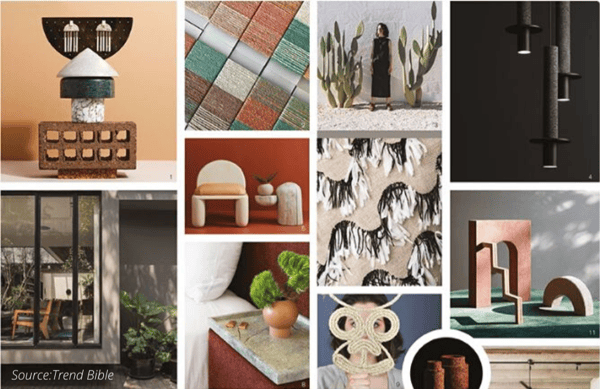 Colors and Palettes for 2021
It is impossible to look at cookware market trends without considering which colors and palettes will be most popular. Several options will be vying for attention in 2021, which means consumers will not be stuck with only a few tones to consider. The most popular colors and palettes you will be seeing in 2021 are:
Warm neutral tones from the earth that bring a natural touch to urban landscape: sincere browns, terracotta, deep greens and black.
Mid-range tones will be in demand.
Pastels colors that are cooler and icier in tone.
Bright, rainbow-inspired colors inspire happy talk of optimism and consumers to want to bring these colors into their homes.
SeaWorld so many blues and greens as well as elements recalling fish, corals and waves.
Black and White is a theme that features patterns, stripes, and an animal print feel.
New Gold that is now less shiny and vintage look is an effective way to bring this precious metal into a decorating scheme in a subtle manner. It also inspires jungle prints.
F.B.M. Knows About Cookware Trends for 2021
We keep on exploring the colors and trends world by taking lessons, travelling and carefully observing related and avant-garde sectors. This year we developed a brand new TREND BOOK focusing on most relevant tendencies and colors that can inspire new cookware creations for best appealing to final consumers.
We take effort in providing you with the very best in design, innovation, and (of course) certified quality in cookware handles also following these trends. Our role includes being a consultant for new cookware collection developments, sharing our knowledge on cookware accessories models, shapes, colors and functionalities.
Download the new trend book and let's fix a consultation to see newest related products.