F.B.M. works with a number of pot and pan manufacturers and offers options that will appeal to your niche market. We are also experienced in providing creative solutions for cookware buyers and retailers. Among the wide product offer that the company has in place, we want to draw your attention to a special and iconic Set: the 285.
This world's unique set was developed following the intuition to offer a line at a competitive price point while retaining the design, grip and comfort features of premium lines. Challenging? Oh yes, but very thrilling, indeed!
Set 285's Special Features
This is an innovative product line that is equipped with a number of functional advantages that consumers will find smart and very cool.
The 285 has a distinctive shape and curvy lines that is embellished by slim design cuts. The result is a product that is high-class and unique in appearance. The full, round shape results in excellent ergonomics.
The idea for the 285's unique shape came from a study of the tube. This particular form links structural strength with lightness and economy. The resulting handle is one with a distinctive tubular shape, which is hollow inside-out. Moreover, thanks to a special patent, it allows air to circulate and water to escape.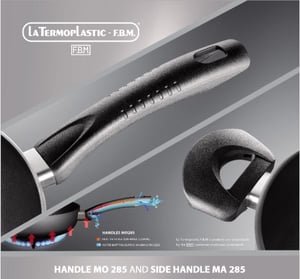 The handle allows air to circulate, and so it stays cool during cooking. This means that the heat is dispersed naturally, allowing the pan handle and the side-handle to stay always cool for hand grab.
Cleaning the 285 handle is a breeze, since water flows through the handle easily and naturally. The special outflow hole allows water and other materials to drain out easily during the cleaning process.


Most economy-level handles are lighter, not as wide through the back portion and less ergonomic in design when compared to premium handles. Due to its unique patent, the 285 handle has a full shape that perfectly complements the grip, while still being an attractive priced handle.
This exciting line from F.B.M. is available with flame guards in your choice of aluminum or stainless steel. The handles can be coated in several colors with a soft touch, matte or glossy finish for a completely customized look.
The 285 line is in compliance with the EU standard regulation EN 12983-1, which sets out the safety and performance rules for cookware for home use in Europe. It covers items being used on a stovetop, a cooker or a hob and in the oven.
F.B.M.: Your Source for Great Handle Designs and Innovations
As a leading manufacturer of pot and pan handles who has worked with the largest cookware producers worldwide, F.B.M. has established a well-deserved reputation for providing the highest quality products.
We have worked with the largest companies in the industry, our product catalog includes a range of product lines at various price points from budget to mid-range and luxury. With offices and factories located worldwide, we are pleased to work with clients on custom orders.
Contact us today to arrange a consultation to discuss your needs in more detail.