In the last years consumers have been showing an increased interest in cooking at home and in experimenting with different types of recipes. F.B.M is a leading cookware handles manufacturer that understands the importance in creating flexible products that can go from the stovetop into the oven and still maintain the lightness and comfort of phenolic handles. Discover our range of design handles for pot and pan which are available also in higher temperatures resistance.
elegant, modern pot handle design: Lamina and Luna line
The Lamina and Luna lines of pot and pan handles are beautiful examples of what oven safe cookware accessory look like. These options have a modern design that fits in well with medium to top-of-the-line products. The all set, including side handles and knobs, are adorned with squared inserts, ideal for branding, that also come in stainless steel.
Both the Lamina and Luna's sets has been ergonomically designed to be safe and easy to hold onto during use. On top of being a design feature, thanks to their cool rectangular shape, flame guards are important safety features, as well and are available in aluminum and stainless steel. Each of these cookware lines can be coated in several colors and effects to create customized looks to coordinate with your product line.
unique Side Handle arch design: MA 740
This oven-safe option represents a very exciting choice in side handle design. On observing this model, you'll immediately notice its very wide and curvy shape with its visible and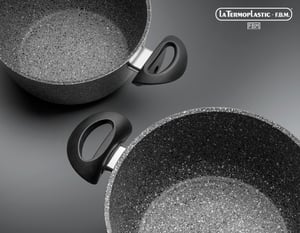 distinguishable arch design. This feature was built into the handle's conception for two key reasons. The first one was for ergonomics, to ensure that the side handle will be easy to grip and comfortable to use. The second reason is to have an impactful design, eye-catching and to be recognizable thanks to the wide arch that highly stands out.
We are pleased to share with you that this product is successful on both counts. The MA 740's rounded design and lower curvature combine for a super comfortable grip. In fact, the designer specifically designed this pot handle around the grip of the hand!
Moreover, for the customer who is making recipes specifically calling for moving from the stovetop into the oven, a two side-handles pan is often the most practical and easy to manoeuvre solution with respect than a frypan.
F.B.M.: your supplier for the best design in oven safe cookware handles
F.B.M. is an Italian manufacturer of high-quality cookware handles and pans. We have established a well-deserved reputation for unique design, innovation and certified quality in all the products we carry.
We work with the leading producers of pots and pans in the world on a regular basis and have established positive professional relationships with international cookware companies. For our new customers, we can offer an extensive catalog of different options for a variety of product lines, ranging from high, medium and economy levels.
Contact us today to know more about the full range of oven proof accessories for cookware and make an appointment for your personal consultation to discuss your project in more detail.