When you are working on the design for a new collection of pots and pans, it is helpful to rely on partners and suppliers who have accumulated a great experience in this product sector. They will be able to act not only as your supplier, but as a professional cookware consultant. You will have the expertise at your disposal to make the best choices for your brand, the market and the results you want to achieve.
Below we list some of the most important topics on which your supplier partner should be very keen on, to support you in the best possible way in the definition of your cookware product's details.
1. Design Need
Product design is a fundamental aspect of your product, since it is the first element that captures the consumer's attention at the point of sale. If the product isn't attractive, the consumer simply will not stop to investigate further.
However, design considerations vary significantly depending on the market. The type of design impacts the type of target market we want to attract and the level of positioning desired for the product. It's important to have options that are attractive to the consumer that include stylish designs at the entry-level price point to complement the budget-friendly price driver, too.
2. Engineering and Production
Working with a mechanically-advanced partner and with production systems able to guarantee high-quality standards are essential to guarantee you with good quality for your product, production efficiency and long life. It's also important to have knowledge about some key production details, such as the ease of assembly between handles and cookware. These are key parts of the process that should not be overlooked.
If you are working with custom or customized items, manufacturing the product efficiently is the main consideration. The manufacturer plays a strategic consulting role in this situation. Designing a product, doesn't mean to have it engineered perfectly in order to be manufacturer for best efficiency.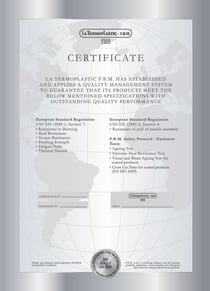 3. Safety Test
Your partner needs to be familiar with methods for indicating the main reference tests based on your target market. The company you choose must be able to provide you with products that can pass safety tests to reassure you, your customers and end consumers they are quality certified.
4. Market Knowledge
It must also be well versed in Segmentation, Targeting and Positioning. The cookware market is very large and is obviously segmented based on several factors. Your partner must be familiar with the differences in the market based on region. This step will help you position yourself with a cookware handle supplier that can offer accessories attractive to your target market. The handle supplier will be able to advise which features are most appreciated by consumers in a particular region, along with the tastes, colors, shapes, effects and regulations that apply to a particular market.
La Termoplastic F.B.M. is Your Source for Expert Advice and Quality Production
La Termoplastic F.B.M. is an Italian cookware supplier that has been in business for over 50 years. During that time, we have developed the experience and expertise to become a world leader in producing cookware handles, side-handles, knobs and accessories. We are happy to discuss our extensive catalog of items or custom projects. Contact us today to discuss your needs in detail.