Today we are witnessing an evolution of the end consumer, who is getting more and more informed, conscious and looking for cookware able to meet his multiple needs. What is arising in particular is an increasing interest in quality, flexibility, heat resistance and, lastly, in products with antibacterial properties.
A question comes up right away: is it possible to respond to such complex and varied needs with a "simple" handle?
This is the imperative for F.B.M.: to offer products of the highest quality to best satisfy the consumer and improve well-being in the kitchen.
Look to F.B.M. for Design Advice and High Quality Products
F.B.M., as an experienced manufacturer of accessories for cookware, can advise clients about the best type pots and pans accessories for a new or updated product line. We've built a well-earned reputation for designing and manufacturing high-quality, oven safe pot and pans accessories over the years. Every product we make is subjected to the quality tests required by the international cookware certifications, as well as the ones made necessary based on their destination, plus further tested developed by F.B.M. during the years.

Examples of Safe Pot and Pan Tests
The following are a few examples of the tests regularly conducted by F.B.M. on its cookware accessories like knobs, side handles and handles. Along with these standard tests, ad hoc tests are developed by our team (or in collaboration with clients) to further stress the handles' resistance.
The resistance to burning test is used to confirm that the handles being used in a particular instance are sturdy enough that they will not melt, change their shape or show any indications of softening (melting) on exposure to the heat from a direct flame.
A heat resistance test sets the baseline temperature for heat resistance of items, no traces of splits, cracks or blisters can be showing. The standard temperature for handles has been fixed at 150 degrees Celsius by the European Regulation.
A torque resistance test spells out the amount of resistance that a handle must have to torsion. It is measured by applying torsional stress to the screw axis. The terms of this test specify that handle movements cannot be more than 10 degrees in any direction.
The bending strength test measures the handle's fixing system to the pan. It is used to confirm that the fixing system can withstand a strong bending force without experiencing a structural failure resulting in an unusable product.
A fatigue resistance test may be performed using a special apparatus designed to stress the cookware, causing it to experience a given load. This level of stress is achieved by raising and lowering the pots and pans 15,000 times.
The resistance to thermal hazards test is used to determine the maximum suggested temperature limits for handles manufactured with different types of materials. The temperature is measured after a predetermined cooking time; and it must not exceed a specific heat threshold. Under the parameters for this test, if the handle temperature exceeds the predetermined limits, the manufacturer is required to state clearly that extra protection will be needed for safe handling of the cookware at higher temperatures.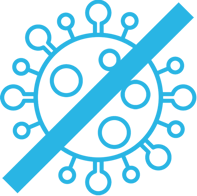 Recently introduced is then the Antibacterial Effectiveness test of the handle to minimizing the ability of bacteria to spread. A sterile inoculating loop is used for this purpose and the bacteria are placed on the exposed surface of the material. The anti-bacterial capacity of our product are tested based on the required ISO 22196 methodology. To know more about this innovative aspect discover our new line with antibacterial features F.B.M. Active Shield.
F.B.M. IS YOUR GO-TO SOURCE FOR CERTIFIED QUALITY HANDLES
When you want the best in design, innovation, and (of course) certified quality in cookware handles and pans, look no further than F.B.M. We have been in business for more than half a century, and we are working with customers worldwide.
Our focus has always been on providing high-quality products without sacrificing one ounce of creativity. For this reason, we established the F.B.M. QUALITY MANAGEMENT SYSTEM identified by a special seal that can be used and leveraged in our customers' packaging and communication to share that the pot and pan is using highest quality accessories. This an extra value for the end customers that can be communicated.
Contact us today if you have questions about the Quality Seal or if you want to know more about our products.