We are seeing that durability is a hot concept gaining momentum everywhere.
Our attention is on how we can develop a cookware collection that is made to last, meeting the new needs of your consumers.
To a buyer, purchasing something that will stand up well over the long term translates into providing good value for money. But nowadays, this is not the only reason anymore. There is more and more consciousness about the willingness to purchase products that will not have a short life due to their poor quality. This is a key consideration for a modern consumer who is considering a purchase that is conscious, reliable and smart.
Steps Involved in Creating Long Lasting Cookware
The process of making pots and pans that will resonate with consumers has a number of steps. Each one is important to the process and none of them should be ignored if you want to achieve your objective.
The first step in creating a collection that will last over a long time is to choose the best materials for pots and pan in order to provide high quality, safe materials. You'll want to ensure that you are dealing with certified and guaranteed supply chains.
Invest in high-caliber accessories. These include cookware handles and knobs for pots, pans and lids that are beautiful to look at and comfortable to hold, as well as being resistant to mechanical and dishwasher stress.
La Termoplastic F.B.M. Certifies Cookware Safety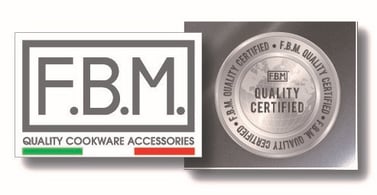 1. ASK FOR QUALITY CERTIFICATIONS
To be sure of the safety of your final products, work with a handle suppliers that is a recognized company. Ask the brand whether they are prepared to offer all the needed quality certifications and guarantees before production starts. Here in F.B.M. we have our own certification process and quality management system for all lines of pot and pan handles, so you can be confident in dealings with the company.
2. TAYLOR YOUR COMMUNICATION
Next, you'll need to invest the necessary marketing resources to communicate with consumers. This will be achieved using the means of communication they prefer and use to explain the differences in the quality and durability of your product lines. For example, Millennials are used to searching for information online before making a purchase; also for this reason F.B.M. provides precise product sheets, reports and technical info that you can use to communicate in the packaging. This attention to detail gives the customer the information required to make an informed buying decision with ease and adds to the idea of a high-quality product.
We support our client in every stage of the partnership. Read more to understand everything you need to consider when choosing a cookware handles supplier.
3. EVOLVE THE PACKAGING TO FOCUS ON COOKWARE'S UNIQUE SELLING POINT
Consumers are evaluating everything about your product line before they decide to buy, including the way it is packaged. Don't make the mistake of attracting a potential customer with products with the right colors and materials, offered at a price they are prepared to pay, only to have them walk away because the packaging doesn't indicate the right information about how it was manufactured.
Do tell customers your perspective clearly and distinctly, informing that your products are made in an environmentally sensitive way. Use symbols and graphics to show them it, so there is no confusion, but always respect the indications of main regulations.
Focus on each one of the unique selling points that the new design, color or cookware handle functionality have added to the product. Communicate it strongly and clearly directly on the packaging, visually and with appropriate wording. This is also an opportunity to share with the buyer more technical information about the product that are helpful in making a buying decision.
The consumer wants to be confident that the cookware is going to be robust enough to withstand the rigors of everyday use. Since this is a significant purchase for many buyers, they need to feel confident in their choice before making the final decision.
La Termoplastic F.B.M. established and applies a Product Control System to guarantee that its products meet the key international specifications with outstanding quality and safety performances. This seal identifies the focus of the company towards the safety and quality of its items, as product reliability is the basis to deliver our customers an extra product advantage.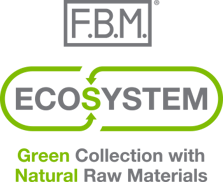 All F.B.M. ECOSYSTEM products are also validated and certified internally according to our Quality Management System and they use packaging with sustainable and recycled paper.
ECOSYSTEM is a planet-friendly collection of cookware accessories which reduces resources and emissions through the employment of recovered material and lowers the use and consumption of artificial chemicals, replaced by natural materials from sustainable and verified sources.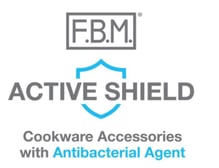 F.B.M. Active Shield handle inhibits the growth and proliferation of 99,999% of bacteria on the handle (ISO 22196) keeping it clean and sanitized. F.B.M. Active Shield handle kills 99,999% of bacteria: thanks to its special formulation it suppress the growth of microorganism on the product (ISO22196).
To learn more about restyling your existing collection or designing a new cookware line, contact us today.