F.B.M.'s Soft Set line of silicone handles is truly special and one the company is particularly proud to present to buyers. Available in 20 colors to tempt even the most distinctive of tastes, the complete set includes handles (two sizes), side handle and a knob. All pieces in this collection are manufactured using high quality silicone moulded over thermosetting compound.


Soft Set Handles Innovative Products
Our Soft set marks the standard for pot and pan handles and knobs in the cookware market. They are innovative products for the following reasons:

1) Our production technique involves the molding of two materials that result in a perfectly cohesive look in the finished product.

2) We use high-quality liquid silicone, unlike the more commonly-used rubber found on today's market. As a result, the Soft Set line of pot and pan handles is highly durable, and doesn 't get spoiled with use and repeated washes in the dishwasher.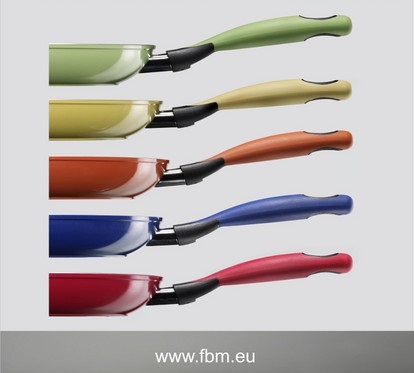 3) The Soft Set was developed as a natural evolution of color demand by the market, it is the only silicone collection that can boast a wide range of vibrant and brilliant colors. The liquid silicone chosen by F.B.M. allows to offer a wide chromatic variety. The line is available in a range of attractive shades that includes classic white, red, aqua, orange, olive, blue, grey and many more.
4) Our technology allows us to create a handle with a best ergonomic design . Its rounded shape is easy and comfortable to hold in the hand. The excellent aesthetic and tactile experience for the consumer push this cookware collection to a premium level.
Soft Set Handles Features
Soft Set handles are manufactured from the highest quality materials and they meet safety standards. They are also L.G.A. tested with resistance up to 125 dishwasher cycles.
As with all silicone products, the Soft Set line is low maintenance for consumers. Its surface inhibits the growth of bacteria, making cleaning an easy process.
This line of handles is heat resistant. It has the silicone feel prized by modern consumers, in the
attractive, up-to-the-minute colors they are requesting now.
Soft Set handles have a unique design that clearly stands out from other brands. This line is immediately recognizable by its look, even before a customer picks it up. The chromatic contrast of two colors is well defined, giving the product an upscale look in line with its quality.
Add F.B.M. Soft Set Premium Handles to Your Product Line
F.B.M. is an international manufacturer of cookware handles and pans. We are a leader in Italian design and innovation and all the our products have certified quality. We work with the largest cookware manufacturers in the world and we have a large catalog of products to choose from with product lines ranging from economical to mid-range and premium.
Contact us to find out more about the Silicon Soft line and other solution.