La Termoplastic F.B.M. is a popular cookware designer and manufacturer forerunner in innovation. Why has the company decided to embrace sustainability at this point? What led F.B.M. to make the decision to develop a sustainable cookware product line?
Why F.B.M. Chose Sustainability
Our company chose to embrace sustainability as part of a long-term strategy, certain that this approach is vital and can benefit all the stakeholders involved in our activity. For this reason, we are developing a Corporate Social Responsibility Strategy to guarantee the strategical relevance of this route.
Within this project, we decided to challenge ourselves in developing a sustainable cookware line, thinking of all the people who make conscious choices for sustainability in their daily lives and how to give a contribution in our industry.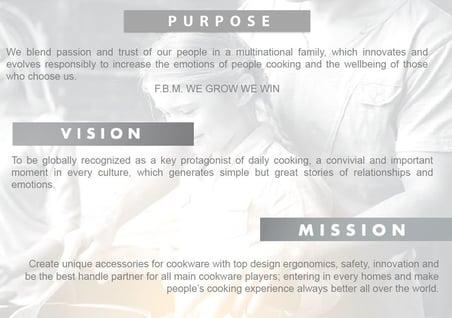 Our main purpose is to innovate and evolve responsibly to increase the well-being of consumers who like to cook. Through the everyday activity of cooking, people are making choices willing to boost their happiness especially for what concern their wellbeing.
"We want to reach the heart of those who care about the environmental aspects of the products they buy, and that are excited by new ideas to cook with and by products that are planet-friendly for a new wellbeing in the kitchen" says the President of F.B.M.
How F.B.M. Developed our Sustainable Cookware Solution
We gave the matter of developing our own sustainable cookware handles a lot of thought. We asked the question, "What are sustainable materials?" and "How can we use them in a planet-friendly product line for cookware handles?"
Our goal was to develop an innovative line of accessories for cookware and we wanted our product line to be planet-friendly and unique.
The product line would come from a controlled supply chain evaluation, taking effort in guarantee a standardized and verified production process.
How Does F.B.M. Generate Sustainable Solutions?
We studied a new material that combines a thermoset composite in part made by natural and regenerated materials from the recovery of product wastes. This new line of cookware accessories, named ECOSYSTEM, reduces resources and emissions through the employment of regenerated material, and lowers the use and consumption of artificial chemicals, which are replaced by natural materials from sustainable sources.
As a company, we have implemented the following strategies to generate a planet-friendly line:
We regenerate scraps: through refinements of our production systems, we have managed to recover the production waste. By processing this production waste, we are able to transform it into new raw material, lengthening the lifecycle of an element.
We reduce the amount of waste products that our facility generates, which is used in new usable material: production of 10 regular handles allows you to create a new handle with the recovered/regenerated material.




We intensified the application of natural elements into our material, that together with regenerated ones allow reducing the use of chemicals and therefore industrial emissions because we can use existing naturals.
We use packaging that are certified FSC (Forest Stewardship Council) to ensure the supply chain of paper and wood used is being managed in a way that preserves biological diversity and sustains economic viability.
The F.B.M. Ecosystem Line of Cookware Handles
The cookware market is evolving toward more sustainable practices and the developments of new products that meet eco concepts is rising quickly. F.B.M. is the first one to introduce cookware handles that can strongly contribute in the creation of a planet friendly pot, thanks to the combination of natural and regenerated materials.
We are pleased to share that this sustainable cookware solution is available to our valued customers in a wide range of knobs, handles, and side-handles; F.B.M Ecosystem also gives the opportunity to create new lines of cookware with sustainable elements other than pot material and coating, by adding accessories with a communicable added value.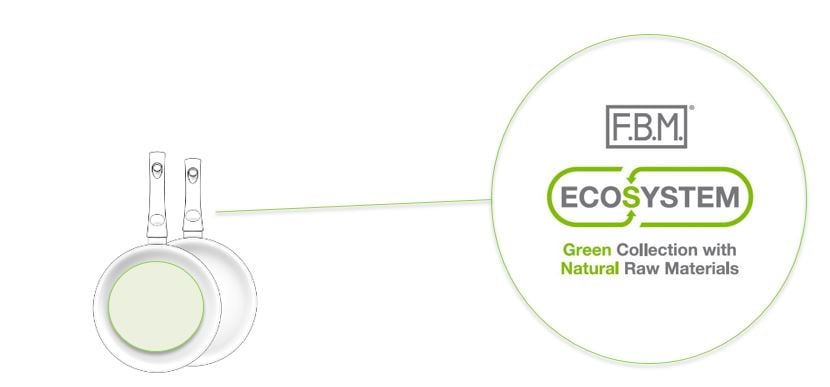 Our company made a point of conducting a detailed analysis of how to attract consumers who specifically wanted green products for their cookware accessories. We also decided that was important to offer consumers their cookware accessories to be heat resistant, highly durable, and affordable. Consumers are also concerned with the product's overall quality and check to satisfy themselves that the cookware and its accessories comply with any applicable international regulations for quality and safety.
Validations
Our sustainable Ecosystem product line has been validated by external committee SGS because being green requires transparency; this means having a clear understanding of regulations after due consideration and declaring what is right and correct, without run up against greenwash.
Who Can Benefit from Sustainable Cooking Solutions?
Our sustainable cooking solutions can benefit the following groups:
Cookware manufacturers and large-scale distributors that want to offer product lines with sustainable content and a higher value proposition to their customers
Consumers who want to make a conscious choice when it comes to tools that they use in daily activities such as cooking
F.B.M. is your Source for Sustainable Cookware Solutions
When you want the best in design, innovation, and certified quality in sustainable cookware handles and pans, look to F.B.M. We have been in business for more than 50 years. During that time, we have worked with customers from all over the world providing high-quality products without sacrificing one ounce of creativity. Contact us today to enjoy a detailed presentation of the ECOSYSTEM cookware accessories lines.