This post will focus on how F.B.M. collaborated with a top customer, the multi-awarded kitchen and cookware company BergHOFF, in the development of a new detachable handle for their unique GEM Line. We were pleased to work with BergHOFF on this project and we are glad to tell a little story about this exciting project.
Case History: F.B.M. FOR GEM Collection
«The GEM line is a pure blend of innovative design and functional benefits for a collection that focuses on performance, durability and versatility. It brings an industrial look and feel to the kitchen and revives the durability of a true classic while incorporating the innovation of a modern cookware set. Gem is the essential ingredient you can count on to inspire your everyday cooking adventures with high-quality materials and attention to detail. It brings a functional simplicity to the table that supports any cooking style.»

BergHOFF and F.B.M. started working together for developing the complete set of detachable handles for the cookware company's new design collection GEM. This would prove to be a challenging task from the points of view of technology, development and engineering: BergHOFF envisioned a detachable handle that would be fastened to the body of the pots, without the aid of any type of external metal bracket or ring.
The collaboration on the development of the GEM collection took place on two levels.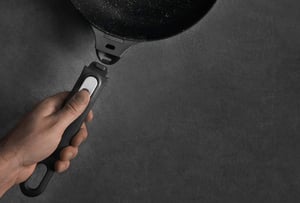 F.B.M. started working on its already patented system for detachable handle but, restudied it in order to have the attaching/detaching functionality to work directly on the cookware aluminum body without any external support.
The technicians of both companies worked on steps to ensure product engineering and feasibility for the manufacturing process. The challenge for this project was to develop a solution able to overcome the issue of using two different materials.
As a natural standard in domestic cookware in fact, the body of the pot is made in aluminum and the handle is made from a thermosetting compound, two materials that have very different properties and respond quite differently when exposed to heat.
The result is a great match, both in terms of design of the finished product and for the easiness to use and safety of the cookware.
In this unique project, the cookware and the handle combine to create a new product, easy to use and top level snap-on, detachable and space saving.
GEM Collection Recognized for Product Design
The GEM Collection was so well received that it was awarded the Red Dot Award for Product Design. This prestigious award recognizes the best products created annually.
F.B.M. Stands for High Quality and Creativity in Cookware Handles
When you are looking for solutions to any issue with cookware handle design, F.B.M. has the expertise and the resources necessary to develop the creative answers you need.
We are a leader in Italian design and innovation and have established a reputation for the certified quality of all our products. F.B.M. works with main world producers of cookware.
We have a very rich catalogue of products that run the range from luxury lines to mid-level range and budget-conscious offerings. With offices and manufacturing plants located worldwide, we can minimize time and transportation costs on orders.
Come and see the GEM Line at the BergHoff booth and all the new ideas in F.B.M. at the next Home trade shows in Frankfurt, Ambiente from February 8th to 12th and in Chicago at International Houseware Show from March 2nd to 5th.