If you are a regular reader of our blog, you will already be aware of how trends in cookware and consumer evolution press the makers of cookware to offer increasingly functional as well as design inspired solutions.
Undisputed leaders of this trend are space-saving handles that have earned a prominent place in the heart (and the kitchens) even of younger consumers, such as Millenials.
As a leader for 55 years in the development of extractable handles, F.B.M. responds again to market demands with the new removable MO SUPER handle, presented to the public during the most recent Ambiente tradeshow: a unique accessory that stands out for its attractive design, high functionality, guaranteed quality, as well as its decidedly interesting positioning.
Characterized by the detaching mechanism patented by F.B.M. since the 70s - the most used in the world even today- the removable MO SUPER handle represents the evolution of removable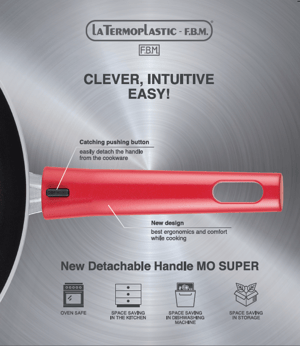 handles launched in the world market and brings its distinctiveness to the next level.
Its strengths:
Lightness and maneuverability: the new design enhances the ergonomics and comfort of the grip.
Ease of use: the handy button allows you to unhook the handle from the pot with a simple click.
Safety: guaranteed by the superior F.B.M. brand Quality Certified mark.
Space saving: thanks to the removable handle which reduces its size, SUPER handle allows you to optimize costs and packaging materials, storage and transport spaces; it is also easy to store

in

cupboards

, kitchen drawers and earns you extra space in the dishwasher.
Oven friendly: removing the handle provides a double function to your pan, which can be used for cooking not just on the stove but in the oven as well.
In addition, the MO SUPER removable handle can be customized thanks to a wide range of colors. Perfect for making your cookware collections unique and noticeable or to create combinations with complementary sets and accessories.
If you would like to find out more, contact us: we will be happy to answer your questions and help you develop a collection that can meet the needs of your market.
If you want to learn more about the handle features, consult the MO SUPER technical specifications sheet here.