Despite a year of great changes, the cookware market has shown great dynamism. During this time consumers have experimented more than ever with home cooking, an activity that made them recognize the importance of cooking tools as a fundamental mean to enhance the value of home meal preparations. It also made consumers desire to experiment with new solutions in the kitchen. In this period F.B.M. never stopped working in-house, concentrating on R&D activities to provide the market with new, innovative and smart solutions. Hence the launch of several new products.
F.B.M. is enthusiast to bring new and exciting products to the market. In this view, we are pleased to announce the launch of new CITY cookware handle, the latest product in F.B.M. collection, entirely Italian Design and patented by F.B.M.
CITY COOKWARE HANDLE HIGHLIGHTS
CITY stands out from any other products because it opens up a brand new category within the F.B.M. ranges. Riveted items with a completely different bracket from the products currently offered. Handle CITY is a product with a professional look and feel, developed to offer a new solution the mid-range cookware: it stands out for its design, practicality, and attractive positioning. The refined design and the steel attachment make it suitable for the market segments that are very demanding and in the search of a valuable design product.
It is characterized by:
Stainless steel bracket with a strong shape and professional look. Its appreciated design and reinforced structure guarantee maximum quality and safety.

The square and robust shape contributes to the elegant design of this handle.

The large elliptically rounded finger-rest gives the user comfort in the grip.
Very modern design yet with a classy touch that makes it a very elegant product, simply beautiful and distinguishable. A sophisticated design with a strong personality.
Mechanical Strength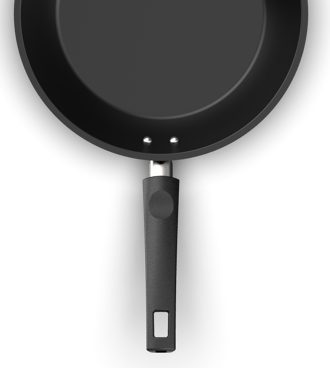 The stainless steel bracket ensures a solid product ideal for good quality cookware. Its structure is very strong and it is engineered to enhance the mechanical strength.
Handle City complies with European regulations EN 12983 1-2 and with the CMA standard for the US markets, positioning it among top products for the quality of its structure and safety for the end consumers.
In addition, the stainless steel bracket offers premium features thanks to the first-class material, aesthetical appearance and long-term resistance.
Ergonomic Functionality
The handle is full and robust and welcomes the hand for a perfect grip, a solid feature and also a safety function. Available in two lengths and several inclinations to match many shapes and diameters of cookware.
The lower finger-supporting curve gives comfort and stability to the fingers when lifting a heavy pot.
On the upper part, a wide elliptical shape works as a pleasant support which also indicates the correct position of the finger for great ergonomics.
ITALIAN DESIGN - PATENTED
CITY solid structure is engineered to enhance the mechanical strength. Handle City complies with European and CMA standard.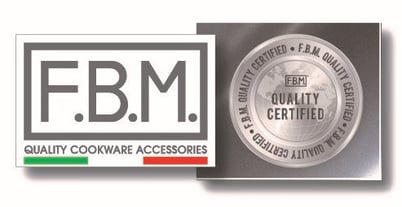 CITY is further verified according to F.B.M. Quality Management System to ensure our F.B.M. QUALITY CERTIFIED seal, a warranty to retailers and end consumers about safety of the product.
This certifies that our clients and consumers can buy from us with confidence, knowing that they are purchasing cookware handle that will stand up well to the rigors of daily use.
F.B.M. STANDS FOR AN ADDED VALUE IN QUALITY COOKWARE
F.B.M. srl is a leader in the field of cookware accessories, with several decades of experience in manufacturing and design to draw on when working with customers.
La Termoplastic F.B.M. srl offers outstanding design and certified quality in cookware handles and pans, working with customers from various locations worldwide.
Our focus is on providing high-quality handles for cookware without sacrificing one ounce of creativity.
Contact us today if you have questions about our products or you would like to arrange a personal consultation.