La Termoplastic F.B.M. has been active in the cookware business for 58 years. Our Purpose is to "innovate and evolve responsibly to increase the emotions of people cooking and the wellbeing of those who choose us". We believe that cookware accessories are such an important element in defining our cooking experience and that they can really make the difference in consumers' choice.
The cookware handle is the only element we interact with during cooking, for this reason we dedicate passion and focus in all our developments that should be unique in design, ergonomics, safety and innovation, since we are "entering in every home and make people's cooking experience always better all over the world" says Giorgia Munari.
Which is the story behind F.B.M. brand & Solutions?
F.B.M. was founded in 1963. The first product we produced was coffee pot handles, which gave us an introduction into the world of cookware. Since then we are specialized in design and manufacturing accessories for cookware.
The company took its name from Francesco and Bruno Munari, the two brothers who founded it. The trademark bears the founders' names and it is a very strong brand that from the beginning has been embossed on our products. We continue to use it today in all our handles, side handles and knobs. This detail gives our customers, buyers, retailers and end users, the security and recognition to know that they are getting a genuine product, safe and quality certified. All they need to do is turn the pot or pan over to confirm they are getting F.B.M. handles - the mark is visible on each one.
How and Why Design Became Important for our F.B.M solutions
One of the strengths enjoyed as a company is that from the very beginning, one of the founders has been involved in product design. We decided that design was a priority and chose to invest in this area from the outset. We wanted to give our customers access to original, modern Italian design, cookware handles that they would be happy to use on their products. To accomplish this goal, we have studied and invested deeply in this area. Nowadays we have a design and R&D center in house dedicated to new and challenging developments.
Efforts have allowed us to position our company in the international marketplace as a source for beautifully Italian-designed cookware products as well as for innovations. F.B.M. Solutions can give each customer the customized options they need, while always offering a differentiating advantage.
The quality of our value proposition has also made it possible to create win-win relationships with the big brands of cookware producers and to develop designed partnerships with them.
Origins with Disruptive Italian Design Cookware Handles
A second important reason why design became important in F.B.M. solutions stemmed from the innate capacity to generate new product categories and solutions. Symbolic has been the creation of the first removable cookware handle, back in 1970s when following a request from an Italian cookware manufacturer, we were asked to design a cookware handle solution that could be oven-safe. At this time, we applied for our first patent - for a detachable cookware handle that successfully combined technology and design and that still nowadays
is one of the most widespread system in the market. This new invention allowed F.B.M. to become a standout in the industry and since then we continued to invest aggressively in research and design.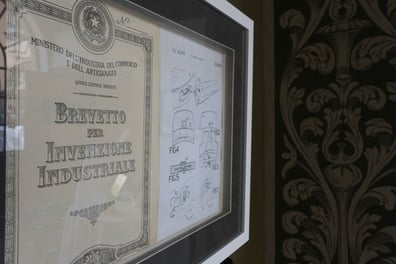 Experimenting with Colors
When the search for color in cookware accessories was in its infancy, F.B.M. launched several lines with colored plates and inserts. The company was a design innovator combining different materials technologies on its handles right up to the creation of some very iconic models with colored plate insert. Afterwards, coating solutions became very popular and today we can offer our customers with infinitive options of colors and finishes such as soft touch, glossy, mate, metallic and woof effect. Moreover, we develop yearly a trend guideline identifying most interesting and upcoming color options for handles and cookware.
Innovation and Materials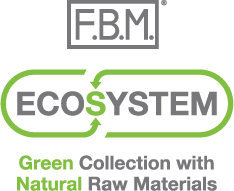 F.B.M. was the first European company to launch a line of silicone cookware accessories that combines the over molding of two different materials: silicone and Bakelite. The regular handle enjoys a special layer of silicone on top, which gives a special soft sensation and can come in 20 brilliant colors with endurance and highest dishwashing resistance. F.B.M. offers creative solutions to its customers and invests substantial resources each year in the production of design products to offer the international market. From the 1970s to today, F.B.M. has been a major influence with its iconic cookware handle designs. Its latest achievement has been the launch of a new collection of sustainable accessories for cookware collections.
F.B.M. Represents Quality Cookware
When you want t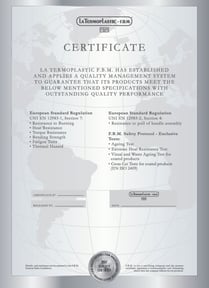 he best in modern Italian design, innovation and certified quality in cookware handles for pans, confide in F.B.M. All our products comply with international reference regulations and are certified from major laboratories.
Moreover, we offer the expertise of our internal Lab service, which can release you with your own quality certificate.
Contact us today to know more about this and request yours.