The current framework of uncertainty created by the pandemic has led to a change in kitchen habits. Consumers are now paying more attention to health and hygiene.
The market for safe, hygienic products is growing rapidly due to increasing social awareness of the risk of microorganisms. The availability of new products with antibacterial characteristics, will raise the bar on hygienic features of the products we choose and attract the interest of consumers. They have already shown interest in raising the quality and safety features of the products they are buying. Latest examples of brand new products with antimicrobial properties in the market includes: cutting boards, food containers, door handles, shopping cart handles, pens, light switches, tiles, flooring systems, textiles, trolley bags, and much more.
Good Hygienic Practices Important in the Kitchen
If good hygienic practices are not followed in the kitchen, it can be very easy for surfaces to become contaminated with bacteria. The kitchen is also the place where we store a lot of products coming from outside, just think of the products we bring home after grocery.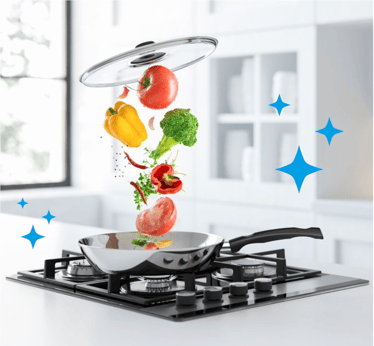 As with many common items,
kitchen products are often exposed to moisture or humi
d
conditions
. This creates the
ideal breeding grounds for bacteria
that can harm the products and generate cross-contamination by passing from surface to surface. We handle pots and pans daily in our homes, and this often happens at the same time when we are touching fresh food for cooking along with other instruments. Consumers have indicated a distinct interest in wanting to use antibacterial products in the kitchen to prevent contaminations. They are actively seeking out products with this feature.
How to Develop an Antibacterial Cookware Line
When you want to develop an antibacterial cookware line, you should focus on materials and their properties. For example, a frypan is made from several elements. Thereby, during the manufacturing process, an antibacterial property can be added by working on specific parts of the pot.
Coating: The coating is what covers the body of the cookware. It can be applied on both the interior and exterior of the cookware, providing non-stick performance and durability. The coating is a very important component in all cookware as can be specified to offer a range of performance and visual properties. Companies such as PPG offer a range of benefits in their coatings, including additives designed to protect the coating by increasing its resistance to bacteria on the coating film.
Handle: This is a fundamental element in creating antibacterial cookware since it is the only part that we touch when we are in the kitchen during cooking. To increase the antibacterial properties of this element is undoubtedly a plus to ensure hygiene in the kitchen. As mentioned, the handle is the element with which we interact every day while handling other products such as raw foods and utensils where contamination could occur, so being able to count on a handle with antibacterial properties certainly would be a weapon in the ongoing battle against harmful microorganisms daily.
Packaging: some companies started to present solutions on the possibility to apply antibacterial protection technology also to paper packaging. Nevertheless, this option is not so widespread and widely available in the market yet.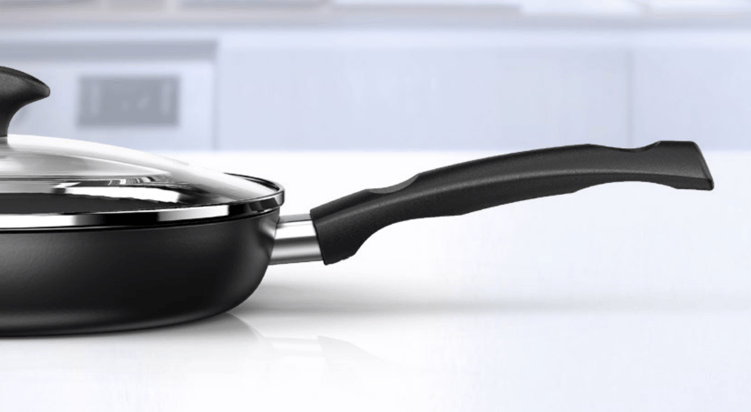 Safe to handle cookware handles
Safety is an aspect of great importance for consumers who are always looking for manufacturers capable of guaranteeing products that remain hygienic during handling even after contact with other products.
Additionally, customers want to be confident that they are buying a product that suppresses bacterial growth from the outset. Having a cookware handle that guarantees the suppression of bacteria during the entire supply chain handling, that is, from the time it leaves the production facility to the point of sale, guarantees the arrival of a safe and uncontaminated handle to the end user. Moreover, it is a form of protection for all the operators that manipulate the product during the supply chain. Consequently, once it arrives in the consumer's home, it gives the consumer the security of having a product that is much more sanitized.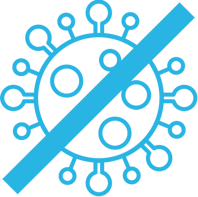 An important aspect to keep in mind is that disinfectants have an antibacterial property that lasts for a limited amount of time after which, if the disinfectant is not applied again, its action will extinguish. On the contrary, the antibacterial property directly inside the handle combined with regular cleaning maximizes antibacterial protection for safety and sanitation in the kitchen on an ongoing basis and for the expected lifetime of the product.
F.B.M. Active Shield
In this context F.B.M. with its strong expertise and pioneering spirit, has launched Active Shield, a new antibacterial line of cookware accessories. It is the first line of cookware handles that has an internal agent that inhibits bacterial growth, keeping the handle clean and sanitary. Thanks to its special formulation F.B.M. Active Shield avoids the adhesion, growth, and proliferation of microorganisms on the handles.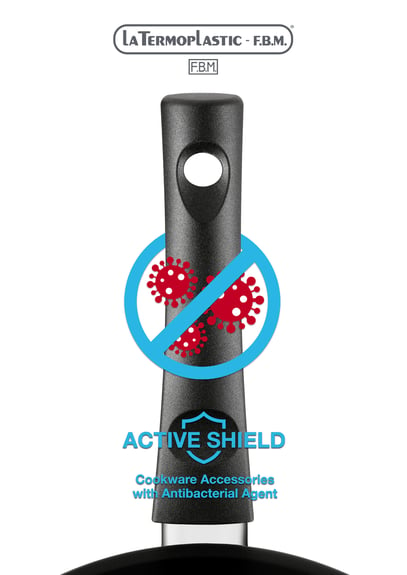 Its antibacterial effectiveness tested according to International Regulation ISO 22196, is proven to kill more than 99,999% of bacteria on the handle's surface and consequently ensure antibacterial safety for handling.
This new cookware handle property offers great advantage to all users since it limits the pass-through of bacteria among product's users, during supply chain operations and in-store. If you are interested in discovering more about antibacterial products and cookware in particular, we have developed a brief paper that illustrates the main point of interest and products ' features.
F.B.M. stands for certified quality in cookware
When you want the best certified quality in cookware handles and pans, look to F.B.M. Our focus has always been on providing high-quality products without sacrificing creativity.
F.B.M. Active Shield keeps the cookware handle clean and sanitary. It improves your quality of life and the impact on the environment by minimizing the ability of bacteria to spread. Our products are tested in laboratories according to main international regulations and frame of reference.
Contact us today to arrange a consultation or download our paper to discover all about the innovative cookware handles F.B.M. Active Shield.