The cooking journey doesn't end once the ingredients have been bought and the pans are in place. Consider ways to promote a fun and social cooking experience is crucial nowadays, especially for Millennials, the digital natives that have very specific wants and needs when they go shopping for cookware. It's not just about your product, but what millennials can do with that tool. And considering the increased time available to practice cooking at home, due to pandemic-related restrictions, digital natives are gaining highly developed cooking skills. This will also mean that they will be more aware of their need for different cookware solutions.
They are a generation that pays attention to every detail when they buy products for the kitchen. The handles have to be safe, to have a designer feel, appealing to the eye and highly functional as well. Also another important aspect they may consider is the sustainability of the product.
This is also a generation who wants to use high-quality ingredients when cooking in order to enjoy the experience of eating good food. To prepare the best meals, one must use good cookw are products.
Attractive Appearance
Consumers in this age group are drawn to cookware that is attractive in appearance. If it doesn't catch their eye initially, then it is less likely that a potential customer will decide to follow up to find out about the cookware's features and benefits.
They have been heavily influenced by cooking shows on television, which promote the art of meal preparation. Cookware and handles are now made with new designs and features that make cooking a more pleasant activity than ever before.

Functionality in the Kitchen
Functionality is another important consideration for Millennials who are looking for cookware. This age group is interested in discovering features that will make cooking and storing cookware an easier, more quick and pleasant process.
Multifunctional handles that can transform into spoon rests during meal preparation give cooks the versatility they crave. Cooking can be a shared experience while entertaining family members and friends that can be welcomed into the kitchen during meal preparation. If handles can perform more than one function, it makes the kitchen a less crowded (and less stressful) space and smart, too.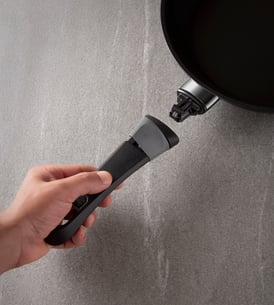 Detachable handles moreover save space in the dishwasher and when storing cookware oncethe meal preparation is done. No one has ever complained they have too much storage in their kitchen, and every little bit helps when it comes to gaining the advantage when it comes to kitchen cupboard or drawer space. If you want to deepen the theme discover our latest VIRTUS handle, designed for consumers with high interest in smart, functional and beautiful products.
User Experience, Performance AND SUSTAINABILITY Matters
When Millennials are looking for cookware, they won't be swayed by lower quality items. This generation is interested in buying products that will provide them with a high-end user experience. They know the difference of food prepared with good-quality cookware and that buying quality cookware and handles, makes to the quality of a meal.
Millennials aren't prepared to sacrifice performance when making a buying decision about cookware and accessories. This feature is far too important to them when buying and preparing their beautiful meals.
Last but not least, this generation wields strong power over buying choices by influencing cookware trends. One among all, they evaluates the impact that some products can have on the environment. Concerns about climate change are being felt personally, and they may be more inclined to choose cookware products that will reduce damages to the environment whenever possible.
Contact us today to arrange your personal consultation and discover all best products matching these trends!