F.B.M. is always excited to bring new and exciting products to the market. Our latest research showed that consumers have high interest in smart, functional and beautiful products, especially when it comes to the Millennials generation. In this scenario, the brand new VIRTUS REMOVABLE handle is a high-value accessory oriented towards functional and refined cookware lines.
VIRTUS Main characteristics
VIRTUS is designed to be an absolute top product. It attracts demanding customers in the market thanks to the exclusive design that completes detachable high-end features.

Within F.B.M. family of handles for cookware, VIRTUS stands out for its unique design and the brand new detaching system.
Its innovative release system has a high temperature resistance fixed frontal part, which makes it suitable for cooking in the oven. Its material is designed to be uniformly black and beautiful to look at thanks to the soft lines of its shape which do not make it sharp in case of contact with the hand and cools more quickly than other standard products.
Moreover the system is highly secure and guarantees high quality standards with a large and wide flame guard that provides maximum protection and elevates the overall product design.
VIRTUS main features
High-Level Design. VIRTUS has a strong and refined design, which is intentionally marked in its elegant lines that make it resemble a vessel in all its beauty and high style.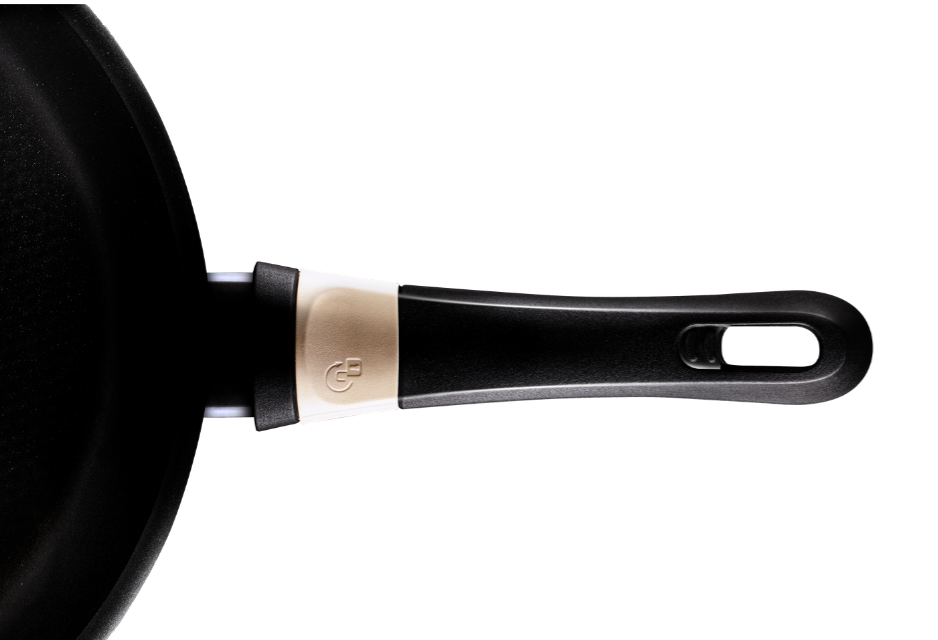 Structure & Ergonomics. A very robust and solid structure thanks to a full and rounded back, allows an ergonomic grip. The lower curve underneath the handle supports the fingers position for a perfect and easy detachment.
Detachable Insert with a Design Purpose. The removable system is activated with a detach plate that continues the clean line of the handle design. The insert is branded with a secure click locking system making it easy for the user to understand the lock/unlock functionality.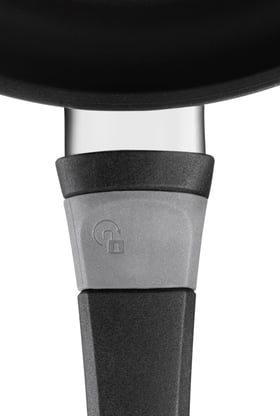 Color Contrast. The handle comes in fashion black with the release button in different contrasting color enhancing the removable functionality and get curiosity from the consumers immediately realizing there is something functional.
Special Features. VIRTUS does not have a push button like most pull handles. Instead, an insert completes the handle (available in color to coordinate with the cooking pots and pans).
Safety & Quality. Once the handle is assembled, it is very sturdy and it gives the user a feeling of security. VIRTUS handle is in compliance with European regulation EN 12983-1/2 and with the US CMA standards. Furthermore, F.B.M. tested the detaching system according to all the demanding requirements of its Quality System Lab.
VIRTUS Unique Plus on the Detaching Mechanism
Easy Flexibility - The user can attach and detach the handle using only one hand. There is no need to hold the pot with a second hand, a very useful feature, especially when the pot is hot.
Side Opening Access - Easily open it just by using your thumb. Embossed stripes on the detaching button also offer an anti-slip action when opening and closing.
Intuitive Mechanism - When the user hears a click, the action is completed. This detachable mechanism is an innovative patent held by F.B.M.
Advantages of using a Removable Handle
More Space Please! Improve your storage options by removing the accessories when putting your pot into kitchen cabinets and drawers. More place for more items into the dishwashing machine.
Versatility. Store your food into the refrigerator without transferring food from the pot. Again, the handle can be removed before storage, making the pot or pan a handy storage container. Use the same pot for cooking on the hob and oven, maximum flexibility with one cooking tool only.
Value Chain Savings . The removable handle also saves packaging space, making it easier to store in the warehouse and at selling points. This also represents an advantage for transportation space costs.
Save Space = More Sustainable. The opportunity to enjoy a smaller packaging ensures the use of less material, better transportation efficiency and best optimization of space within the dishwashing machine, thus reducing water consumption.
Matching Space Saving Lid. Handle VIRTUS also combines properly with special space saving knob COMPACT. You can play by using the same matching color for knob arch and detaching button!
F.B.M. is your Source for the Latest Styles in Cookware Handles
F.B.M. is synonymous with outstanding design, innovation, and certified quality in cookware handles and pans. Our company has been serving customers worldwide for over 55 years. Our constant focus has been on offering high-quality products while maintaining creativity. Contact us if you have questions and curiosity about the new VIRTUS detachable handle and fix an appointment to see the product!