Europe is always a cultural avant-garde place and a reference place for lifestyle. It is a leading venue for the establishment of new trends as a result of its refined taste and unique design abilities.
If you're wondering about which is the best option of handles for all the different alternatives of European cookware available on the market today, it's a good idea to go straight to a source for advice and guidance. La Termoplastic F.B.M. is a well-established European handles manufacturer that has been in the business for almost 60 years and knows the market well.

Several Types of HANDLES Pots and Pans for EUROPE
A key aspect to keep in mind is the fact that the market offers a wide range of handles with different positioning and price levels.
ENTRY LEVEL Range
1) HANDLES TO BE RIVETED
This category refers to those products that are mainly oriented toward competitiveness. Here we can say that riveted handles are a best seller. They work well especially with pressed-aluminum products which are very strong in mass-distribution. Styles can range from classic to more modern and innovative models.
If you want to have an upgrade within the category, you can opt for using the newest and modern design such as the one of MO 260. Its design makes it a very versatile product because it also allows customer's customization and the patented innovative fixing system upgrades the handle to a superior premium quality.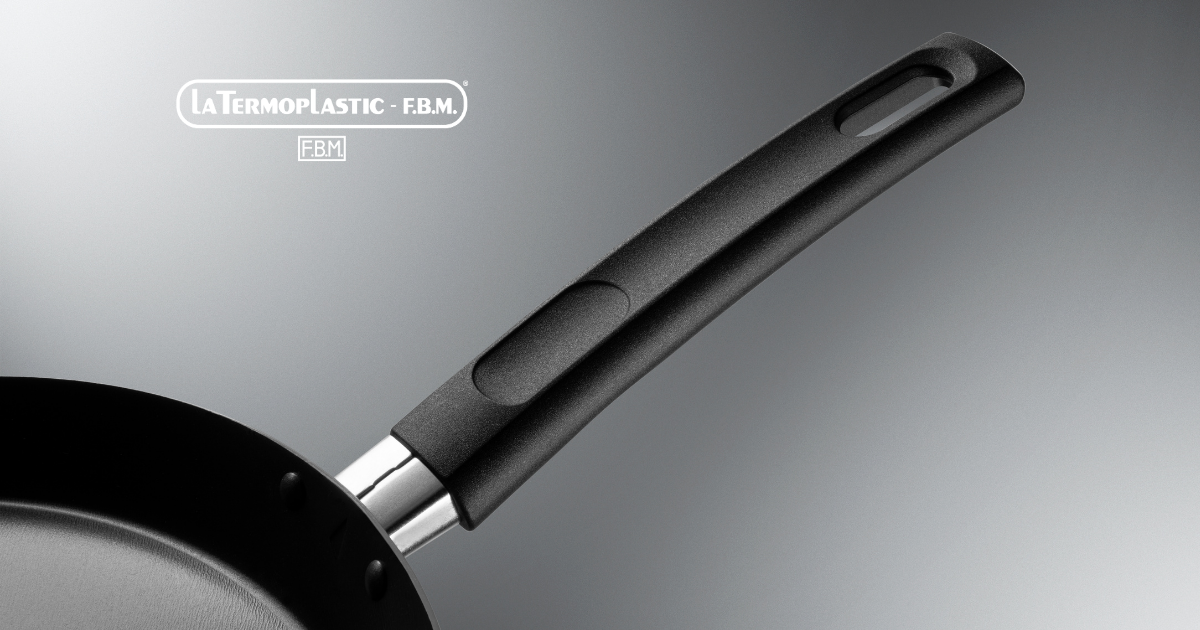 All of these options have specific treatments which ensure the durability and resistance of the metal fixing component.
You can match it with the classic and timeless look of our side handle model MA 250.
2) HANDLES WITH Flameguard
F.B.M. has a broad catalogue including different designs of handles which are well matching to all products categories.
Mix FLY side-handle with handle Rocket to enjoy more squared and clean lines.
Medium LEVEL Range
In Europe, these product categories are mainly characterized by handles with flameguards. Consumers likes the look and feel of these products, the fixing system with flameguards keep the overall grip very safe, protect from hot source and do not affect the internal part of the pot with unpleasant rivets.
Within our range, the new MO EDRA model stands out as a best seller of the medium-class category. A highlight goes on its peculiar finger rest that marks the design thanks to a unique form and it indicates the correct position for the handgrip.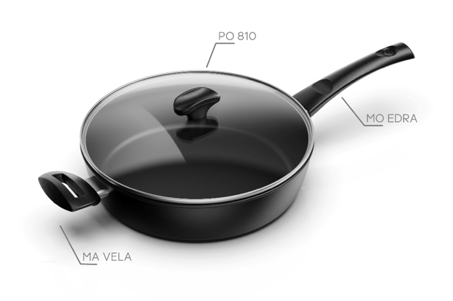 Another great protagonist with an elegant look and a marked personality is the side handle MA VELA. A stylish match of different curves that combines squared and round shaped lines, defines the impactful and solid appearance of this beautiful side handle which expresses a notable and professional look.
Another popular model in this range is PO TUX, thanks to a comfortable and easy safe hand grip, is an iconic product that well matches with several F.B.M. handles and side-handles to complete always new sets.

High-end LEVEL Range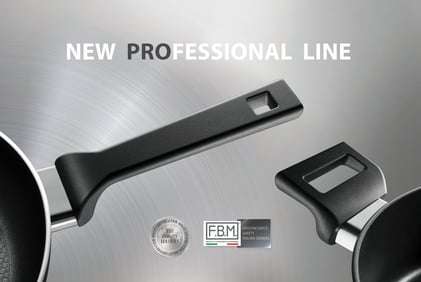 Moving up and looking at premium and higher end option, you will note a complete range of accessories that combine design and functionality.
Don't miss the PROfessional line, longer style and wide flameguard to make you feel like a professional Chef in your kitchen.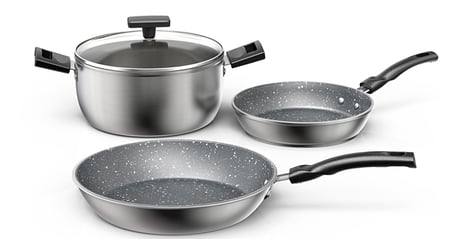 If, instead, you prefer to use a riveted option for your higher end product, try the Handle 210.
It is distinguished by its long, elegant shape and its comfortable grip, its rounded curves make it easy to hold, and it looks perfect for a very professional use, too.
You can match MO210 with New side-handle MA-ROMA and New knob POTUX .
THE LATEST INNOVATIVE MATERIALS BASED ON SUSTAINABILITY AND HYGIENE
Modern consumers are conscious about taking care of our minds and bodies, so they incorporate ethical and healthy habits in buying cookware pot and pad handles.
For F.B.M. SRL, this translates into the release of new materials that contribute to the company's purpose of improving people's well-being in the kitchen with environmentally and health-friendly cookware accessories.
ECOSYSTEM: It is the first line of cookware accessories manufactured with

natural and regenerated materials

. ECOSYSTEM is available in an extensive range of handles, knobs, and side handles.
LOOK AT ME: It is the new version of ECOSYSTEM, characterized by its

dye-free material

that combined with the natural and regenerated material of ECOSYSTEM creates a UNIQUE green shade.
F.B.M. also improve the wellbeing, linked to hygiene and safety in the kitchen, through ACTIVE SHIELD

, the first line of cookware accessories with a compounded

antibacterial agent.

FUNCTIONAL, CUSTOMIZED AND QUALITY HANDLES FROM F.B.M.
When you want the best in modern Italian design, innovation and certified quality in cookware handles for pans, confide in F.B.M.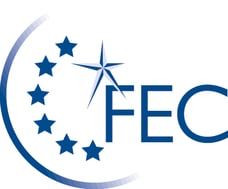 We are proud partner of FEC - Federation of the European Cutlery, Flatware, Hollowware and Cookware Industries, one of the major International cookware associations. F.B.M. is committed in sharing its knowledge contributing to the development of industry standards and to spread useful information to consumers, retailers and manufacturers in advance about the latest trends in the market.
Along with its extensive product catalog, F.B.M. also has far-reaching consulting experience in developing ad hoc solutions for clients. We are more than just cookware handle suppliers; we work with our clients to give advice about the best type of handle for a client's product line and even provide custom colors and effects to create maximum impact.
Contact us today to check our complete catalogue and to discuss your needs.