Europe is always a cultural avant-garde place and a reference place for lifestyle. It is a leading venue for the establishment of new trends as a result of its refined taste and unique design abilities.
If you're wondering about which is the best option of handles for all the different alternatives of european cookware available on the market today, it's a good idea to go straight to a source for advice and guidance. La Termoplastic F.B.M. is a well-established European handles manufacturer that has been in the business for years and knows the market well.

Several Types of Pots and Pans for EUROPE
When you are looking to find the best option for your cookware range, you actually have an wide offer of handles available at several positioning levels and price points, depending on the type of cookware product you want to produce.
ENTRY LEVEL Range
1) HANDLES TO BE RIVETED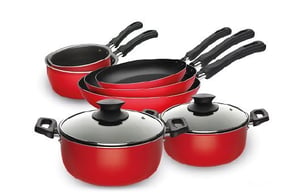 This category referes to those products that are mainly oriented toward competitiveness. Here we can say that riveted handles are a best seller. They work well especially with pressed-aluminum products which are very strong in mass-distribution. Styles can range from the classic and timeless look of our handle model MO 290 to the newest and modern design such as the one of handle Thor.
If you want to have an upgrade within the category, you can opt for using the characteristic handle MO 250 which has a closed and elegant bracket, thus providing a different solution and effect.
All of these options have specific treatments which ensure the durability and resistance of the metal fixing component.
2) HANDLES WITH Flameguard
F.B.M. presents a very wide offer of different handles with flameguard which are suitable to complement aluminum, steel or enamel products. As described in previous posts, F.B.M. has a broad catalogue including different designs of handles which are well matching to all products categories.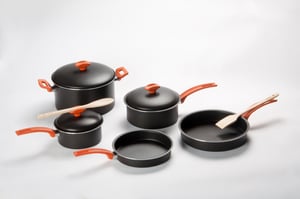 For more entry level options, a winning products you can choose is the FLY series. This complete set including handle, side handle and matching knob, is characterized by an attractive design, which was also developed to provide excellent ergonomic benefits to the user due to the lower curve in the grip. This series also gives consumers an exceptional feature they will really appreciate: the handle is designed with the functionality of a ladle rest. This is an excellent added value for the consumer, especially for a first-class product.
Medium and High-end RangeS
In Europe, these product categories are mainly characterized by handles with flamegards. Consumers likes the look and feel of these products, the fixing system with flameguards keep the overall grip very safe, protect from hot source and do not affect the internal part of the pot with unpleasant rivets.
Within our range, the MO FIFTY ONE model stands out as a best seller of the medium-class category. With its unique design featuring two reversed triangles connected by smooth lines, it is both ergonomic and elegant in appearance.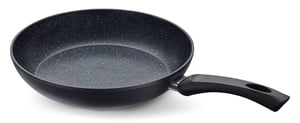 Another classic handle design is the handle M0 580 which features a characteristic top in its flattened design.
Other popular models in this range are the MO F01, which is distinguished by its back loop design and strong ergonomics, and the CHICAGO handle which is notable for its uniquely rounded shape in its front end, body and flameguard, giving it a distinct appearance.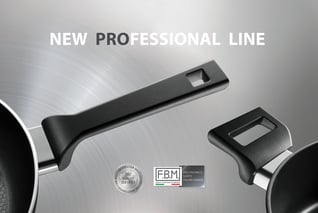 Moving up and looking at premium and higher end option, you will note the SOFT series, a complete range of accessories made in silicon, the perfect merging of design and functionality. Also don't miss the new PROfessional line, longer style and wide ring to make toy feel like a professional Chef in your kitchen.
If, instead, you prefer to use a riveted option for your higher end product, try the Handle 210 . It is distinguished by its long, elegant shape and its comfortable grip, its rounded curves make it easy to hold, and it looks perfect for a very professional use, too.
Along with its extensive product catalog, F.B.M. also has far-reaching consulting experience in developing ad hoc solutions for clients. We are more than just cookware handle suppliers; we work with our clients to give advice about the best type of handle for a client's product line and even provide custom colors and effects to create maximum impact. Contact us today to check our complete catalogue and to discuss your needs.