The SUPER detachable side-handle is a welcome addition to complete the handle SUPER for pots and pans. With the new SUPER, you are not just getting a great-looking set, it comes packed with features!
Its sophisticated appearance, the versatility of use, and safety system make it a winning choice — hands down!
SUPER -REMOVABLE Cookware Side Handle- Characteristics
Detachable System:
This feature gives consumers the flexibility to use pots on the stovetop or in the oven. Cookware sets with a removable cookware accessories as a selling feature are attractive to consumers, who are interested in flexible cooking options when they get their cookware for home.
Ergonomic & Comfort:
The unique form gives a great level of support to the hand during use. The side handle's design is wide and squared, and it is highly ergonomic, being engineered not just for comfort, but also with safety in mind.
Update and Fresh Design:
This model is a brand new version of a best selling line by F.B.M. that has been completely renewed by this new design. It enjoys one of the first historical patents for removable cookware filed by F.B.M., which has become one of the most widely-used systems in the world thanks to its simplicity, safety and easiness to use by end consumers.
Intuitive & Easy to Use:
The SUPER removable cookware side handle uses the same detachable system and pushing button of its matching cookware handle. The user simply presses and pulls the handle to remove it. The button has a distinctive design, it immediately recall its functionality and it is available in black or red color.
Developed for Smart Cookwer-lovers Product Lines.:
SUPER is part of a convenient yet functional product line, nevertheless, SUPER's minimalist and elegant lines offers the appearance of a premium product.
SUPER Detachable Set Benefits
When cookware parts can be detached, it gives end consumers the most flexibility in cooking and storage options - ultimately resulting in space and cost savings for the buyers.
The removable handle and side handle gives the advantage of multiple uses:
Space Saving for Storage: Once cooking is completed, the user can remove the handles from the pot and place them inside the cookware to save storage space in kitchen cabinets and drawers.

Ideal in Dishwasher: removing the accessories, gives much more space and flexibility when placing the pot into dishwashing machine, allowing to better organize the slots and enjoy more space.
Use Pot for Food Storage. The product is so versatile that users also have the option of removing the accessories and using the pot as a food storage container by placing it in the refrigerator.
Compact Packaging, Warehousing & Transportation:

vendors can insert the accessories into the pot body and thus have a more compact packaging ; this is an advantage both for storage and transportation costs, as well as paper saving.

Quality and Certifications
F.B.M. certifies that SUPER set complies with requirements for cookware handles. F.B.M. is known for conducting several quality-control tests to ensure that its products meet the highest standards.
F.B.M. Gives you High-Quality Cookware
When nothing but the best in design, innovation, and certified quality in removable cookware handles and pans will do, look no further than La Termoplastic F.B.M. We have been in business for almost 60 years. Since we opened our doors, we have been serving the needs of customers worldwide.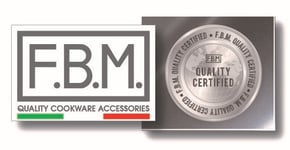 Our focus has always been on providing the highest quality products without sacrificing creativity.
Contact us if you have questions about any of our products or to arrange a consultation.