Today's consumers are attracted by products that, on top of design and good quality, can give them flexibility for home meal preparation as well as storage. Cookware with a detachable handle satisfies both requirements very well.
F.B.M.'s removable handle for cookware demonstrates that users don't have to give up style and comfort to get a handle that is easy, functional and convenient to work with.
F.B.M. history is marked by the invention of the first detachable handle in the market, making it a quality expert. The idea came from one of the company founders who invented a unique handle system, obtaining a cookware patent. The system is still one of the most used for detachable handles all over the world.
Detachable Handles By La Termoplastic F.B.M.
Over the years, the system has been applied to different handle models which constantly evolved and renovated into new styles and design.
Nowadays, MO SUPER is the latest release from the company for detachable handles. It gives users a fully modern look, with straight lines and rounded edges to provide complete comfort during use. This cookware handle is very easy to remove. Simply press the button to detach and reattach the handle as needed to place the pan in the oven, in the refrigerator or for space-saving storage.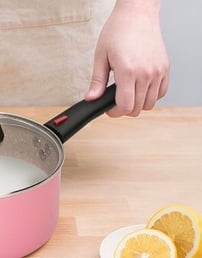 Recently, F.B.M. has invested in creating a completely different detachable system which would apply to more sophisticated product lines, focusing on quality and design with special attention to functionality and differentiating details. In this view the detachable system of MO FORTE was created.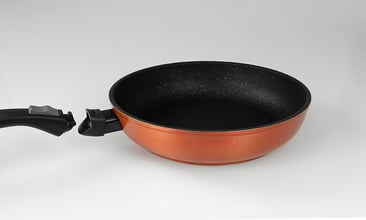 Forte is a well-designed and functional handle that is easily recognizable by its robust shape. The detaching button of this removable handle can be personalized in colors and it is designed in a special way to ensure maximum safety during cooking and carrying the pot while hot and filled with food.
F.B.M.'s patented release system allows users to place the pot directly into the oven and take it off with one hand only, which is a special and very comfortable feature. Choose from flame guards in aluminum or stainless steel.
F.B.M. is an Italian manufacturer of high-quality pot and pan handles at a variety of price points. Contact us today for more information or to discuss your cookware development or design needs in detail