Today's consumers are attracted by products that, on top of design and good quality, can give them flexibility for home meal preparation as well as storage.
Spending much more time at home has also increased this desire and willingness to look for new ways to prepare meals without straining one's budget.
Here is where the detachable pot handles can really be the unexpected superstar accessory for pots and pans and they perfectly meet the new consumer needs.
F.B.M.'s detachable cookware handle proves that users don't have to give up style and comfort to have a handle that is easy, functional and convenient to use. Read on to find out more!
Detachable Handles By La Termoplastic F.B.M.
Characterized by the detaching mechanism patented by F.B.M. since the 70s - the most used in the world even today, over the years the system has been applied to different handle models which constantly evolved and renovated into new styles and design.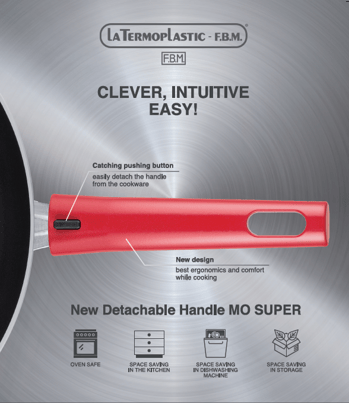 Today the removable MO SUPER handle represents the revolution of removable handles launched in the world market and brings its distinctiveness to the next level.
This cookware handle is very easy to remove. Simply press the button to detach and reattach the handle as needed to place the pan in the oven, in the refrigerator or for space-saving storage.
It matches with the new side-handle MA SUPER.
Recently F.B.M. invested in creating a completely new detachable system which would apply to more sophisticated product lines, focusing on quality and design with special attention to functionality and differentiating details. In this scenario VIRTUS removable handle is the latest release from the company for detachable handles. It is a high-value accessory oriented towards functional and refined cookware lines. VIRTUS is designed to be an absolute top product.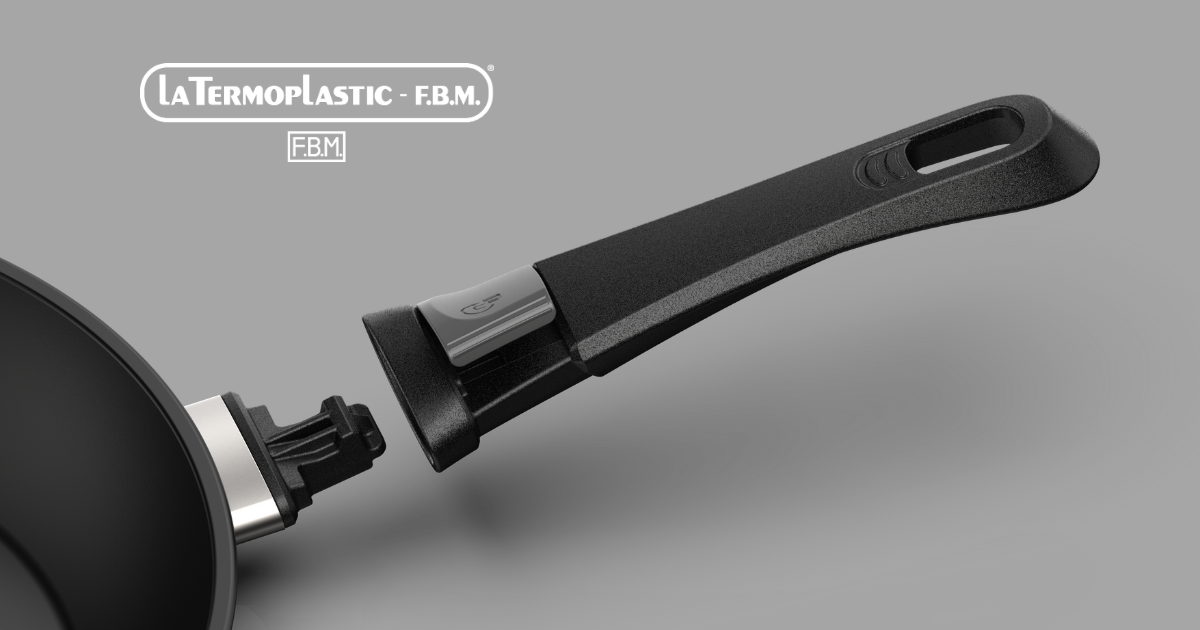 The removable system is activated with a detach plate that continues the clean line of the handle design. The insert is branded with a secure click locking system making it easy for the user to understand the lock/unlock functionality. Nowadays, our latest research showed that consumers have high interest in smart, functional and beautiful products, especially when it comes to the Millennials generation. Check out all Virtus handle features here.
MO FORTE is another great detachable handle of F.B.M. family! Forte is a well-designed and functional handle that is easily recognizable by its robust shape.
The detaching button of this removable handle can be personalized in colors and it is designed in a special way to ensure maximum safety during cooking and carrying the pot while hot and filled with food.
F.B.M. LA TERMOPLASTIC KNOWS STACKABLE COOKWARE
When you need quality detachable handles, take a look at La Termoplastic F.B.M., Italian manufacturer of high-quality cookware pans and handles.
F.B.M.'s patented release system allows users countless advantages. Versatility, thanks to the possibility to place the pot directly into the oven and take it off with one hand only, which is a special and very comfortable feature.

And let's not forget about space saving. A set of pots and pans with detachable cookware handles is a highly functional choice. If space is limited, the customer has the option to remove the handle for easy storage between uses.
Contact us today for more information or to discuss your cookware development or design needs in detail.