Cooking is a creative activity that allows us to experiment with various pots and pans to create delicious dishes to share with family and friends. Of course, all kinds of cookware, can wear out, so, when is the right time to replace the pots with handles?
The following are some guidelines for replacing pots and pans with handles.

SHOULD YOU REPLACE THE POT OR THE HANDLE?
The pot is made up of two main parts: the body and the fittings.
The handle is the only part of the cookware touched during cooking. It has a fundamental role since it must guarantee quality, functionality, and safety. It must also be ergonomically designed for comfort. By its nature, it is highly durable and robust. Handles undergo mechanical solid and thermal tests to ensure they are safe and reliable for kitchen use.
The European regulation EN12983:1 set out the safety and performance standards of domestic cookware for use on top of a stove, cooker or hob.
F.B.M. on its cookware accessories like knobs, side handles and handles, regularly conducts performance tests to determine whether they meet EU standards. Some example:
Heat Resistance Test: This test determines whether the handles for pots and pans will melt when exposed to direct flame. The handle must not melt, break down into pieces, or place the user at risk of being burnt.
Bending Strength Test: In this test, cookware handles are subjected to torsion force on both sides. The axis is tightened to ensure the rotations don't cause damage to the handle's fasteners.
For a complete overview of most important tests performed to ensure safety of handles for cookware read this article: How to Assess Safety in Cookware: European and American Regulations.
The pan's body can be the most delicate part. With regular use, it can lose its non-stick properties, get scratched, and ruined. A common problem with pots and pans is excessive heat that can deform pots and pans with handles.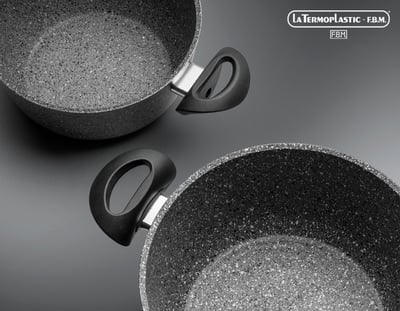 Furthermore, the coating is also subject to wear. Coating is what covers the metal body of the cookware. It can be applied to the interior and exterior of the cookware, providing a non-stick feature and durability. Food will stick to the pan if the layer becomes extremely scratched or the non-stick coating is chipped.
When you feel you need to change the handle, it often makes sense to think about the condition of the entire pan. Taking this step will avoid using an obsolete product that has lost its functionality due to wear.
WHAT TO CONSIDER BEFORE CHOOSING A REPLACEMENT POT WITH HANDLES
Apart from the physical aspects of pots and pans that may compromise cooking, several factors influence your decision. Here are some questions to ask:
Are the outside surfaces discolored or dented?
Is your cookware collection still to your taste?
Does its style fit in with your kitchen?
Are you using pots and pans that are either too big or too small for your needs?
Do you use one pot more often than another?
Does the condition of your cookware weakens your enjoyment in cooking?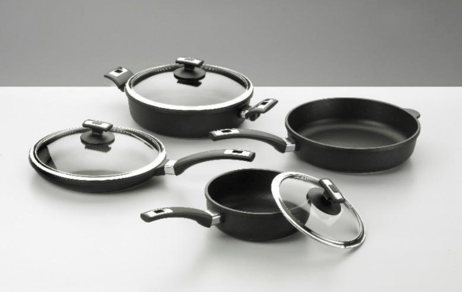 If you answered "Yes" to one or more of these questions, it's most likely time to think about replacing your pan with a new set of cookware.
Replacing the handle alone is not worthwhile. You will be better off replacing the whole pan, including the handle, knobs, and lid, always relying on the choice of a strong and durable handle, such as those of F.B.M.
HOW TO MAKE THE RIGHT DECISION?
If you need to buy a replacement pot with handles, the choice of the handle is crucial. It would be best if you chose a handle that is high quality, practical and functional. Look for one that is certified (Cooking Manufacturing Association in the US or EN12983:1 in Europe).
La Termoplastic F.B.M. also offers handles and knobs with antibacterial qualities to ensure sanitation in the kitchen. The company also provides a line of planet-friendly, sustainable cookware handles.
All of F.B.M.'s handles and knobs are available in a range of colors and finishes to appeal to various customers' styles and tastes. The cookware accessories are offered in multiple designs, from classic and elegant to modern and edgy.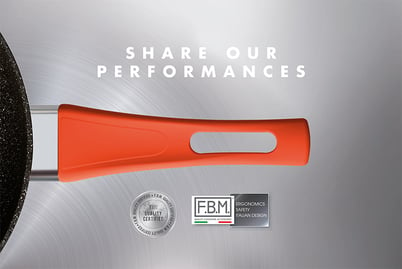 To sum up, when you want the best in design, innovation, and certified quality in cookware handles and pans, look to F.B.M. We have been in business for more than 58 years. During that time, we have been working with customers from various locations worldwide.
Our focus has always been on providing high-quality products without sacrificing one ounce of creativity.
Contact us today if you have questions about any of our products or to arrange a consultation.