People's well-being, in the kitchen and beyond, is at the heart of our idea of sustainability. Everything we do aims to cultivate the cooking experience, through a product we interact with daily when preparing food.
This is a long-term vision and corporate mission that are present today in our social WHY and contributing to the to the company's purpose: to "combine the passion and trust of our people in a multinational family that innovates and evolves responsibly to enhance the excitement of people cooking and the well-being of those who choose us".
A concept that needs to be interpreted 360°, as a key to understanding our company, but also the relationship with the territory and stakeholders.
Corporate sustainability as a shared value
People, Environment, Business and Company are the four goals of the sustainable commitment of La Termoplastic F.B.M., internationally, as manufacturer of cookware handles for pans.
For F.B.M. SRL, the focus on Best Practices has always been fundamental. Now, however, we are considering these actions in a more structured way, defining our Corporate Purpose starting precisely from the centrality of "people's well-being."
A path we are implementing both externally, the consumer and our value chain, and internally, at the level of the corporate organization. In the latter case, the goal is to make the workplace (at all our four production sites) a happy place, where the business climate is positive, interpersonal processes are fluid, and thus results in higher performance.

We have also initiated a materiality analysis process directed at identifying the sustainability-related issues most relevant to our business. "Material issues" that can be reasonably considered important in reflecting the economic, environmental and social impacts of the organization or in influencing stakeholder decisions.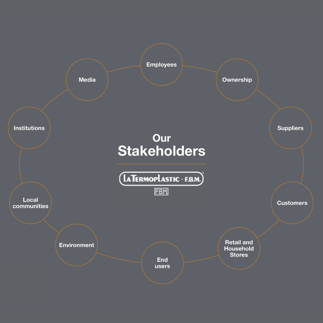 Our sustainable commitment is expressed in
four basic goals: people, environment, company, and business
. These are trending goals that we are working on concretely and that also led us to develop our first
sustainability report
.
This report is the expression of the corporate strategy that we have given ourselves today and as a future priority. To learn more about this topic, read the dedicated article.
Environmentally and health safe cookware
F.B.M.'s commitment is embodied in its ability to offer innovative and sustainable kitchen utensils to the market.

The Ecosystem is a compound that contains natural materials (wood processing waste and material from controlled sustainable forests), into which regenerated plastic material, recovered from molding waste, is injected.
Thus, new life is given to waste material, which is transformed into raw material and recovered, avoiding waste generation. This process developed in-house by the company makes it possible to reduce the amount of waste and the use of raw materials, extending the life of materials.
This line boasts a controlled and validated production process.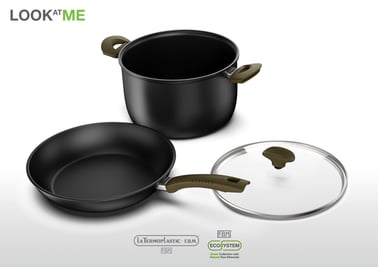 An Ecosystem upgrade was launched two years ago with Look At Me! The base material has been stripped of all dyes, this causes the product to naturally acquire their unusual green color. This dye-free material combined with the natural and regenerated material that is in ECOSYSTEM creates this unique green shade.
Not only that, precisely because well-being is always the focus of the company's innovation processes, a line with antibacterial properties Active Shield was also launched. The goal is to respond to that desire to feel good, which is increasingly essential today, by improving daily well-being through hygiene and safety in the kitchen. By improving the well-being of society, Active Shield is also a sustainable line in a broad sense.
F.B.M. your Sustainable Cookware partner
When you want the best in design, innovation, and certified quality in cookware handles and pans, look no further than F.B.M.
At F.B.M., we understand that quality and creativity must come first, and that nowadays sustainability is a crucial aspect that cannot be sacrificed.
Kindly contact us today if you have questions about our eco solution cookware accessories and planet-friendly practices, or to arrange a personal consultation.