Empowering a healthier and safer wellbeing, as a personal and timely project, is no small feat. Healthy living has several facets and making positive lifestyle choices have a definitive impact on the way consumers seek information and make purchasing decisions.
Consumers are interested in wellness products and services. The pursuit of well-being rather than the accumulation of "stuff" is the new imperative. When choosing to purchase a product, consumers not only consider design, materials and functionality, but more and more emphasis is being placed on the intrinsic emotions that the product or service arouses.
The public has become more aware of what is needed to enjoy good physical and mental health, and "Clean for Health" is also a new trend, as personal hygiene and regular household cleaning are essential for good health.
This is an opportunity that reflects a new concept of "wellness," which is increasingly to be understood holistically, encompassing body, mind and spirit. With the current definition of "wellness," any product that prioritizes simplicity and convenience and contributes to overall well-being therefore has the opportunity to capitalize on this trend and have an edge. Offering a product that helps prevent disease and promote overall health and well-being now becomes a differential competitive advantage.
Why do Safe & Clean Kitchens Matter?
As we reported in our book on Safe and Clean Cookware Products, the global research company Euromonitor informs that safety is among top 10 global consumer trends: "Manufacturers are launching value-added products in line with growing health consciousness to meet new hygiene standards, sparking innovations that prioritize sanitation as a critical product feature.
Moving forward, companies should implement enhanced safety measures and innovations that target concerns to reassure consumers. Businesses that incorporate exceptional sanitation features into products and services, while communicating these benefits, will attract Safety Obsessed consumers." (EuroMonitor International, 2021).
The kitchen is increasingly an ecosystem devoted to take care of health and wellbeing.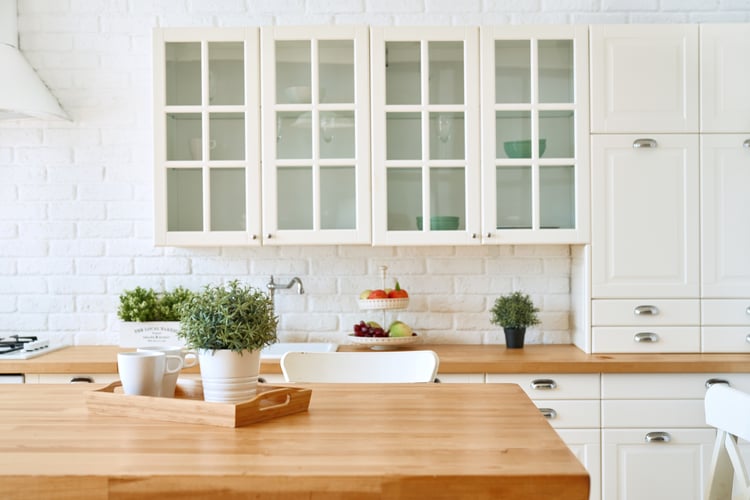 The kitchen is of prime importance to a household. It's the place where the family cooks, eats and gathers. Stories and confidences are shared in the kitchen and it is a place for family members of all ages to feel safe.
Modern consumers are conscious about taking care of our minds and bodies, so they incorporate healthy habits in buying and cooking food and make conscious choices in cookware accessories. The reason is simple. Kitchen is a space in which they can help the family improve habits and take care of their health.
Update your Kitchen for a Safe and Healthy Well-Being
The International Scientific Forum on Home Hygiene informs that "The kitchen is a communal area of the home which is in constant use throughout the day, not only by all the family, but also by household pets. In particular it is the place where food is prepared. Good hygiene in the kitchen is important to ensure that the food we prepare is safe to eat." (International Scientific Forum, 2021).
You might think that the sink area or cutting boards are the places where germs are most likely to lurk, but so are the handles of pots and pans. Since cookware handles are the only part of the pot or pan touched during cooking, they are especially vulnerable to contamination. They must be kept clean and sanitary.
F.B.M. Active Shield: the conscious choice for your kitchen
Consumers have indicated they are interested in using environmentally and health safe cookware.
F.B.M. has developed a unique product, Active Shield, to lower the risk of contamination with antibacterial properties and thus improving the everyday wellbeing of people at home. Active Shield offers consumers the features they want for safety and hygiene in the kitchen.
Benefits of F.B.M. Active Shield: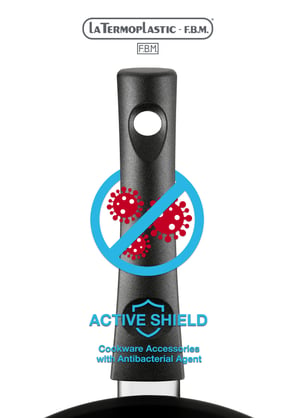 Safe Cooking: protecting consumers from the presence of bacteria on the surface of the product.
Cleaner to use: the antibacterial properties of the product ensure a cleaner surface than untreated products available on the market.
Continuous protection: the protective qualities of the antibacterial product are long-lasting and cost-effective.
Healthier choice: keeping the handle clean reduces the risk of bacteria-borne illness and improves users' overall health.
Comfortable Touch: consumers can enjoy multiple designs and shapes to match with the higienic and cleanliness features of Active Shield, thus having the best ergonomics to support the grip and facilitate the cooking experience.
F.B.M. has registered an invention patent for Active Shield. This product blends in perfectly with the company's philosophy. It reflects our goal to improve the public's health in the kitchen.
F.B.M.: Good for You, good for Society and the Planet
F.B.M. Active Shield fills consumers' health, safety, and hygiene needs in the kitchen. It's a socially-responsible product offering peace of mind to everyone who comes in contact with it, from the manufacturer to the supplier to the end-user.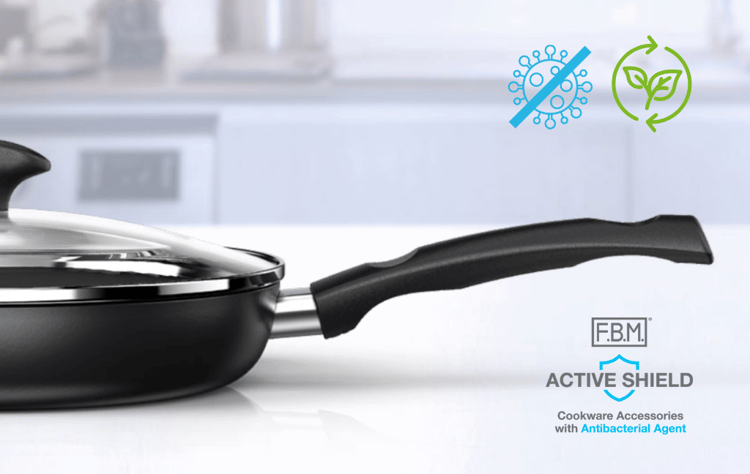 Active Shield is a product that helps keep the surfaces that come into contact with the user clean and sanitary. It minimizes the spread of bacteria and lowers the risk of illness.
The goal is to respond to that desire to feel good, which is increasingly essential today, by improving daily well-being through hygiene and safety in the kitchen. By improving the well-being of society, Active Shield is also a sustainable line in a broad sense.
F.B.M. provides the best in design, innovation, and certified quality cookware. Our company wants to be your consulting partner, offering products that are consistently at the forefront of quality design and functionality. F.B.M.'s business model is guided by research, experimentation, and continuous innovation.
Contact us today to arrange a personal consultation or discover more about our health-safe cookware collection.