In our fast-paced world, where time is a luxury, the kitchen has become more than just a place to cook. It has evolved into a sanctuary where families and individuals alike seek wellness, creativity, and a way to nourish their bodies and souls. Within this culinary haven, the role of cookware has emerged as an essential element, elevating the cooking experience to new heights.
A combination of proposals that combine functionality, safety and design will be highly regarded, especially by the young generation. For cookware manufacturers this means paying even more attention to producing cookware collections with these standards.
When making a decision to buy or produce a new collection of quality pots and pans, finding the best product is not so easy.
In about the sixty years period that La Termoplastic F.B.M. has been involved in the sector and in the production of cookware handles, side handles and knobs for pots and pans, we have always welcomed the challenge of keeping up to date with changes in cookware trends. And we fully understand why cookware handles are important and strategic in this context!
However, we also realize that not all users are aware of the essential qualities they should look for in a cookware handle. Therefore, this guide has been designed to explain why handles are important and how to choose and evaluate them.
In this guide, we discuss the following topics:
1. Why the Handle is such an Important Feature
2. Design and Ergonomics: What to Look for
3. Safety Standards for Handles: Tests and Comparisons to ensure the Highest Quality Possible
5. Why Choose a High-Quality Handle?
6. An Overview of the Best Materials
8. The Latest Innovative Materials based on Sustainability and Clean Technology
9. Advice for Companies in the Cookware Sector
1. Why COOKWARE Handle is Such an Important Feature
They say that to understand the features and benefits of a product, you must look at it from the proper perspective. The handles of pots and pans are no exception.
First of all, handles are the only element we touch and we interact with when cooking. They are an essential component of the most frequently used items in the kitchen and therefore merit careful study.
In fact, because we come into direct contact with the handle during cooking, it is of major importance to ensure that it is safe and manageable.
It must provide the user with the comfort, quality and safety to be expected from a product designed for everyday use.
It is also important to remember that the handle helps define and enhance the aesthetic appeal and quality of the product: when buying a pot, it's the part that we look at and touch in order to help us determine whether the product is of superior or inferior quality.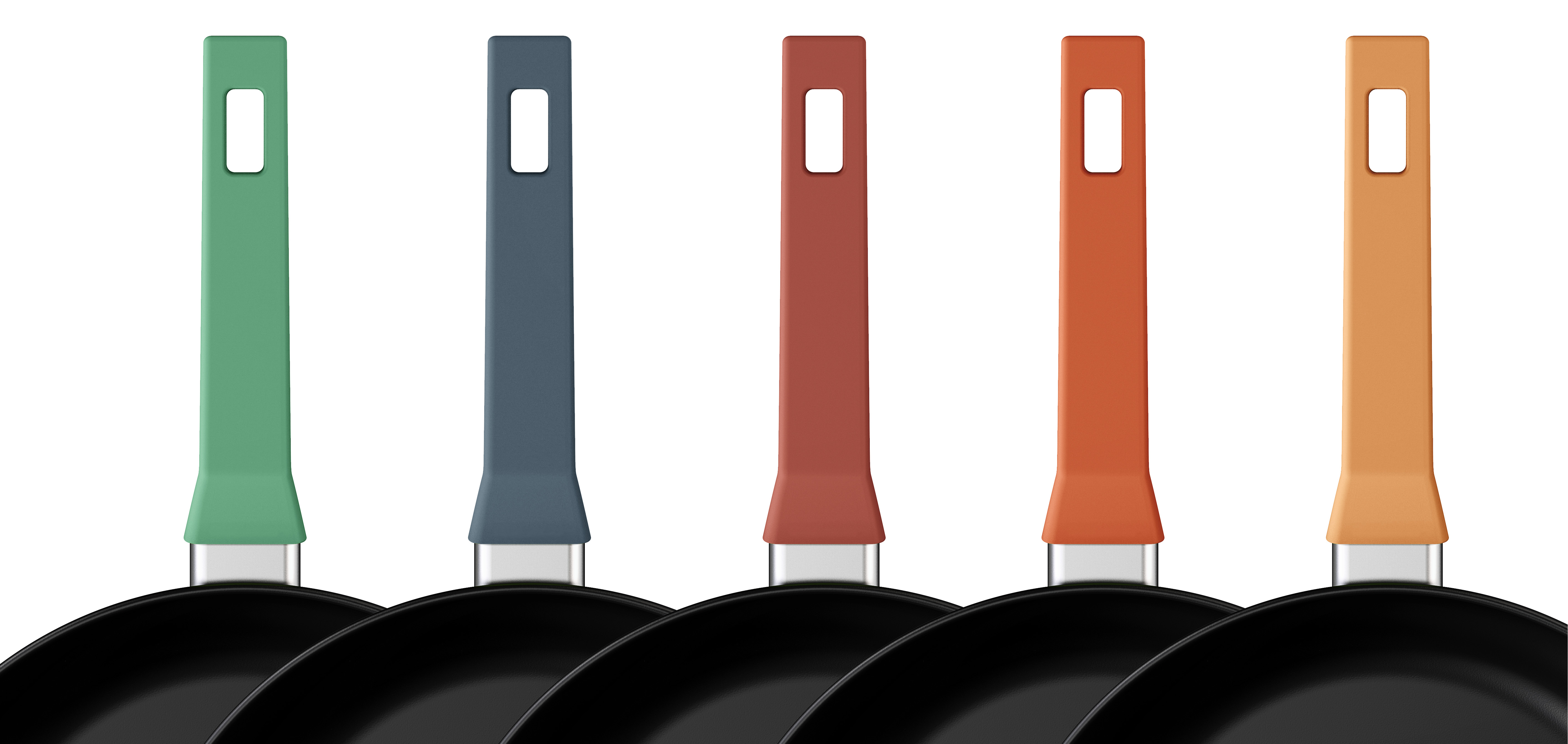 Therefore, handles and knobs are the essential components that must be given the proper attention that they deserve (if you want to learn more read the post 3 Signs You Should Invest In Cookware Handle Design).
2. Design and Ergonomics: What to Look for
Whether you are buying an inexpensive product or investing in a medium-high quality pot, it is of utmost importance for the cookware handle to have a stable and comfortable grip.
This is why, when we talk about the perfect ergonomic cookware handle design, we refer to a series of studies conducted by F.B.M. on how to guarantee that all its products provide the same assurance of safety, control and comfort.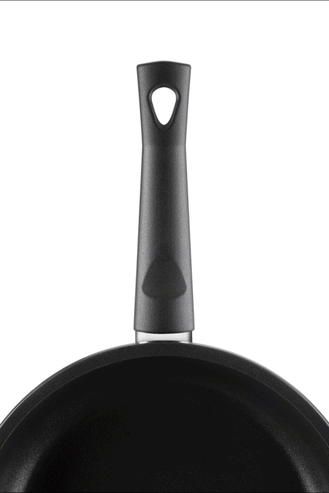 At F.B.M. we know that the size, shape and weight of the handle contribute to determining the consumer's perceived quality of the product.
In order to obtain the best results possible, we decided to develop an accurate system which would allow us to carefully evaluate the various parts of the handle and its grip ergonomics.
For example, certain optimal dimensions and proportions must be specified, and the handle should never hurt your hand due to uncomfortable and sharp edges.
With respect to design, we can confidently say that F.B.M. has always been known for its ongoing search for new shapes and details to ensure that the brand has a unique look.
A cookware handle represents countless hours dedicated to intense research and meticulous attention to details in order to create accessories designed for discerning clients.
Therefore, the handle has an esthetic function that can enhance and update even the simplest models, giving them a new appeal and making each pot or pan more attractive and desirable piece.
3. Handle Safety Standards: Tests and Comparisons to Ensure the Highest Quality Possible
Before being placed on the market, every handle is carefully evaluated to ensure that end user receives the best possible product. For this reason, numerous tests must be conducted to determine not only the actual manageability of the product in question, but also its ability to withstand the stress of constant use and continuous exposure to heat from stovetops and dishwashers.
Before mass production can begin, the different products are compared to each other and approved by a special committee who homologate the new item.
4. F.B.M. Certified Quality
To help you to understand what we mean by the certified quality of a product, we will refer to the international standards that pertain to kitchenware.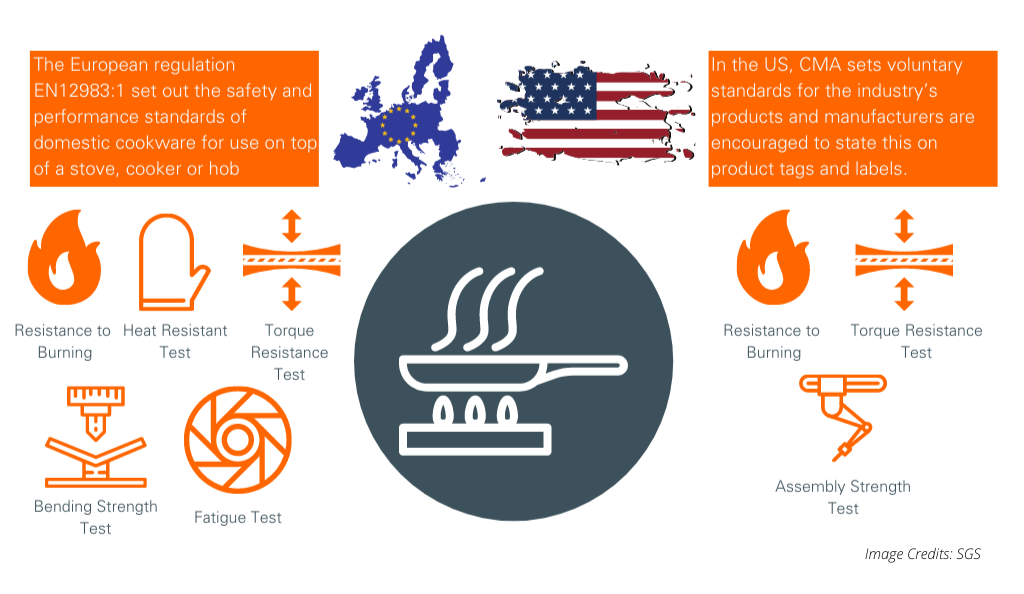 These guidelines share a sort of common language that is useful for those already operating in the sector who want to learn more about the products they can purchase and for those who are new to the world of cookware and want to find out as much as they can.
In both cases, being familiar with the most recent standards allows you to invest in quality products that live up to expectations and that can always guarantee excellent cooking results.
When referring to European standards, it is important to mention EN 12983-1, a section of the European regulation that relates to domestic cookware for the use on top of a stove, cooker or hob.
This standard specifies the safety and performance requirements that are applicable to all cookware, regardless of material or method of manufacture.
The CBA (The Cookware & Bakeware Alliance) also details the engineering standards for cookware and bakeware in the United States.
These guidelines outline the necessary requirements for products used for foods cooked by direct contact with a heat source.
Such specifications are necessary to allow the user to choose from the products available on the market with full knowledge of the facts, so as to avoid making a mistake.
F.B.M. products complies with European standards and with the CBA requirements, where specifically requested, and all products are Quality Certified: the company's quality logo shows that the products have been manufactured following standards that are well-known and recognized both in Europe and in the United States.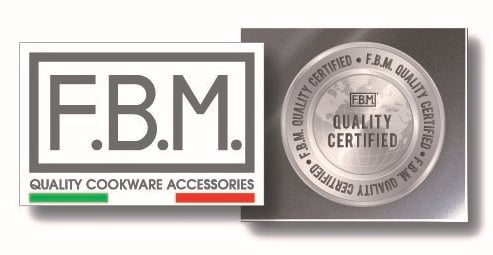 Moreover, the ISO 9001 standards stipulate that raw materials and finished products must be carefully tested before they are placed on the market.
Furthermore, F.B.M. has developed new tests aimed at further improving the quality of pots and pans it manufactures.
They range from aging tests, which are designed to show how the product reacts to continuous use over time, to wear testing on painted handles, essential for determining color performance. These tests are useful to assess the critical parts of the products that are subjected to wear, before manufacturing the final product.
The F.B.M. brand name guarantees quality for our customers with respect to the three criteria considered fundamental for cookware: ergonomics, choice of materials, and functionality.
This allows us to offer our customers truly unique products which retain their qualities and hold up over time: the materials chosen are evaluated and approved only after undergoing long hours of testing, while functionality is rigorously checked through a series of innovative, but fundamental processes.
5. Why Choose a High-Quality Handle?
Although this may seem to be a fairly obvious question, in reality, it isn't. In fact, today many buyers still tend to prefer an immediate saving in cost and don't consider the product's actual features and attributes.
As a result, they find themselves cooking with equipment that is not best suitable for meal preparation, and which can deteriorates very quickly, and that can even be harmful to their health.
It is also important to note that pots and pans with high-quality handles are dishwasher safe and can even be sanitized at high temperatures for optimal cleaning.
6. An Overview of the Best Materials
When examining the handles of the different pans available on the market, it is clear that some materials are consistently used.
Thermoset, for example, is a plastic material with special insulating properties, making it suitable for continuous exposure to heat sources.
We specifically chose to produce thermoset handles because this material is durable over time, dishwasher safe, and is also ideal for creating the perfect design handles for quality cookware.
The particular thermoset material that we chose is of a superior quality and is produced using a high-quality injection process: this advanced injection technology is unique because it guarantees excellent mechanical resistance, does not stress the materials during the production process, and has a very high-quality output.
Handles produced in this way offer the utmost precision and comply with quality standards.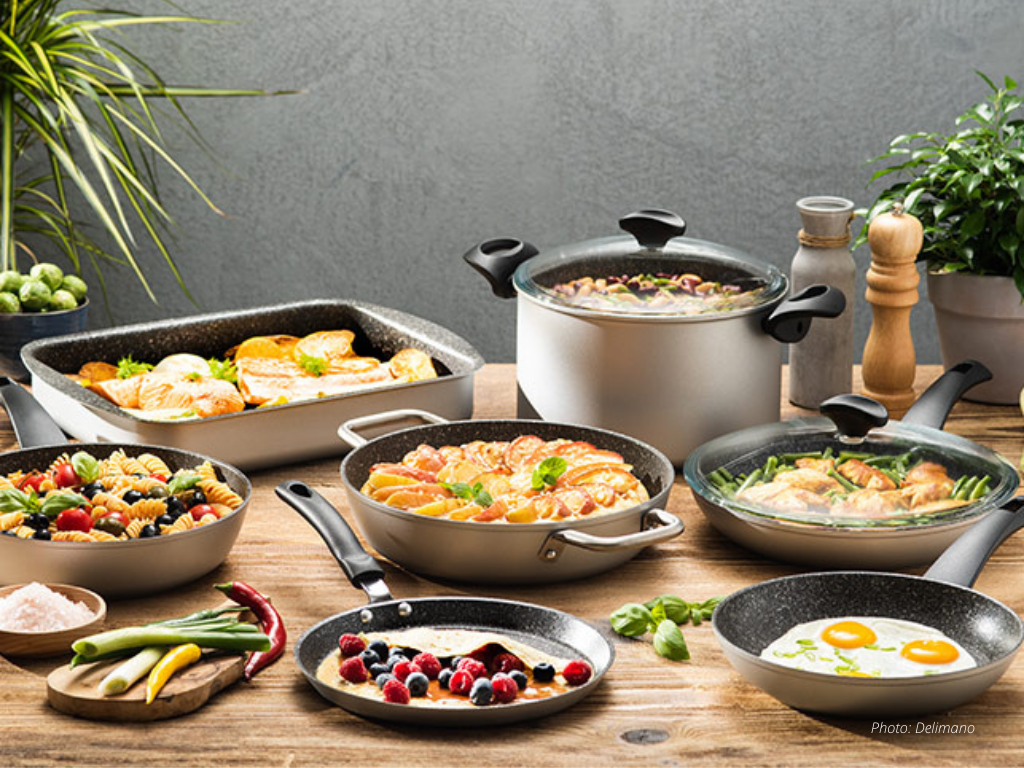 Furthermore, this system optimizes costs by producing low scrap rates in mass production and no additional finishing is required, which guarantees an extremely high-quality finished product.
With respect to its properties, thermoset has an excellent resistance and strength, and its low thermal conductivity prevents overheating of the handles. This is a considerable advantage, especially by easily distracted cooks, because they can safely work in the kitchen.
All the handles produced by F.B.M. can sustain temperatures higher than those established by the EU guidelines EU12983-1 on cookware.
In fact, in order to verify compliance with this standard, our technicians tested different equipment at higher temperatures to ensure the safety of the product.
For more demanding customers, we also offer special product oven safe that can withstand temperatures up to 220°C, making them a specially welcome partner in the professional chef's kitchen.
7. Professional Quality for Every Cook
All F.B.M. handles are designed for people who are looking for quality equipment, whether they are passionate home cooks or professionals who want to purchase products for their specific needs.

If it's true that cooking is a hobby that is rapidly gaining popularity, it's also true that there's no point in buying quality ingredients if you can't prepare them in the best possible way by using high-end pots and pans.
So, whether you are organizing a lunch with your friends, or preparing a gourmet meal for guests at your restaurant, cookware with F.B.M. handles will always be the best choice.

8.
The latest innovative materials based on Sustainability and CLEAN TECHNOLOGY
La Termoplastic F.B.M. constantly seeks out new and exciting ideas to present to consumers and improve their daily cooking experience. Being able to be ahead of the times is imperative in order to be a unique and competitive partner; the modern scenario is evolving and consumers are increasingly looking for products in line with their needs and expectations.
Today more than ever there is a growing awareness of sustainability issues in the kitchen and beyond. People's well-being, in an holistic way, is at the heart of our idea of sustainability. That's why everything we do aims to cultivate the cooking experience, through a product we interact with daily when preparing food.
SUSTAINABILITY
Regarding the first issue (sustainability), consumers are making the deliberate choice to buy products made consciously and in an environmentally sustainable way. They invest time in looking for brands and previously analyzing their features before taking a buying decision.
For this reason, our company chose to embrace sustainability as part of a long-term strategy, certain that this approach is vital and can benefit all the stakeholders involved in our activity. We have developed a Corporate Social Responsibility Strategy to guarantee the strategical relevance of this route and within this project, we decided to challenge ourselves in developing a sustainable cookware line. This new line of cookware accessories, named ECOSYSTEM, reduces resources and emissions through the employment of regenerated material, and lowers the use and consumption of artificial chemicals, which are replaced by natural materials from sustainable sources.

F.B.M. ECOSYSTEM is the first line of cookware accessories featuring natural and regenerated material using a new green compound in a controlled process that complies with UNI EN principles and verified by the external committee SGS.
An Ecosystem upgrade was launched two years ago with Look At Me! The base material has been stripped of all dyes, this causes the product to naturally acquire their unusual green color. This dye-free material combined with the natural and regenerated material that is in ECOSYSTEM creates this unique green shade.
CLEAN TECHNOLOGY
Following the thread of innovation, F.B.M. has also decided to respond to the growing need for wellness and hygiene in the home and, in particular, in the kitchen.
The kitchen is increasingly an ecosystem dedicated to take care of health and wellbeing, and the only part of the pan we interact with when cooking is the handle. Consumers are now paying more attention to these aspects, and our company's innovation processes cannot ignore these trends.
Empowering a healthier and safer wellbeing, making positive lifestyle choices is the purpose of Active Shield, our latest product with clean technology to offer you antibacterial effectiveness.

The Clean Handles product line contains anti-microbial properties which eliminates contamination and consequently improve people's daily well-being from the moment of production through to the kitchen.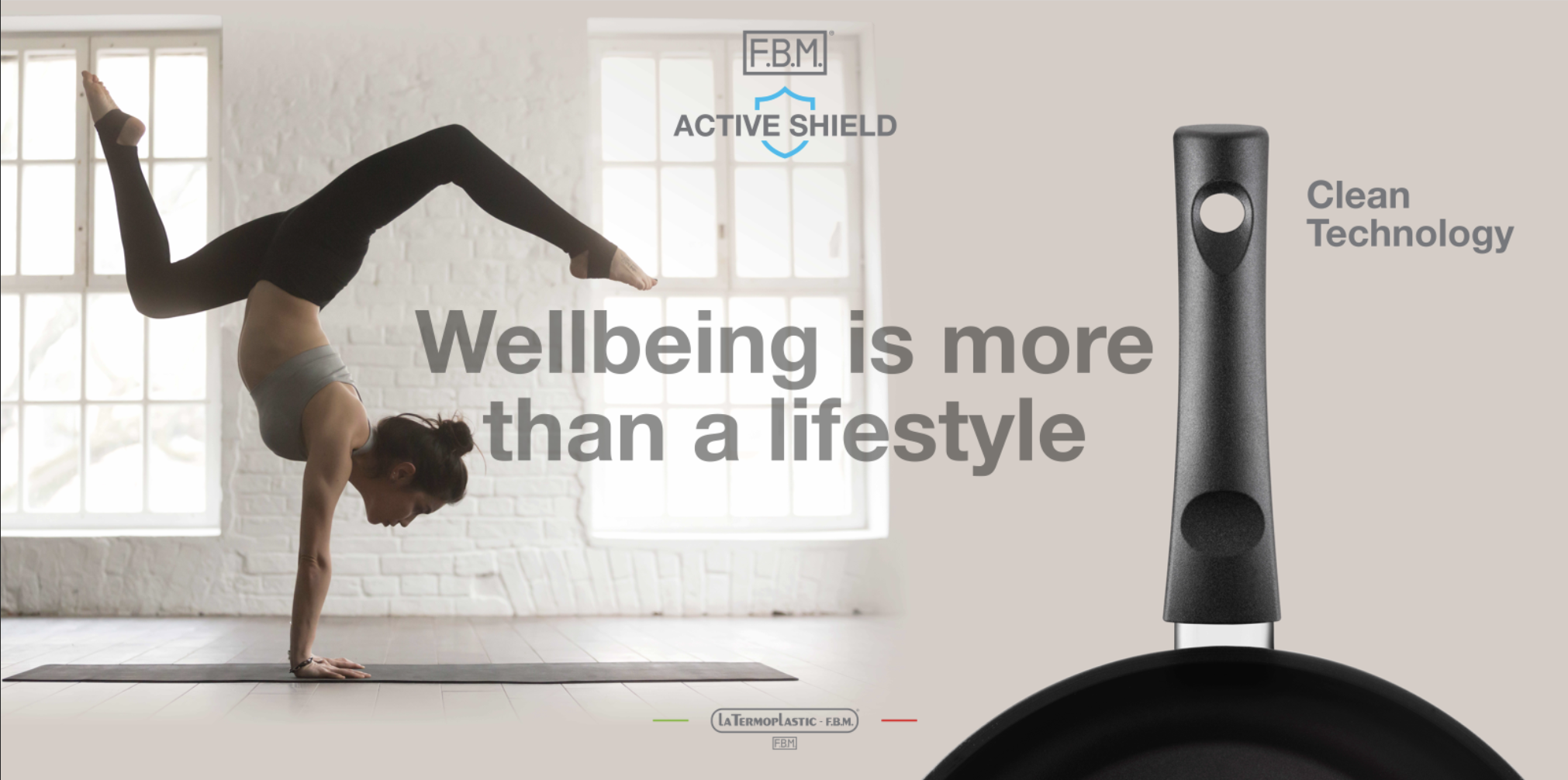 Sustainability and well-being represent the two new strands towards which FBM is aiming, in full harmony with its avant-garde soul and vision.
9. Advice for Companies in the Cookware Sector
Of course it's not easy to find the best materials and finishes for extremely high-quality pots and pans. Every manager would like to have the chance to create truly excellent products, showcasing to the world the commitment and professionalism of the team that designed and produced them.
This is why F.B.M. has decided to create products that are extremely durable and suitable for everyday use, without sacrificing their impeccable design.
Each piece can be customized in different colors and finishes in order to provide every company with the best possible product.
This is an invaluable opportunity for anyone wishing to become established in the cookware market, or for those who are thinking of updating or restyling their collections of pots and pans by creating something new and unique.
Kindly contact us today if you have questions about our new products line or to arrange a personal consultation.