The MO260 handle is the newest product added to F.B.M. Italy collection, a brand new compelling riveting product of great impact for its linear and elegant appearance. Its design makes it a very versatile product because it also allows customer's customization.
The Handle 260 stands out thanks to the closed bracket, which is a patented innovative fixing system that upgrades the handle to a superior premium quality product among the first lines riveting handles.

Features of the 260 Riveted Cookware Handle
Shape - The handle has a deliberately square and geometric design, which makes it a classy and elegant model ideal to combine with trendy collections of pots and pans.
Its linear shape can also encourage the stacking options and the Fornetto oven pot.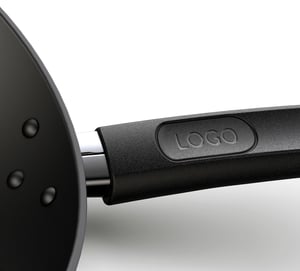 Finger Rest Design - The design of the upper handle is characterized by a decorative finger rest that has an ergonomics function indicating the best finger position for a correct and more comfortable hand grip.
Highest Customization– the finger support also can be personalized with a logo or symbol directly embossed on the handle's surface, offering excellent options for branding and differentiating the final product as an excellent marketing tool.
Ergonomically Engineered – handle 260 is engineered for the best grip when lifting a full pot. The lower lines are smooth and the underneath front has a special curve especially designed to comfortably accommodate the index finger while cooking.
Bracket Quality Material – The connection bracket is in galvanized iron, which means that it is subject to a special treatment according to F.B.M. quality standards that ensures long time resistance and protection against rust. This process makes it very durable and the handle can be washed in the dishwasher.
Inclinations & Matching – handle 260 has many different inclinations to match with all types of cookware, from frypan to saucepan, to casseroles, to grills and to flat-pots. In addition, you can fix it to the cookware body by using two or three rivets.
Complete Range - The 260 is available in 3 lengths to cover all the standard diameters of cooking pots and pans. In addition, it pairs well with several F.B.M. models of riveting side handles for casseroles and with knobs for lids to complete a range.

Colors - This handle can be available in many colors and finishes to further modernize and customize your appealing collection. If you are interested in finding out the latest cookware trends in color read the dedicated article.
Safety – MO 260 complies with EN 12383-1/2 Regulations and several other examinations performed to ensure our F.B.M. Quality Management System, a warranty to retailers and end consumers about safety of the product.
Green development – is a popular topic and requirement: consider MO260 in F.B.M. ECOSYSTEM material. Our manufacturing process for this green collection is controlled and verified by external SGS and complies with all applicable regulations.
We are Your Source for High-Quality Riveted Cookware Handles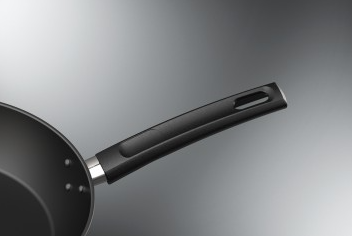 F.B.M. offers an extensive range of riveting items ideal for different styles of products and ranges.
Products with fixing connections in either galvanized iron or stainless steel are offered in various sizes and designs available from the four F.B.M. plants in Italy, Brazil, Mexico and China.
Please contact us today if you have questions about the new 260 riveted cookware handle or any of our other exciting products. We look forward to hear from you.