The unexpected development of the global health crisis of the last few months forced the entire world under lockdown. This had significant impact on our daily lives. Smart working and family time became the normal routine for everybody. Suddenly people were forced to review their daily habits, activities and hobbies. And since preparing food with your loved ones is some of the most pleasant activities you can do at home, cooking actually became people's main hobby.
This is especially true for younger generations such as Millennials, who just amplified their passion in rediscovering a slower and more careful approach towards food. Having now even more time to practice cooking at home, the digital natives will come out of the lockdown with highly developed cooking skills. This will also mean that they will be more aware of their need for different cookware solutions such as utensils they needed but maybe didn't have during this period of time
COOKING YOUR WAY INTO A SUPERSTAR: THE MASTERCHEF GENERATION
When speaking of their relationship with cooking, we could define Millennials as the MasterChef generation, a generation for whom cooking has long been in the spotlight. Children who have seen cooking ingredients and utensils since their childhood have become stars of prime-time programs, chefs have become international celebrities and food bloggers have become leading voices in the food and wine scene.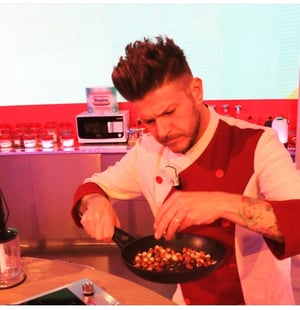 Cooking and those who promote it have become a form of entertainment to enjoy from every angle, and not only at table. In a continuous cross-fertilization between the screen and real life, the language of the world of cooking and the techniques of food preparation learned on TV have entered the daily lives of younger generations.
For Millennials, cooking is synonymous with beauty. This beauty is found in every aspect of cooking - from the kitchen and the table to the selection of the ingredients and cookware utensils used to prepare the food. Cooking has become a sensory experience, and to achieve excellent results, the ingredients and tools must also be excellent, beautiful, of high quality and functional in every detail.
COOKWARE: THE IMPORTANCE OF FUNCTIONALITY AND DESIGN
Cookware trends show that children born after 1980 are demanding and looking for products that guarantee high-level results while offering an excellent user experience. To meet the needs of the Y Generation, pots, pans and handles have been given new shapes and greater attention has been given to functional designs.
There is a growing demand for detachable handles that make it easier to store pots and pans in cabinets or in the dishwasher without taking up space. There is also a growing demand for solid handles made with sturdy, yet very maneuverable materials.
The classic handle has been redesigned to take on more functions at the same time. For example, the comfort and practicality sought by the MasterChef generation have transformed cookware accessories into convenient ladles holder to be used while cooking.
Multifunctional handles make it possible to use the pots for cooking on the stove and in the oven, making them easier to use during all stages of preparing meals and enhancing their beauty, thanks to their modern and distinctive designs.