As the new consumer wants options and enjoys a variety of cuisines, in this post we'll discuss the best cookware handles for the American market, pointing out the bestsellers from La Termoplastic F.B.M..
North and South American markets have in general distinct preferences about cookware
Northern customers tend to prefer thicker and heavier cookwares; while in the South, we see that consumers are drawn to functionality and competitiveness at corresponding price points.
Cookware Handles for American Markets
La Termoplastic F.B.M has been producing cookware handles for American markets for years at our facilities in Brazil and Mexico. Both plants manufacture quality cookware handles, side handles, knobs and all related accessories, offering a complete and dedicated service locally.
Best Selling Cookware Handles in South America and Central America
Here is an overview of the most popular models in design and product quality for consumers in South America, along with Central America where riveted handles are highly popular.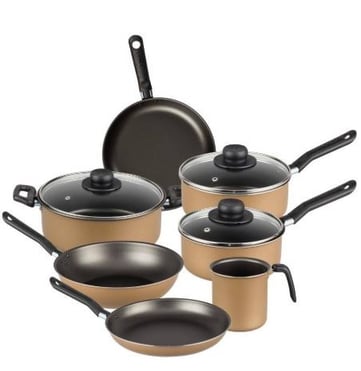 THOR is a new handle. Its ergonomics and rounded outline make it highly functional and comfortable to use, moreover the peculiar design makes it very modern and eye catching. Thor is available in three lengths and can be assembled by riveting systems on all pots and pans thanks to several inclinations available.
FLIPPER handle is distinctive for its modern and strong design that make it ideal for more sophisticated products. Both handles Thor and Flipper's sockets have special treatments for maximum strength and durability.
ANGEL handle, slender and comfortable available in 3 sizes.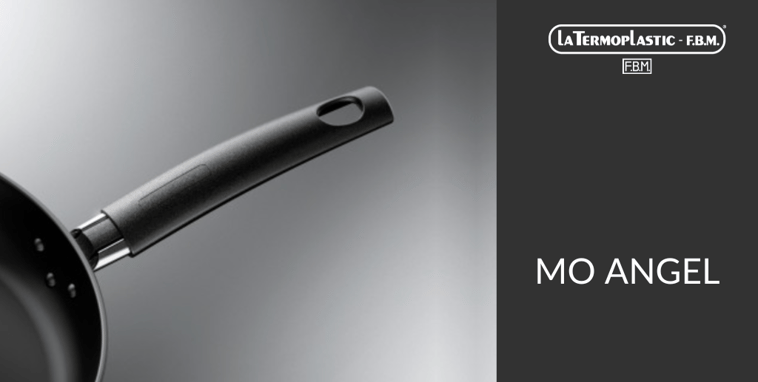 Side-handle TEA is a classically-designed product, styled to be easy to grip and hold while using. This side handle can be firmly riveted to any pot or casserole style you choose.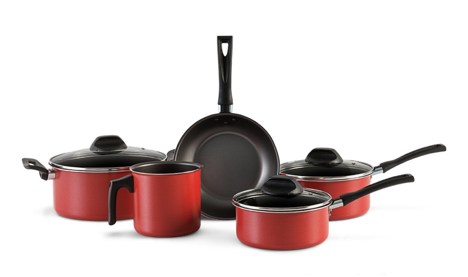 Most Popular Cookware Handle Choices in North America
We can say the U.S. market is polarized towards two main product categories: promotional items for everyday use and high end premium cookware lines. We as F.B.M. can offer solutions suitable for both product ranges.
Products presented during promotional activities are often perfect for daily-use, thanks to their characteristics, materials and features, like our SET Frisby and MO525.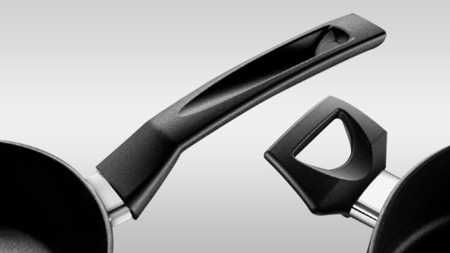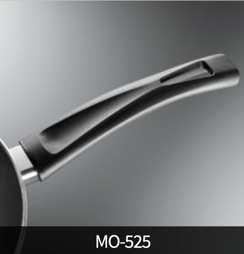 Other category with top level lines offering cookware with strong and durable riveted handles which can upgrade the overalllook and feel of the cookware line is also very popular. In the F.B.M. family we suggest set MO210, MAROMA POTUX and Set Sunray.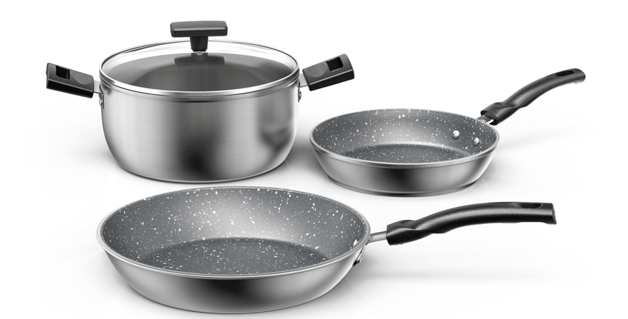 Polished stainless steel sockets with handles in colorful painted surfaces and decorative inserts also in stainless steel are a good example of a quality line that is fashionable and offers a cool-touch comfort grip with strong double-rivet to the pot.
UPDATE YOUR KITCHEN FOR A SAFE AND HEALTHY WELL-BEING
The kitchen is increasingly an ecosystem devoted to take care of health and wellbeing.
Modern consumers are conscious about taking care of our minds and bodies, so they incorporate healthy habits in buying and cooking food and make conscious choices in cookware accessories.
The reason is simple. Kitchen is a space in which they can help the family improve habits and take care of their health.
F.B.M. YOUR SUPPLIER FOR QUALITY AND SAFETY COOKWARE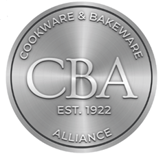 Very important in the US market for good quality cookware is that they must be CBA compliant respecting the US standard regulation and, the handle of course, plays an important role in this.
A thorough understanding of the physical and mechanical qualities of your cookware is vital if you want to demonstrate the safety, quality and durability of your products to your customers.
LA TERMOPLASTIC F.B.M. CAN MEET ALL YOUR AMERICAN COOKWARE HANDLES NEEDS
When you are looking for an American cookware handles supplier that can offer design, manufacturing and distribution services, La Termoplastic F.B.M. has all your bases covered. We've been in business for decades and during that time we've developed the skills and experience to truly understand what consumers are looking for in various markets around the world.
Our experienced team can help you find the right solution for the retail market you are targeting (budget-level, mid-range or luxury brand).
Contact us today to discuss your needs in more detail.