The ongoing changes in the work-life balance due to global lockdown have forced people to spend more time at home and more time cooking, too. Cookware is a product that consumers use to prepare meals for themselves and their family on a regular basis. It's a basic item found in households, and before this unique period that forced everybody to stay at home, most customers probably didn't give it a lot of thought until they had to invest in a new set. This is changing.
The new installed daily habits made many consumers realize just how important choosing a quality set of cookware with the right features is. Cookware manufacturers can benefit from paying attention to the rise of consumer awareness trend and choose wisely their suppliers especially when it comes to their cookware handle manufacturer.
Before a customer gets to the point where they are making a decision about which line of pots and pans they are going to purchase for their home, a lot of decisions have already been made as part of the supply and manufacturing process.
One of the most crucial decisions in this process is deciding which cookware handles supplier to work with. It would be a mistake to overlook the importance of handles, knobs and side handles on cookware from a final customer's point of view.
The handles' and knobs' appearance and positioning completes to the appeal of the final product, whether it is the updating of a bestselling collection or the introduction of a brand new line of cookware. Moreover, the cookware handle can add special features or functionalities to the overall cookware product that will draw the customer's attention and help with the final selection.
When choosing a cookware handles supplier to work with, there are a number of elements to consider when making your decision. To make it easier for you to determine whether a supplier would be a good fit, we have made a list of seven key elements we feel are important to look for.
cookware handles supplier: eight Key Points You Need to Consider
These elements are not listed in any particular order. Please feel free to give each one equal consideration when making your own decision about working with a supplier.
1. Proven Expertise and an Extensive Catalogue of Choices
Your cookware handle supplier should be able to point to a long-standing record of accomplishment in the business. Along with being able to point to this proven expertise in the cookware trade, the supplier you are considering should be able to offer you a product catalogue with several options to choose from.
F.B.M. offers its customers an extensive catalogue of products of 100 items - handles, side handles, detachable handles, knobs, space saving knobs - that includes options at the economy, medium-range and luxury levels. We work with industry buyers regularly who are seeking cookware solutions for consumers at all of these price points.
Since our team has extensive experience with a variety of customers, we can suggest options to suit individual needs, including custom-manufactured products on request.
2. Exceptional Customer Service and Support
On establishing a relationship with a cookware handles manufacturer, you should be able to expect complete support from the company's customer service department. From the initial inquiry to taking delivery of the finished product, at no time should you feel that you are handling your order by yourself.
The cookware handles supplier you are considering should have the capability to be with you every step of the way, no matter where you happen to be located in the world. We truly live in a global village, and it's no longer unreasonable to expect that the company you're working with is capable of doing business on a global scale.
F.B.M. knows that the relationship with its customers doesn't end when a sales agreement is signed; instead, it is just the beginning. We enter into each new business relationship with the hope and anticipation that it will be a long-term one. With that point of view in mind, F.B.M.'s knowledgeable team works with our customers every step of the way to ensure our customers' complete satisfaction. Due to F.B.M.'s international presence, we are confident we have the resources necessary to offer creative and expert solutions to any issue, which may arise, wherever you are.
3. Ability to Develop and Produce Custom Solutions that Fit your Product
"Cookie cutter" solutions simply don't work in every instance. The cookware handle manufacturer you choose should be willing and able to sit down with you to discuss your needs in detail. No two customers are exactly alike, and no two orders are going to be the same. If a supplier tries to tell you that asking detailed questions isn't a necessary part of the process for providing customized cookware handle solutions, then you haven't found the right one.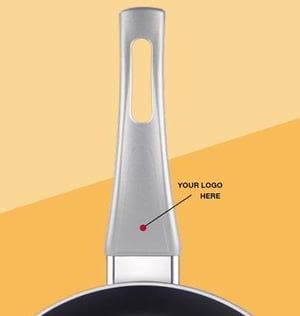 When you decide to work with F.B.M., you are choosing a company with a proven ability to develop custom solutions to fit each and every client's specific needs. We understand that every project we take on is unique, which is what makes our business so exciting. Our team has the right combination of experience and creativity to take on these challenges (please, take a look to our case history about this special custom project with one among most top houseware companies).
Once F.B.M. completes the development stage of your project, you don't have to go anywhere else for production. The process can be conveniently handled in house, so that there is no time lost between steps.
4. Quality Raw Materials and Compliance with Safety Directives
Along with the proven ability to develop and produce custom solutions, the cookware handles supplier you decide to work with should use only the highest quality raw materials. This only makes sense; the better quality materials the manufacturer works with from the outset, the higher the caliber of the finished product.
Customers want to know that their cookware handles are made with quality materials and that the product is in compliance with applicable safety directives. Knowing that the cookware meets safety standards means that the retailer can stand behind the product and the customers can buy with confidence.
From the beginning, F.B.M. has always been a company that uses top quality raw materials for its products. You can't expect that a manufacturer who is starting off with cheap materials can transform them into an exceptional finished product. Our goal of providing quality products for end users never waivers, no matter which price range you wish to order (luxury, medium level or budget priced).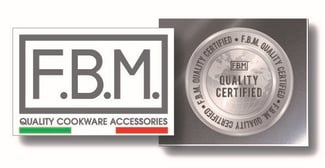 Moreover, is crucial to meet the standards for safety and performance for home use cookware, as stated by the main International Regulations. If you want to know more about compliance with cookware certification read this post.

5. Ample Production Capacity and Well-managed Logistics
Another element you'll need to consider when choosing a cookware handles supplier is whether the company has the production capacity to complete an order run of the size you need. You'll want to think about current orders, of course, as well as do some forward planning. The latter is crucial for subsequent orders to ensure that your supply chain remains full and retailers (brick and mortar or virtual) have access to the stock they need.
Ask the supplier how your order will be shipped to your retailers. You'll want to know the method, the time involved and the standards. Improper shipping methods can damage the product, and undue delays in getting orders from the manufacturer to distribution centers or brick and mortar stores can end up costing you in sales.
As F.B.M.'s business has grown over time, we have expanded from our headquarters in Italy to include production and distribution centers located in Brazil, China and Mexico. Together, our four sites generate a total production capacity of 140 million pieces. F.B.M. has the expertise and the capacity to take on orders of any size and complete them to your specifications.
With more than one location, you can choose the one closest to you or your retailers to do business with. This flexibility may mean lower shipping costs for you that you can pass on to consumers.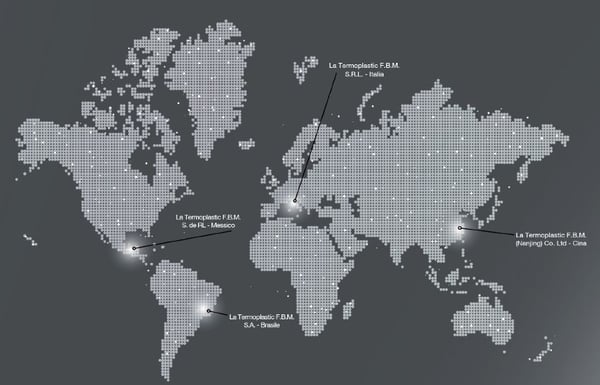 We employ a workforce of 150 divided between our four locations. Our company is large enough to serve you but small enough to give you the personalized attention you deserve. If you want to know more about our plants in the world, please read this post.
6. Ability to Anticipate, Know and Follow Cookware Trends
Since part of your relationship with your cookware handles supplier involves developing new products, a key component of your relationship turns on whether the supplier is knowledgeable about cookware trends.
It's important to always keep a finger on the pulse of popular culture, economics, home decor and more, since those factors trickle down into items such as cookware.
Consumers may not realize how they affect trends that appear in retail stores, but a savvy cookware handles supplier know how to anticipate what colors, styles and effects will appeal to buyers in different parts of the world. F.B.M. knows, for example, that the North American market tends toward classic designs, whereas European consumers want functional pieces but are more likely to be drawn to handles that remind them of colors and new designs.
Since we are an international company with direct presence in several markets and deep contacts with all the main cookware manufacturers in the world, F.B.M. has a comprehensive view of the market with key information about different trends and emerging scenarios in each region.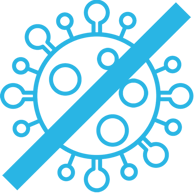 One among all is undoubtedly the increasing search for hygiene and safety in the kitchen, with a specific focus towards products with these features. That's why F.B.M. has recently launched Active Shield, a new line of cookware accessories with an internal agent that inhibits bacterial growth, in order to give users a new weapon in the ongoing battle against harmful microorganisms.

Being able to keep up with the times is an essential aspect to always consider in order to choose a unique and competitive partner.
7. E
thics and Sustainability as driving forces
One common thread that is undoubtedly taking over and reshaping the cookware market is the issue of sustainability. There is no doubt that sustainability is not just a trend, but a new mindset that is reshaping our way of living and cooking.
To create a cookware product that is truly environmentally friendly implies that the manufacturer has fashioned the pan/pot body and the cookware handle from sustainable materials. Companies must familiarize themselves with the applicable sustainability regulations and contents that be applied in their product.
Failure to seize this opportunity undoubtedly means missing a business opportunity but above all the opportunity to innovate responsibly.
That's why, as international partner, we chose to embrace sustainability as part of a long-term strategy, certain that this approach is vital and can benefit all the stakeholders involved in our activity. As result, we have developed ECOSYSTEM, an innovative line of accessories for cookware, completely planet-friendly and unique, since it is made with natural and regenerated materials.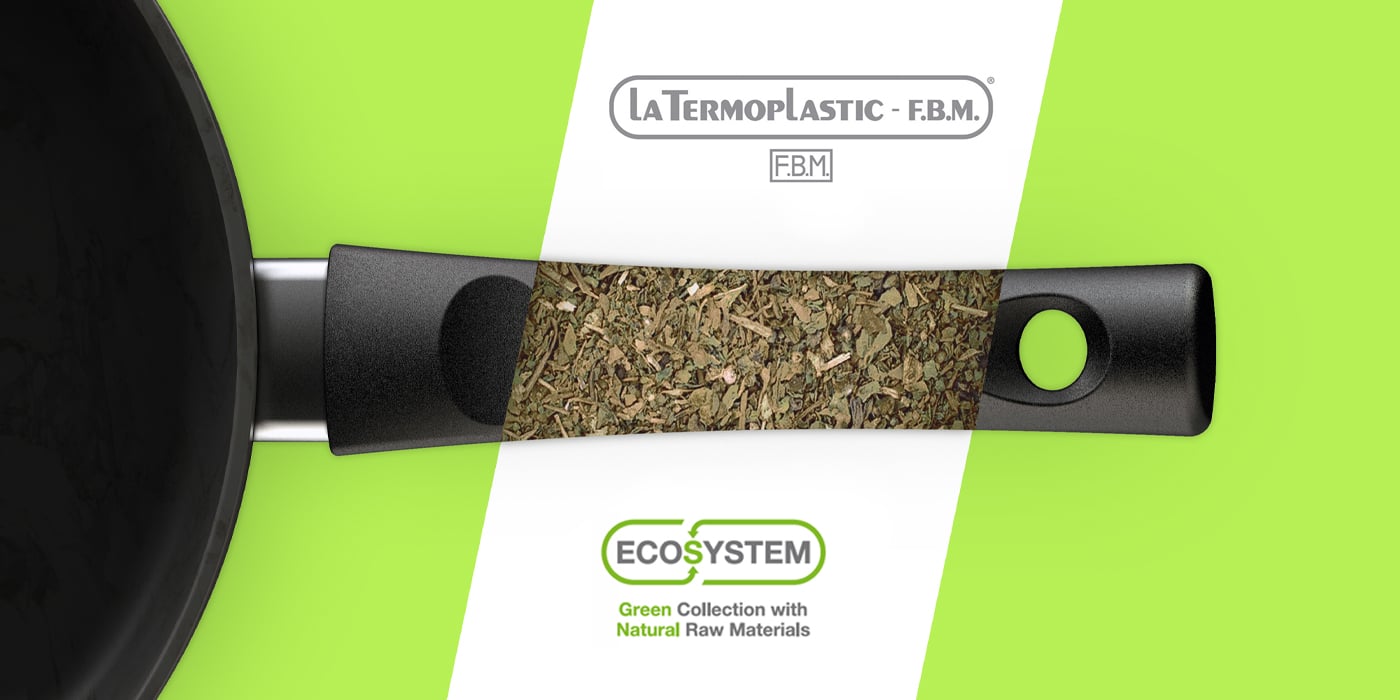 Our sustainable cooking solutions can benefit the following groups:
Cookware manufacturers and large-scale distributors that want to offer product lines with sustainable content and a higher value proposition to their customers
Consumers who want to make a conscious choice when it comes to tools that they use in daily activities such as cooking
A reliable partner should embracing sustainability as part of a long-term strategy so all the stakeholders involved in the activity can benefit from. For this reason, F.B.M. is developing a Corporate Social Responsibility Strategy, as key pillars at the base of its operations, to guarantee the strategical relevance of this route.
Our main purpose is to innovate and evolve responsibly to increase the well-being of consumers who like to cook.
8. Consulting and Custom Handle Design Services
When you are looking at handle designs in a catalogue, they do vary in size and style. If you aren't offered any options that you need F.B.M. offers you a number of ways you can customize your cookware handles to get the precise look and feel you want.
One way is to offer our handles in several attractive colors, as well as classic black but in different versions such as soft touch, glossy or matte. You can also order handles in a number of unique effects, from woodgrain to marble. Some handles are available with a decorative insert, in a plain color or a decorative pattern. We will work with you to give you the precise design and finish you are looking for.
F.B.M.: The Right Cookware Handles MANUFACTURER and partner for You
F.B.M. is an Italian cookware handles manufacturer for pots and pans. Since opening our doors in 1963, we have developed a reputation for design, innovation and certified quality of our products. In that time, we have worked with the largest producers of cookware in the world.
Our company is pleased to offer our new clients an extensive catalogue of options for products at a number of price points (budget level, medium and luxury). We partner with you to provide design consultation to find the right solutions for your product and in-house production at one of our facilities using high-quality materials.
Please contact us by phone or email today to arrange your personal consultation. We look forward to hearing from you.