In many kitchens, space is at a premium. Consumers are therefore interested and motivated to buy cooking tools that serve multiple purposes whenever possible. Home cooks see pans that give them the flexibility to cook in the oven and on a stovetop positively. If we want to offer consumers that versatility and have a pot that can go from the stovetop into the oven, it takes some thought.
If you are wondering, "can pan go in oven?", or "are pans with phenolic handles oven safe?", it's important to reconsider what you think you know about heat resistant handles. Generally, most handles that work well on top of a stove are not considered oven safe handles and this feature is not so commonly offered by pot and pan handle manufacturers.
Options for Oven Safe Handles

There are two options available when developing oven safe handles for consumer use.
Use Detachable Handles
Detachable handles give consumers several benefits. For one thing, they make it easier for home cooks to feel free to experiment with a wider range of recipes to tempt their families' palates. A consumer can

start the cooking process on the stove and then remove the handles to place the pot or pan into the oven

to continue preparing the dish. When the dish is ready to serve, the handles can simply be reattached to act as a potholder to remove the pan from the oven.
F.B.M.'s has several models of detachable handles that can suits your needs in terms of functionality, positioning, design and marketing. Check out more here: set SUPER – handle FORTE
Choose Higher Temperature Resistant Handles
It is very important to define which is the temperature resistance that you want to offer with your product. Common phenolic handles have a resistance up to Gas Mark 2, but in F.B.M. we check them at Gas Mark 4. The other option is to choose a material for the handles that will make them resistant to higher temperatures. F.B.M. can raise the bar on temperature resistance up to two levels:
- The first one resists to 200°C (Gas Mark 6).
- The second one resists to 220°C (Gas Mark 7).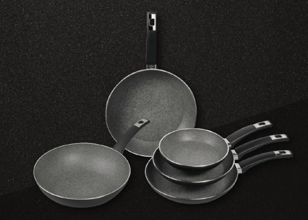 Luna and Lamina lines of pot and pan handles are stunning examples of what modern oven safe handles look like.
Both product lines work very well with medium-range and luxury products. The sets are ergonomically designed to be easy to grip and safe to use; set LAMINA also offers premium stainless steel decorative inserts.
Attention to Safety a Key Factor
It is very important to pay attention to safety. European regulation EN12983-1 is concerned with the safety and performance of domestic cookware that is to be used on top of either a stove, hob, or cooker. Handles for cookware must comply with tests that measure the following:
Heat Resistance: This test ensures that the handle won't break or crack during exposure to high temperatures.
Resistance to Burning: This is an important test since it determines whether a cookware handle will burn if it is accidentally exposed to a direct flame. The handle should not ignite, melt, or lose pieces during the test.
Bending Strength: A stress test used to assess the fixing system and the handle's resistance.
Torque Resistance: A test that applies force on both sides of the handle to ensure these types of rotations don't damage the pot or pan's fastening system.
Fatigue Test: This is a challenging test where the pot is filled with a load and is subjected to several cycles of up and down movements. The pot is then evaluated after being exposed to this stress to look for any signs of distortion.
All of these safety tests are used to evaluate F.B.M.'s handles to determine whether they are safe. When you choose an F.B.M. product, you can rest assured that you are getting high-quality, also in case of special oven safe handles.
F.B.M. is your Go-to Source for Certified Quality Handles
When you want the best in design, innovation, and (of course) certified quality in cookware handles and pans, look no further than F.B.M. We have been in business for more than half a century, and we are working with customers worldwide.
Our focus has always been on providing high-quality products without sacrificing one ounce of creativity. For this reason, we established the F.B.M. QUALITY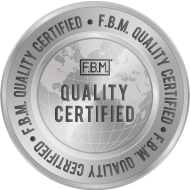 MANAGEMENT SYSTEM identified by a special seal that can be used and leveraged in our customers' packaging and communication to share that the pot and pan is using highest quality accessories. This an extra value for the end customers that can be communicated.
Contact us today if you have questions about the Quality Seal or if you want to know more about oven safe handles.