If you are wondering about the answer to the question, "Is sustainability a trendy topic now?" you only need to look at popular media. There is no doubt that sustainability is a hot topic and that it is not just a trend, but a new mindset that is changing our way of living. From international political strategies to everyday considerations, it is not likely to leave the public eye any time soon.
Sustainability Trends a Major Influence
Consumers are making the deliberate choice to buy products made consciously and in an environmentally sustainable way. Companies must familiarize themselves with the applicable sustainability regulations and contents that be applied in their product.
The sustainability trend has now caught up with the cookware industry. Sustainable pots and pans are now in demand. When this trend started, the only nod to sustainability that cookware producers could offer was packaging or introducing natural colors to a line to give the impression of an eco-friendly product. Nowadays, the offer developed consistently and cookware manufacturers have now evolved into offering cookware products with real planet-friendly materials and concepts.
To create a cookware product that is truly environmentally friendly implies that the manufacturer has fashioned the pan/pot body and the cookware handle from sustainable materials. It is now possible to create a whole and eco-friendly cookware set, thanks to the combined efforts of two major Italian companies that have invested in research and development with particular attention to sustainability: Profilglass and La Termoplastic F.B.M.
The Sustainable Pot/Pan Body
We are in a new era in cookware. For the first time, recycled aluminum is being used as a raw material for manufacturing pots and pans. Post-consumer cans are processed and cast into a new alloy made from the recycled material.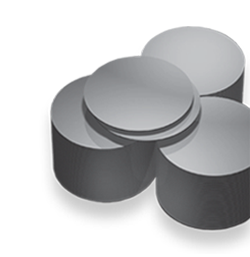 This "green alloy" is made from 100% post-consumer waste recycled material, mainly derived from cans but also including window frames, and metal sheets used in construction. Profilglass, an Italian company in the production of aluminum, is the leading manufacturer that produces this type alloy into disks for cookware, thanks to investments made in internal process focusing on recycling.
The Sustainable Cookware Handle
On top of the cookware body, you now have the chance to enhance further the sustainable proposition of your pots and pans by using sustainable cookware accessories. The first line of cookware handles, side-handles and knobs made with a new planet-friendly compound is ECOSYSTEM.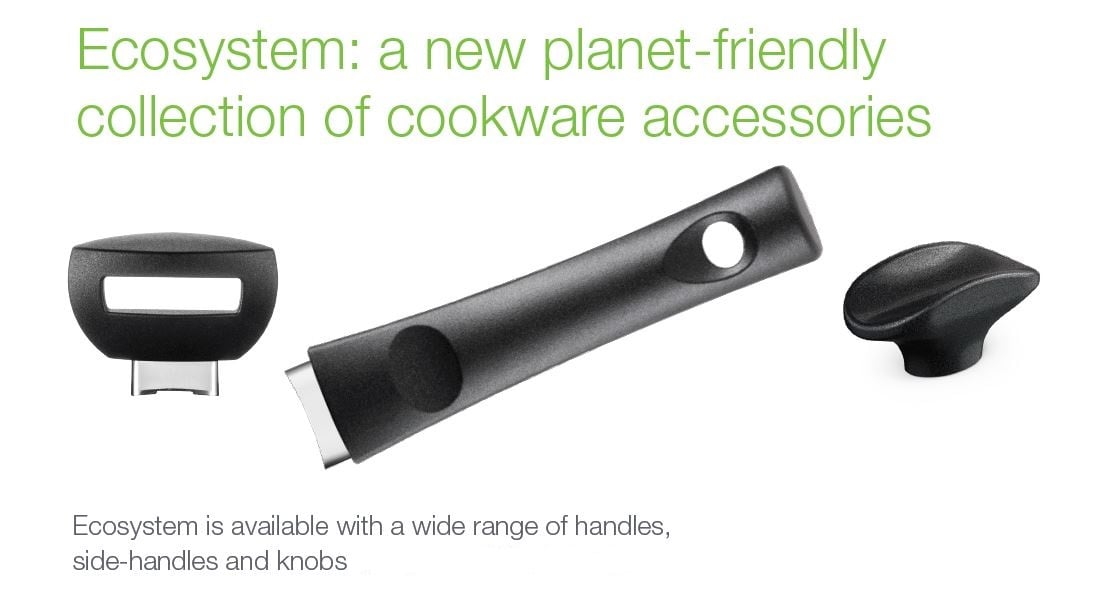 This new composite was developed using a controlled, verified process in compliance with UNI EN standards and it combines the use of natural elements coming from sustainable and verified sources verified and regenerated material that transforms production wastes into a new product: every 10 handles, a new Ecosystem product is created recovering production waste materials.
La Termoplastic F.B.M. is the first cookware manufacturer to offer a natural-and-regenerated-materials line of cookware accessories to the public. Customers don't have to give up style to get a green option in this case. They can choose from a wide variety of knobs, handles, and side-handles in this collection.
Why Offer a Fully Sustainable Cookware Line
We already know that sustainability is a trend that is not going away.
Interest in sustainable cookware products is rising quickly.
It is for buyers who want to develop a sustainable line for the market.
Retailers can enjoy real contents and tell a story about the product setting a new market reference.
You offer your customer the concrete possibility to a personal contribution to an improved environment.
A sustainable cookware line will appeal to the environmentally conscious consumer looking for a healthy cookware set for their home.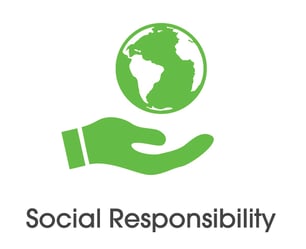 The key to success is to work with a supplier who can provide certified materials and be ready to offer a sustainable product without having you invest in revolutionizing facility upgrades.
The expertize of two leading manufacturing companies can support in the creation of a real sustainable cookware products that will be compliant with international regulations and guarantee safety standards for the end users, appealing to those buyers and consumers who care about the environmental aspects of the product they buy and are looking for a better wellbeing in the kitchen.
Contact us today if you have questions or to arrange a consultation.