The Canton Fair has just concluded its 134th edition confirming itself as the main meeting point for Chinese manufacturers of cookware and buyers from all over the world.
We want to thank all the visitors and valued customers who came to see F.B.M. and confirmed their appreciation and interest in our offer for novel solutions through innovations and emerging trends that inject vitality into the industry .
A fixed appointment that confirms itself as a vibrant and lively gathering place to explore newest trends, sustainability at first.
The home, a place of safety extended to kitchen trends
Empowering a healthier and safer wellbeing, making positive lifestyle choices through socially responsible product is the key to making the overall cooking experience more enjoyable and create a healthier indoor environment.
This trend is driving the demand for cookware. Consumers demand more responsible choices, versatile pieces that fit into smaller spaces, and specialty new keys to wellness experiences that meet their needs.
Sustainability is already playing a bigger role in consumer decisions, interest in environmentally friendly products is increasing, creating opportunities within the cookware industry. The idea of a "throw-away" society is becoming increasingly repugnant to many people.
The cookware industry is part of this trend and wants to embrace it. Manufacturers have realized that it is possible to reduce their ecological footprint through the use of environmentally friendly materials and packaging. These factors have combined to make such new designs and materials popular with houseware producers and buyers.
Companies committed to environmental sustainability will have an advantage with focused consumers, as long as their products can provide quality and present good value.
Crafting a safe kitchen with eco-friendly cookware
Consumers have become more eco‑conscious. Healthy life is a trend that has received a lot of press over the past several years. This is also reflecting to home products that shows sustainable and green attributes, which consumers are more likely to purchase.
The emerge of cookware made from recycled and regenerated materials that we saw in this year's shows is a clear message that the industry is already bringing sustainable concepts into cookware products. A trend that not only affects the cookware body, but also extends its philosophy by embracing the handle, an essential component increasingly marked to play a primary role with the use of eco-friendly materials with high percentage of sustainable and recycled material.
In line with these emerging trends, we at F.B.M. can call ourselves full-timers in this area by being the first cookware handle manufacturer to introduce a new line of cookware accessories produced with natural and recycled material and called F.B.M. ECOSYSTEM.
ECOSYSTEM is a planet-friendly collection of cookware components made with Bio Based raw materials. The materials used to make ECOSYSTEM are obtained from sustainable and verified sources and have been tested according to UL Environmental Claim Validation Procedure for Biobased Content (37%).
Moreover, the collection uses regenerated wastes from our internal production and 36% of Recycled verified content.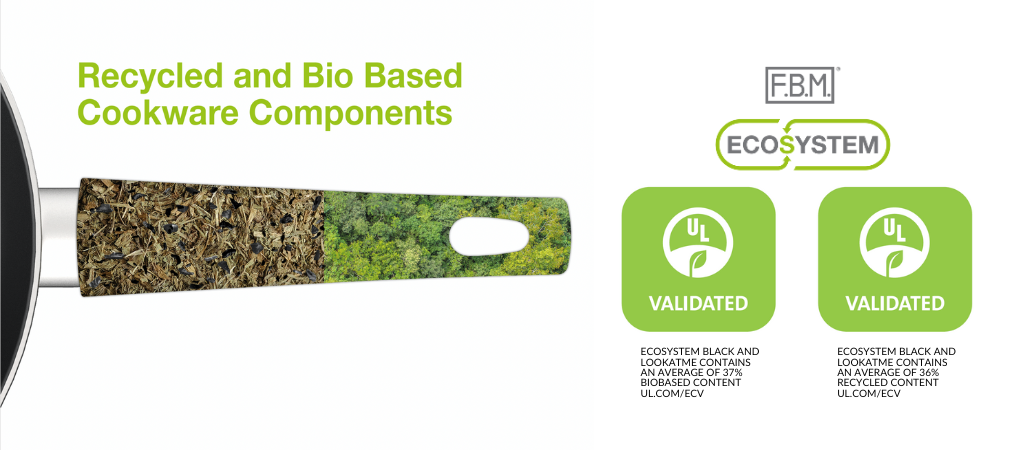 F.B.M.: sustainable, eco-friendly cookware brand
In the same time, there is a growing demand for corporate sustainability among homeware industry and retailers are focusing their demand towards companies that can identify socially responsible practices. To obtain and maintain the attention of today's retailers and consumer, it is important to invest in these practices and of course do business with qualified partners that also invest in safety, quality, and sustainability.
F.B.M. operates on a firm foundation of ethics and love for our environment. Responsibility has been lived and practiced since our earliest days and we have always been committed to sustainability.
F.B.M. with a view to ethical and sustainable development is proud to declare that no PFAS is used in its raw materials. While it is challenging for individuals to completely eliminate exposure to PFAS, there are measures that can be taken to reduce it. Opting for personal care products and cooking materials that are free from PFAS, and avoiding direct contact with products containing PFAS, can contribute to minimizing exposure.
F.B.M. Ecosystem is now produced in our Factories in Italy, China and Brazil, closer to our Clients.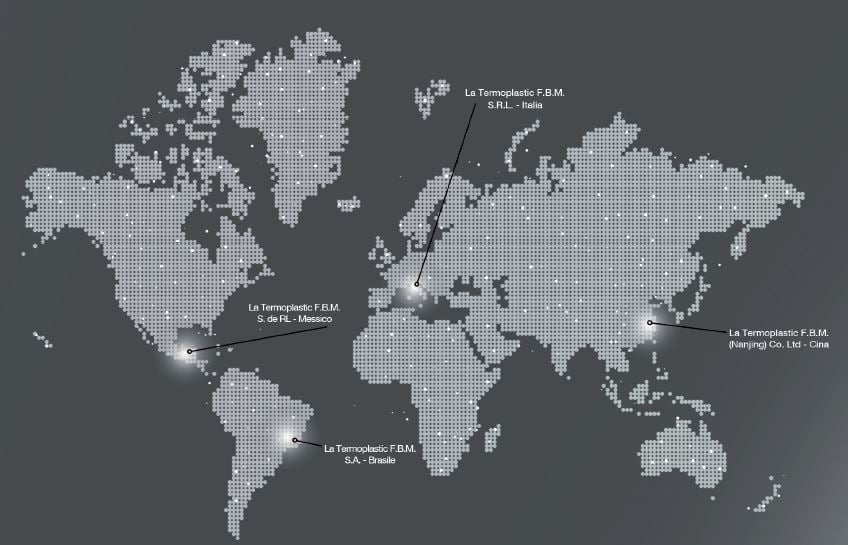 Contact us if you have more questions about the sustainability trend in cookware or if you are interested to check this new line of products.