When looking for the right cookware material for the next set to be developed, there are different materials for pots and pans. The most popular options include aluminum, stainless steel and enamel.
Popular Cookware Material Options
Aluminum cookware sets are very popular as the material is a very commonly-used product in cookware manufacturing and it is prized for its high conductivity and ease of use. Production methods can vary widely from stamped to forged and die-cast, according to the type of product you want to have.
Aluminum varies according to its treatment and the production process and can range from white aluminum, very delicate and not generally suitable for the home cookware market, to the more modern and widespread non-stick aluminum cookware.
Non-stick cookware or "antistick pots" are very popular with consumers, since it can be used with less fat and is easier to clean than other options. Non-stick pots and pans come in many varieties of colors and effects making the product even more attractive, nevertheless, the surface can be delicate, so it is suggested to replace them if scratched after long use.
A further variant for aluminum is anodized where the aluminum has been chemically treated to harden the metal and make it non-reactive. Hard anodised aluminium cookware has undergone an electrochemical process to harden the aluminum, making its surface more resistant to abrasion and corrosion. This is a feature of premium products.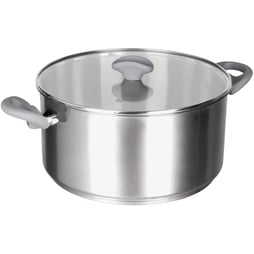 Another very common product is stainless steel cookware. The material that is made from has the advantages of being non-reactive, durable, resistant to rust, corrosion, scratching and denting; however, it doesn't have the same conductivity as aluminum.
Since stainless steel doesn't conduct heat very well on its own, this type of cookware is often manufactured with a bottom layer of another material that can conduct heat more effectively, such as copper or aluminum. In these cases layers of different materials are bonded together to make sure the cookware can offer a higher conductivity.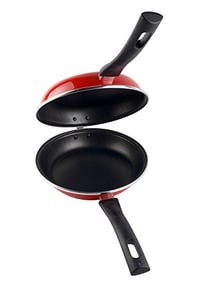 A third popular category in cookware is enamel. Enamel is naturally conductive, these types of pans are made from a steel or iron base and then coated with porcelain enamel to create a smooth, non-stick surface. Enamel cookware is a lightweight option that conducts heat quickly, it is durable and can come in many bright and shiny colors.
Cast and enamel cast iron cookware is very durable and conducts heat well. It goes from stove to oven with ease, but is notoriously hard to maintain. It's very heavy for daily cooking and takes an effort to clean properly. Due to its heavy weight, this material is mostly used in cookware for casseroles.
Copper cookware conducts heat very well. It reacts to changes in temperature quickly but is a very expensive material. It is also delicate to maintain since the copper on the outside of the pan can age and it's not dishwasher safe.
recycled aluminum: THE SUSTAINABLE POT/PAN BODY
Innovation in the cookware industry knows no brakes. We are in a new era in cookware where sustainable kitchen experience and wellness are at the forefront. For the first time, recycled aluminum is being used as a raw material for manufacturing pots and pans. Post-consumer cans are processed and cast into a new alloy made from the recycled material.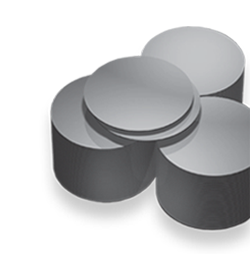 This "green alloy" is made from 100% post-consumer waste recycled material, mainly derived from cans but also including window frames, and metal sheets used in construction.
In line with new trends, on top of the cookware body, you now have the chance to enhance further the sustainable proposition of your pots and pans by using sustainable cookware accessories. The first line of cookware handles, side-handles and knobs made with a new planet-friendly compound is ECOSYSTEM.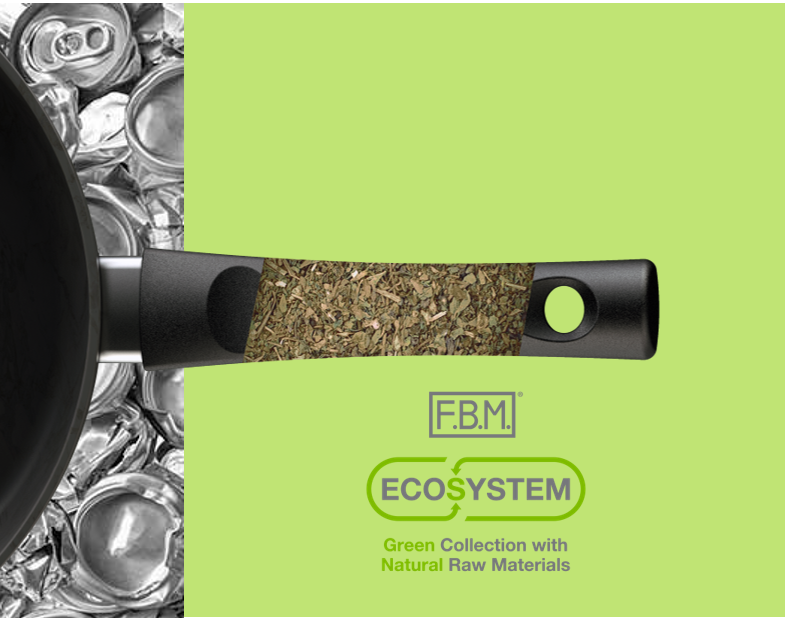 Choose a Knowledgeable Supplier
The supplier you decide to work with should be able to offer ideas about different solutions to you. Your chosen supplier should also be able to suggest beautiful cookware accessories that are of high quality and ergonomically design.
F.B.M. works with all main cookware manufacturers in the world, offering cookware accessories suitable for all types of pans.
Contact us today if you have questions or to arrange a consultation.