Consumers' increased awareness of cookware solutions has resulted in them becoming always more knowledgeable about cookware pieces. They are incredibly interested in handles, the element they come in contact with while cooking.
The handle is a crucial aspect that every cookware manufacturer must focus on when developing a cookware collection: a combination of functionality, safety, and design is highly appreciated.

WHAT IS THE BEST TYPE OF MATERIAL FOR COOKWARE HANDLES?
When looking for suitable types of cookware handle materials for your next set of pots and pans, there are several different options available.
The following are examples of different materials for pots and pans handles.
1. Thermoset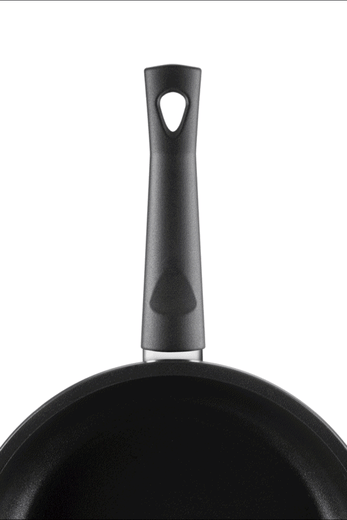 Thermoset compound is the most popular material worldwide for all the domestic cookware handles for the following reasons:
it has a very high thermal resistance, making it safe to use close to a heat source. Thermoset has excellent mechanical strength needed for the safety tests required to keep the end-user safe.
This material, generally does not get hot and is very comfortable to use without potholders.
For manufacturers, thermoset processing technologies allow to create the perfect design handles for quality cookware.
Moreover, this material is durable over time and it is dishwasher safe.
La Termoplastic F.B.M. is an expert in the field of processing and using thermoset to manufacture handles, with an experience of 58 years in using it.
2. Higher Temperature thermoset
Along with the primary material, this version offers advanced thermal resistance properties. It is a special compound that allows greater thermal resistance providing the benefit of in-oven cooking, too. You can cook freely, passing from the hob to the oven with ease, making them also especially welcome partner in the professional chef's kitchen.
3. Sustainable Thermoset
Considering the importance of the theme of sustainability, recent developments allowed to develop a new form of thermoset compound which guarantees the same performance of the most classic thermoset material, while assuring a planet-friendly approach: the Ecosystem material.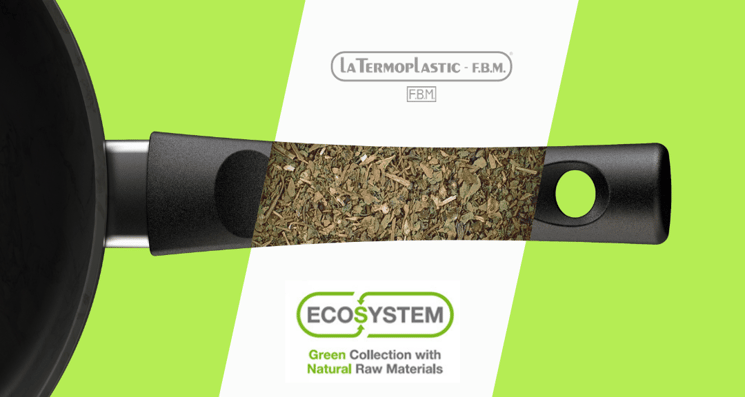 Ecosystem is made with a combination of natural and regenerated materials. Natural materials come from sustainable verified and certified sources, while the regenerated material comes from the recovery of production waste. F.B.M. released this new line of cookware accessories, which reduces resources and emissions through the employment of recovered material that also lowers the use and consumption of artificial chemicals, replaced by natural materials from sustainable and verified sources. Every ten regular handles produced means one Ecosystem product can be manufactured using production waste.
4. Antibacterial Thermoset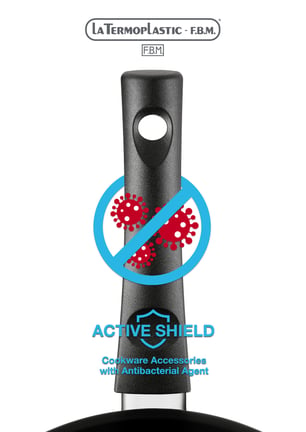 A new material developed by F.B.M. containing a special antibacterial agent: an integrated active ingredient which makes it effective against microbial growth. Thanks to its special formulation F.B.M. Active Shield avoids the adhesion, growth and proliferation of microorganisms on the handles.
F.B.M. Active Shield cookware handles can kill more than 99,999% of bacteria according to international regulation ISO 22196:2011 and inhibits the growth of microorganism on the handle, keeping handle's surface cleaner between cleanings and limiting the passing of bacteria among the products ' users.
5. Coated Handles
For colored handles, the primary compound can be enhanced with an aesthetic finish in any color. We are talking about coated handles that can be in any color or finish from soft touch, glossy, or matte. Soft-touch gives a sensation of softness and is pleasant to handle. Glossy finishes are brilliant and stand out easily. The matte finish is quite delicate and provides a classic look to cookware handles.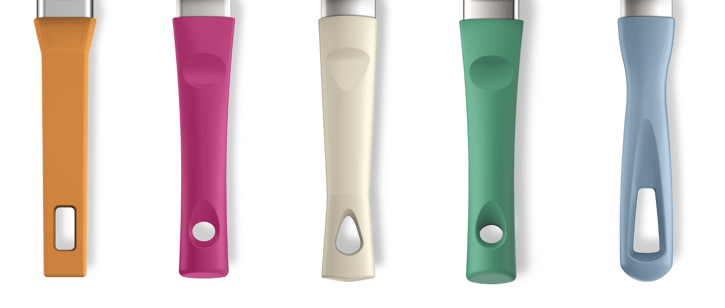 6. Metal Handles
In case of handles made in metal, the primary material used in this case is steel. This material is particularly pleasing to the eye because they are reminiscent of a professional handle. Generally, metal handles for steel or aluminum pots and pans are intended for a professional kitchen. They are historically long because they must cope with large volumes of preparations in the ho.re.ca. industry. They offer high heat resistance. This means you can easily put your pan in the oven for baking if it has metal handles.
On the other hand, metal handles can also be very simple and linear for enameled iron cookware, for example.
In general, steel handles have a limitation: they require costly processing, which are sometimes polluting, and are labor-intensive. An important thing to consider is that metal conducts a lot of heat; therefore, they are not practical for daily use because they always require potholders.
CHOOSE A KNOWLEDGEABLE SUPPLIER
The supplier you work with should be able to offer ideas about different solutions. Your chosen supplier should also be able to suggest high-quality, beautiful cookware accessories that are ergonomically designed.
La Termoplastic F.B.M. works with all leading cookware manufacturers worldwide, offering cookware accessories suitable for all types of pans. Each piece can be customized in different materials and colors to provide every company with the best possible product.
Please get in touch with us today to arrange your consultation. We look forward to hearing from you.