In our previous article, we looked at various trends and key features for long lasting cookware. Now, let's focus our attention on selecting the right cookware handles for offering a durable cookware product.
F.B.M. performs several tests to ensure that our handles are resistant to mechanical stresses such as bending, twisting and heating, as well as they are dishwasher safe, as part of our quality control process to bring the best pots and pans to consumers.
High Caliber Cookware Handles
Cookware safety and bringing the best accessories for pots and pans to market are two of our goals. Here we bring you a selection of top handles that can guarantee you with the best results for the safety and durability of your product.
Set Pro:
A high-performance set for the global market, the Pro handle is longer than the regular model and the side handle has a wide design which sets it apart. This set stands out for recalling a very professional product but with the advantage of a bakelite handle which is easy and comfortable to be used at home for your daily day cooking.
Professional-quality product with all the benefits of the F.B.M. brand means a winning combination!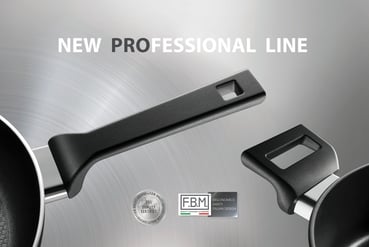 The handle Victory has a modern design and a full structure, giving it an extremely comfortable grip. This professional-quality product is distinguished by its wide front with large matching flameguards. It can be personalized with your logo directly embossed onto the surface.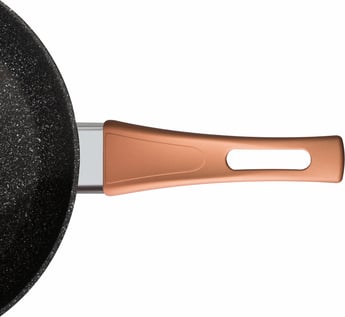 Choose this option for a superior silicone handle with a colored finish, curved lines and a non-slip effect. Unique production system for the perfect overmolding of two different materials which allows these curvy shapes and the nice chromatic contrast effect. The silicon ensures the color to last very long time without any flaw.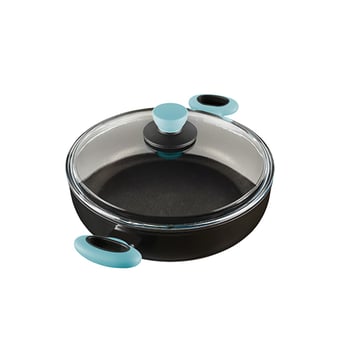 This durable cookware set comes equipped with a wide insert that can be personalized in an infinite number of different colors and effect, such as the best selling Carbon look effect. The handle is highly differentiating and also ergonomic thanks to its rounded and tubular shape which continue till the matching rounded flameguards.
Try to match the colored plaque with a different handle color in soft touch or mate effect for a superior and eye catching style.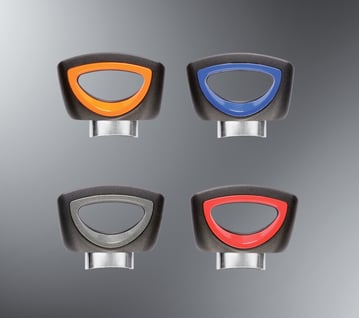 This is a simply beautiful design which is loved all around the world! Created for F.B.M.' 50th anniversary, it features an end triangle that may be customized with a neutral or steel plate.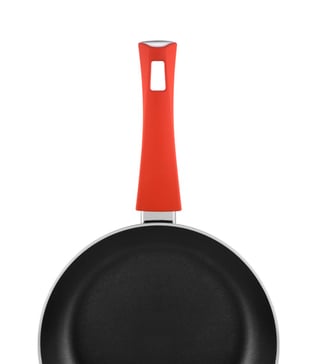 Lamina:
With its stainless steel inserts and elegant look, Lamina is an excellent choice for top-line products. The overall set including handle, side handle and knob is accented with square stainless steel inserts, so classy.
F.B.M. is a world-class Italian manufacturer of cookware handles and pans. Contact us today to discuss your needs.