The cookware and accessories industry is expected to reach a global turnover of 4.6 million dollars by 2024. However, in more developed countries, this market is mature and not very dynamic. A crucial point to be highlighted in this area is the ability to meet the demand for new solutions and innovation, in order to achieve greater efficiency in the kitchen.
What is the best way to meet this challenge? There are two main tools: recognizability and time-to-market.
Password: recognizability
To emerge in such a crowded market, a good practice is to choose a highly-distinctive design and to remain faithful to it over time in order to build the identity and recognition of your products, and to continue to remain faithful to this distinctive design in your future product collections. In this sense, the choice of which handle to use and its design can be successful and strategic. In fact, handles can strongly distinguish the product, causing it to be immediately recognizable, even years later.
To satisfy the market's constant demand for novelty and to satisfy consumers who are becoming more and more demanding, it is possible to periodically restyle your collection in a way that does not affect its recognizability, but in a way that plays on "easier" features instead, such as new colors or different materials.
In fact, even a small variation can often make a difference and can offer the consumer a fresh and updated line of products, enhancing the original design, while at the same time, not affecting the recognizability of your brand. In addition, not altering the structural shape of the product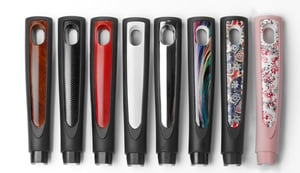 optimizes economic resources. An example of this would be mixing and varying the combinations of the internal and external coatings, perhaps by contrasting their effects and by modifying the color and material of the pot handle. These are all "soft" but successful approaches.
Time-to-market: how to be competitive

Timely production and quality are a key combination because of the competitive advantage they provide, which is the ability to quickly bring to market quality and innovative products with high-quality finishes which are able to meet marketing and consumer needs. In other words, efficient time-to-market.

The cookware market is often very demanding, particularly at peak times that coincide with regular promotions in retail outlets or with the launch of new collections in stores. We need to be timely, expert and very familiar with the dynamics of the industry.

One option that should not be overlooked is to rely on expert manufacturers who can manage and produce large quantities of handles and pots within the set lead times, who can ensure the same quality standards for each piece. Only this will yield products free of defects or unpleasant surface blemishes.

Knowing the characteristics of production, establishing strong synergies with producers and carefully planning activities to optimally manage time-to-market is certainly a valid way to achieve important results and to stand out from competitors in the industry.