Color is an important element of product development. We know that a pleasing color, in line with cookware trends, will draw in customers and encourage them to move from being browsers to buyers. Along with selecting the right color, choosing the best materials for pot and pan handle coating is key to create a product that will appeal to buyers.
Color for Pot and Pan Handles
Black is always a classic (and classy) choice for pot and pan handles. This well-loved option is a favorite, especially for consumers' taste in Europe and North America.
Nevertheless, younger customers, such as the Millennial market, are more likely to request colored items in pot and pan handles. They are making bolder choices in their kitchen designs, and this love of color is further reflected in their cookware.
CHOICE OF Materials for HandleS ColorS
Coatings are a common solution for including quality color handles in your product line. It's an application that can work for most thermoset handles, and it's very effective. With modern coating techniques, virtually any color is available, from lighter shades to the darkest tones. Many colors can also be combined with a metallic look, which shows a brilliant powder effect together with the main color.
On top of the color grade, you can also make your pot and pan handles stand out by selecting the type of tactile and visual effects you would like. There are several types of coatings you can choose from:
Soft Touch gives the user a pleasant sensation of softness
Glossy Finish has a brilliant, polished visual effect
Mat is smooth to the touch, with a dull finish
Silicon
Silicon is a main raw material that's directly injected to make the accessory. Several types of silicone handles are available on the market today. They vary in the amount of silicone used and in quality.
Most of the pot and pan handles manufactured in Asia are made of silicon rubber. This material is soft in texture, but is only available in a limited range of colors (black or dark colors only).
Liquid Silicone
Liquid silicon is different from silicon rubber; it's a high-quality material that's soft to the touch and is available in multiple colors.
F.B.M. has developed a complete range of products using liquid silicone. Twenty bright, attractive colors are currently available in our catalog. This material uses a special production technology, which allows us to mold thinner surfaces than for other options. Thanks to this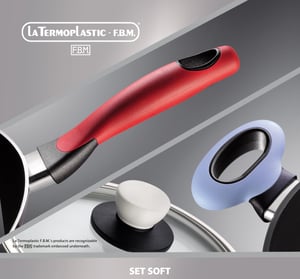 exciting design feature, we can offer our customers an even higher level of customization with pot and pan handle shapes.
The F.B.M. silicone soft line is co-molded with no color limits. It's LGA tested up to 125 dishwasher cycles.
Unlike color coating, which is more affected by temperature changes and exposure to harsh detergents, liquid silicon is more durable and doesn't become sticky with repeated use.
F.B.M.: Experts in the Pot and Pan Handles Business
F.B.M. stands for innovation and certified quality in everything we do. We design and manufacture cookware handles and pans, and have worked with the largest producers of cookware in the world. Our catalog includes product lines at the budget, medium and luxury levels.