The handle design is a key area that you should be focusing on as crucial part of a cookware collection. At first glance,the main focus may be on the pot materials and the properties of the cooking surfaces themselves, but it would be a mistake to underestimate the importance of this crucial element of the product. If cookware handles are designed and perform well, the consumer is much more likely to be impressed with the product and this influence the likelihood of purchase. Here we explain you the reason.
Why You Should Invest in Cookware Handle Design
When developing or renewing your collection, consider these reasons for investing proper attention in cookware handles:
1) DESIGN MUST CATCH CONSUMERS' EYE: pots and pans take on a unique appearance when they have a distinctive set of handles. Elements such as shape and color immediately draw the eye. The design of the product is an important selling feature, from its overall shape to whether it has inlays with contrasting colors, a special texture finish such as wood effect, glossy look, etc. If the consumer doesn't like the look of the handle, they won't be interested in moving toward buying it.

2) CONSUMERS INTERACT WITH A POT THROUGH THE HANDLE: the cookware handle is the only part of the pot that the user interacts with during cooking. Therefore, for the key role it plays, the handle must have features specifically designed to best meet the needs of the consumer and offer an optimal experience. When a consumer picks up a pot or a pan, they will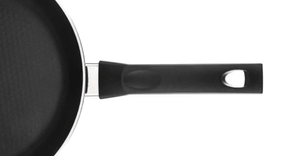 be evaluating how the cookware handle feels. If doesn't feel easy to grasp and hold on to, the consumer will likely take a pass on this design in favor of another manufacturer's product.
The handles should be comfortable for consumers to hold onto, whether they are trying to pick up the pot or pan, pour sauces into a different pot or container, or move the pot from one burner to the other on the stove top. F.B.M. cookware handles are designed with ease of use as the top priority.
3) YOU CAN INNOVATE THANKS TO THE ACCESSORIES: consumers are interested in buying items that are new and different. Rather than trying to develop an entirely new line of pots and pans, you can change the cookware handles on the pots and pans to update a product line, as well as you can easily change the handle colors and finishes over time, ranging from soft touch to glossy and mate up to more complex effects such as wood or marble style. Also, you can choose handles with special functionality to impress and offer further versatility and innovation to your public.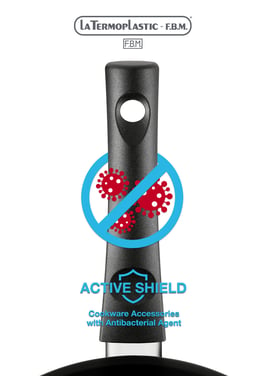 This is the case with Active Shield, the unique cookware handle with antibacterial formula. It is the first line of cookware accessories with a compounded antibacterial agent that inhibits the growth and proliferation of bacteria. Thanks to this innovation F.B.M. has been able to give a concrete answer to the urgent need for hygiene and safety in the kitchen.
Rethinking the handle also in a green key is an interesting and innovative way to present the market with a product that keeps up with the times and appeals to a public that is increasingly attentive to the ecological footprint of the products it buys. In this perspective F.B.M. has recently launched Ecosystem, a cookware line of accessories made with natural and regenerated materials. The handle contains a new green compound obtained in a controlled and verified process that complies with UNI EN principles. This collection is available with a wide range of handles, side-handles and knobs, which are planet-friendly.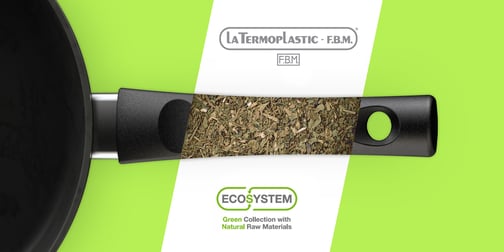 F.B.M. Assists with Cookware Handle Designs
Do you need help with evaluating your available options when considering how to invest in cookware handle designs? F.B.M. has been in business for more than half a century and we are leaders in the design and production of handles, side handles and knobs for good cookware.
We provide consulting services to our valued clients as part of our daily job. Our expert staff is open to support you with knowledge, to make the right decisions for your cookware handle designs.
Contact us today to arrange a personal consultation.