On the face of it, you may not realize that the handle design is a key area that you should be focusing on as part of a cookware collection. At first glance, the handles and knobs may even be discounted as an afterthought, since the main focus is on the pot materials and the properties of the cooking surfaces themselves. It would be a mistake to discount the importance of this crucial element of the product. If the handles are designed and perform well, the consumer is much more likely to be impressed with the product.
Why You Should Invest in Cookware Handle Design
When developing or renewing your collection, consider these reasons for investing time and attention in cookware handles:
• Handles are Integral to the Product's Look: pots and pans take on a unique appearance when they have a distinctive set of handles. Elements such as shape and color immediately draw the eye. The look of the product is an important selling feature, from its overall shape to whether it has inlays with contrasting colors, a special texture finish such as wood effect, glossy look, etc. If the consumer doesn't like the look of the handle, they won't be interested in moving toward buying it.
• Structural Design Essential for Ease of Use: when a consumer picks up a pot or a pan, they will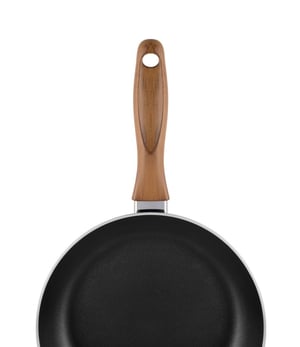 be evaluating how the handle feels. If doesn't feel easy to grasp and hold on to, the consumer will likely take a pass on this design in favor of another manufacturer's product.
The handles should be comfortable for consumers to hold onto, whether they are trying to pick up the pot or pan, pour sauces into a different pot or container, or move the pot from one burner to the other on the stove top. F.B.M. cookware handles are designed with ease of use as the top priority.
• A Way to Renew the Product Line: consumers are interested in buying items that are new and different. Rather than trying to develop an entirely new line of pots and pans, you can change the handles on the pots and pans to update a product line, as well as you can easily change the handle colors and finishes over time, ranging from soft touch to glossy and mate up to more complex effects such as wood or marble style.
F.B.M. Assists with Cookware Handle Designs
Do you need help with evaluating your available options when considering how to invest in cookware handle designs? F.B.M. has been in business for more than half a century and we are leaders in the design and production of handles and knobs for quality cookware.
We provide consulting services to our valued clients as well. Our expert staff has the knowledge to help you make the right decisions for your cookware handle designs.